ATV Bill of Sale Form
An ATV ("All-Terrain Vehicle") bill of sale is a legal document that is completed after an ATV is sold by a seller to a buyer. The form states the name of the buyer and seller and their contact information. Additionally, it includes the details of the ATV, such as its make, model, and selling price. The form becomes official once both parties sign and date it. Notarization is recommended, but not mandatory.
---
What is an ATV Bill of Sale?
An ATV bill of sale is a document that is used to officially transfer the ownership of a four-wheeler. It proves that the buyer is the rightful owner of the ATV and has paid for it in full.
Completing and signing an ATV bill of sale is highly recommended for a few reasons. The form acts as a receipt as it shows how and when the sale occurred. It is needed for the titling and registering process in many states, as well.
The buyer can use the bill of sale to defend themselves if the following occur with the ATV:
After the sale occurs, the seller reports it as stolen.
It is discovered that the seller used it while engaging in illegal activity.
The seller still owes money on the loan or has debts associated with it.
Similarly, it protects the seller if the buyer causes damage or acts illegally with the ATV after the purchase, or if they are injured or die in an accident with it.
---
How to Write
Download: Adobe PDF, MS Word (.docx), Rich Text (.rtf)
Step 1 – Buyer & Seller
In the first section of the bill of sale (labeled "Buyer & Seller"), enter the date of the month, day, and year of the sale. In the following sections, write the name of the buyer and seller, as well as their address, phone number, and email.

Step 2 – ATV Info
List the specific details of the ATV in the section called "ATV Info." This includes the following information:
Make
Model
Year
Color
Odometer (Mileage)
Vehicle Identification Number (VIN)

Step 3 – Payment
The "Payment" section outlines the exact details of the transaction. Enter the sale price ($) and check off the "Yes" or "No" box depending on whether or not taxes were paid. Indicate the method of payment used (i.e. cash, check, credit or debit card, or other) by selecting the box next to the correct option. If there are additional terms, list them on the line called "Additional Terms (Optional)."

Step 4 – Signatures
In the fourth section listed "Signatures", the seller and buyer must sign, print their name, and date the form.

Step 5 – Notarization (Optional)
Notarization must be carried out by an authorized notary public. After they witness the buyer and seller sign, they stamp it physically or digitally. Since notarization is not required by each state, it is important to check local laws to check if it is needed.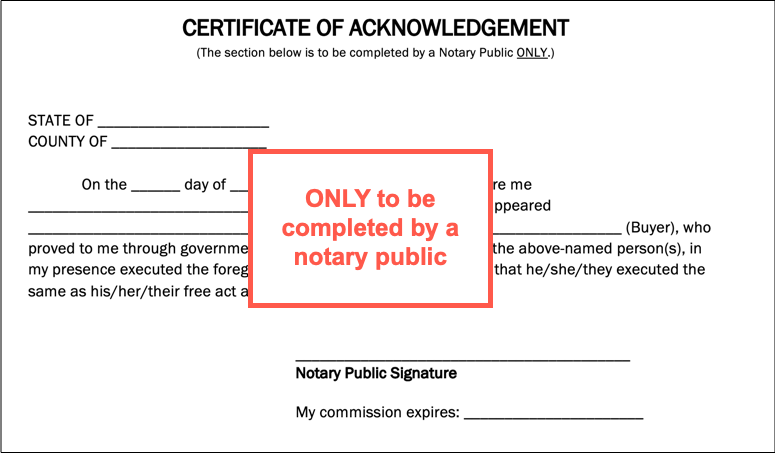 ---
Sample: ATV Bill of Sale