Rental Application Templates
A rental application is a document sent out by landlords to prospective tenants to determine whether they are a viable tenant or not.
The form requires tenants to answer detailed questions regarding their income, employment history, credit history, criminal record (if any), and references of any past landlords or employers who can vouch for their credibility.
---
---
Rental Applications by State
---
What is a Rental Application?
A rental application is a document used after a prospective tenant has inquired and/or viewed a rental property and requested to rent the property for the short or long term. The form is designed to give a fair, unbiased look at a tenant's rental, criminal, and credit history. For renting, being fair is obligatory (as it should), as the Fair Housing Act prohibits a landlord or property owner from judging a candidate on their disabilities, race, sex, color, country of origin, or religion. A landlord will typically request the tenant to pay an application fee for the running of the background checks. Before issuing the document, the landlord should be sure to check with their state's laws on the maximum fee that can be charged.
---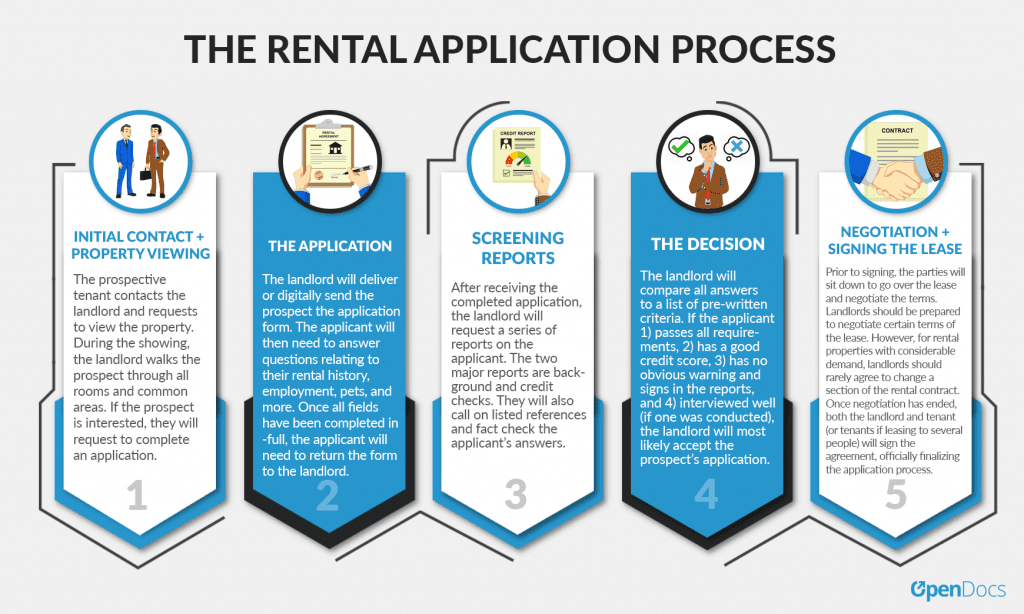 ---
What should a Rental Application Include?
A rental application should be highly detailed to gain the broadest picture of an applicant as possible. Types of questions/fields that should be included in a rental application are the following:
Personal details – This includes the applicant's name, address, date of birth, phone number(s), driver's license (to verify identity), and their social security number (for running background checks)
Rental history – Address of the previous rental, former landlord's contact information, last rent paid, dates of residency, and the purpose(s) for leaving.
Employment background – Current and past employer, supervisor name and phone number, occupation, and salary.
References – Minimum of two (2) to three (3) references that are not family or friends.
Credit history – Past loans, credit card balances, etc.
General Questions – Anything else the landlord deems as relevant, withstanding the prohibited questions listed below.
What Questions Shouldn't be Included?
To ensure compliance with the Fair Housing Act, landlords and property owners should avoid asking questions from the following topics on a rental application:
Relationship status – No questions regarding marriage, sexual preferences, etc.
Ethnicity / race / religion – Do not ask questions relating to where a tenant (or their parents) were born, what their race is, whether they were born in the United States, or their religion.
Disabilities – Questions regarding whether or not an applicant is disabled should be avoided at all costs.
Arrest Records – Unlike convictions (which were proved in a court of law), arrests cannot be inquired as they do not infer guilt. Additionally, the running of a background check will provide information on any prior convictions (if they exist).
---
Rental Application FAQ
The following are commonly asked questions regarding rental applications:
Is a rental application legally binding?
No. The rental application is solely to provide a landlord with enough information to make a reasoned determination as to whether or not the applicant can lease a property. A rental application asks for a signature for two (2) main reasons:
It confirms the answers on the application are true and correct, and
It gives the landlord permission to file a background check.
It should be noted that the lease/rental agreement that is signed between both parties, however, is legally binding.
Who should be referenced on a rental application?
The most ideal reference on an application is a tenant's most recent landlord, as it is unlikely that the previous landlord is a friend or family member of the applicant. This ensures the landlord's recommendation (or lack thereof) is honest and straightforward. Other recommended references include previous employers, managers, co-workers, and school teachers/professors.
How long does it take to process a background check?
The average length of time for processing a credit or criminal background check is three (3) days. However, the length of time is partly dependent on the service chosen.