Month-to-Month Lease Agreement Template
A month-to-month lease agreement is used by landlords for renting property continuously to a tenant for 1 month at a time. Once signed, the agreement renews automatically at the end of every month. To end it, either the landlord or the tenant has to send a notice to the other, typically 30 days in advance of when they intend to end the contract.
---
---
By State
---
What is a Month-to-Month Lease?
A month-to-month lease agreement is a short-term contract highlighted by the fact that it doesn't have a specified end-date – theoretically allowing the contract to go on indefinitely until either party terminates it giving the required notice. Despite their brief nature, month-to-month rental contracts contain many of the same clauses found in standard leases, including rules on maintenance, utilities, guests, pets, and rent, to name a few. The agreement's short-term nature serves as an attractive means of renting for those wary of entering a long-term lease and provides property managers with a means of charging a higher monthly rent due to the liability of the tenant vacating the property in a moment's notice.
---
Pros & Cons of Renting by the Month
Landlords considering setting up one (1) or more of their rentals as monthly units may find themselves struggling with whether the decision is worth the risk in comparison to sticking with a traditional lease. To assist with the decision-making process, the pros and cons of utilizing a month-to-month lease (in the landlord's perspective) are summarized below:
Pros
Can charge more for rent – Landlords can charge their tenants higher monthly rent due to the flexibility offered to tenants and the difficulty of finding a new tenant in such little time.
Rent can be raised on a moment's notice – At the start of every new rental period (typically the first of the month), the landlord can alter the rental contract. This includes raising the rent or amending another aspect of the lease.
Easier to remove difficult tenants – The risk of signing a lease with a bad tenant is always a risk property managers face, regardless of the attempts to mitigate it with rental applications and other screening tools. With a monthly lease, landlords can remove tenants for essentially any reason with a notice of only one (1) month.
Cons
Harder to find quality tenants – The short term nature of the agreement tends to attract tenants that often stay for short increments – typically one (1) to two (2) months. Quality tenants that stay for longer terms are often dissuaded from monthly-based leases due to the prospect of the landlord abruptly terminating the contract.
Uncertain end date – Due to the possibility of a tenant exiting the lease with minimal notice, landlords have to stay ready to fill any vacancies on short notice. This makes it difficult for landlords to leave the state for extended periods of time or focus on other interests a landlord may have.
Off-season vacancy – Year-long leases offer landlords the security that the tenant will be paying rent during less-desirable months, such as winter months for states that experience colder temperatures.
---
How Much to Charge?
Determining how much to charge for rent is one of the most important decisions a landlord makes. Too high, and potential tenants are turned off from signing a lease. Too low, and the landlord can be overwhelmed with applications (not to mention the lost profit). For landlords that are accustomed to signing standard yearly leases, determining what to charge for a monthly lease is relatively straightforward. This is because landlords can add a simple percentage markup to the rent to account for the increased risk. Marking up the monthly rent anywhere from ten to seventy-five percent (10% – 75%) is standard in the industry. While that range is rather large, by asking the following questions the landlord can begin to narrow down a reasonable rate:
What are my costs?
At the end of the day, the most important thing is that the landlord makes a profit. If the landlord previously rented out the property on a yearly basis, they already know their expenses and the rent it takes to ensure they stay make a profit. If they don't, they need to calculate every cost related to their rental property. This includes taxes, insurance, heat / AC (if applicable), utilities, maintenance, loan payments, and more. Every factor needs to be accounted for in order for the landlord to ensure a profit is made. Once this is done, the landlord will understand the absolute lowest rate they can charge, allowing them to adjust their pricing for the market and other variables. If the landlord finds they need to charge a higher rate than average to cover their costs, leasing by the month is one way of going about it.
Have I leased to the tenant before?
If the landlord has leased to the tenant for many years without trouble, and the tenant wants to switch to leasing by the month, racking up the rent should be avoided. Finding trustworthy tenants is hard enough – charging them more for the sake of it will do nothing but increase their likelihood of moving out. In these situations, charging up to ten percent (10%) more is OK, although it really depends on the situation and what the landlord feels is right.
What is the demand for the property?
If the landlord doesn't need to look hard for a quality, long-term tenant, they should charge upwards of twenty percent (20%) markup for monthly tenants. Why? The uncertainty involved with monthly leasing can require landlords to work significantly harder. For example, say the average monthly tenant stays in a rental for three (3) months before moving out. Compared to a yearly lease, the landlord would need to screen, sign, and move-in four times (4X) more tenants a year. On the other hand, if the market is dull and the landlord is having a tough time filling vacant units, leasing by the month may be their last resort. In that case, adding a more minimal markup would be reasonable to attract tenants.
What are others charging?
The fastest and easiest way of finding a ballpark value to charge for rent is by checking out other "for rent" postings in the area. However, it is very important the landlord look at properties that are similar to their own to ensure they are getting an accurate figure. While straight-up copying what others charge isn't recommended, conducting research can help make sure the landlord doesn't miss the mark entirely.
---
Required Notice to Quit
The following table contains each state's requirements for terminating a periodic lease on a monthly basis:
Note:
STATE
REQUIRED NOTICE
Alabama (§ 35-9A-441)
LL – 30 days
TN – 30 days
Alaska (§ 34.03.290(b))
LL – 30 days
TN – 30 days
Arizona (§ 33-1375)
LL – 30 days
TN – 30 days
Arkansas (§ 18-17-704)
LL – 30 days
TN – 30 days
California (§ 1946)
LL – 30 or 60 days
TN – 30 days
Colorado (§ 13-40-107)
LL – 21 days
TN – 21 days
Connecticut (§ 47a-23)
LL – 3 days
TN – None stated
Delaware (§ 5106)
LL – 60 days
TN – 60 days
Florida (§ 83.57)
LL – 15 days
TN – 15 days
Georgia (§ 47-7-7)
LL – 60 days
TN – 30 days
Hawaii (§ 521-71)
LL – 45 days
TN – 28 days
Idaho (§ 55-208)
LL – One (1) month
TN – One (1) month
Illinois (735 ILCS 5/9-207)
LL – 30 days
TN – 30 days
Indiana (IC 32-31-1-1)
LL – One (1) month
TN – None stated
Iowa (§ 562A.34)
LL – 30 days
TN – 30 days
Kansas (§ 58-2570)
LL – 30 days
TN – 30 days
Kentucky (§ 383.695)
LL – 30 days
TN – 30 days
Louisiana (CC 2728)
LL – 10 days
TN – 10 days
Maine (§ 6002)
LL – 30 days
TN – 30 days
Maryland (§ 8-402)
LL – One (1) month
TN – One (1) month
Massachusetts (Ch. 186 §12)
LL – 30 days
TN – 30 days
Michigan (§ 534.134)
LL – One (1) month
TN – One (1) month
Minnesota (§ 504B.135)
LL – Three (3) months
TN – Three (3) months
Mississippi (§ 89-8-19)
LL – 30 days
TN – 30 days
Missouri (§ 441.060)
LL – One (1) month
TN – One (1) month
Montana (§ 70-24-441)
LL – 30 days
TN – 30 days
Nebraska (§ 76-1437)
LL – 30 days
TN – 30 days
Nevada (§ 40.251)
LL – 30 days
TN – 30 days
New Hampshire (§ 540:2)
LL – 30 days
TN – 30 days
New Jersey (NJ 2A:18-56)
LL – One (1) month
TN – One (1) month
New Mexico (§ 47-8-37)
LL – 30 days
TN – 30 days
New York (§ 232-A & B)
LL – One (1) month
TN – One (1) month
North Carolina (§ 42-14)
LL – 7 days
TN – 7 days
North Dakota (§ 47-16-07)
LL – 30 days
TN – 30 days
Ohio (§ 5321.17)
LL – 30 days
TN – 30 days
Oklahoma (§ 41-111)
LL – 30 days
TN – 30 days
Oregon (ORS 91.070)
LL – 30 days
TN – 30 days
Pennsylvania (§ 250.501)
LL – 30 or 15 days
TN – 30 or 15 days
Rhode Island (§ 34-18-37)
LL – 30 days
TN – 30 days
South Carolina (§ 27-40-770)
LL – 30 days
TN – 30 days
South Dakota (§ 43-32-13)
LL – 30 days
TN – 15 days
Tennessee (§ 66-28-512)
LL – 30 days
TN – 30 days
Texas (§ 91.001)
LL – One (1) month
TN – One (1) month
Utah (§ 78B-6-802)
LL – 15 days
TN – No requirement
Vermont (§ 4467)
LL – 30-90 days
TN – 60-90 days
Virginia (§ 55.1-1253)
LL – 30 days
TN – 30 days
Washington (§ 59.18.200)
LL – 20 days
TN – 20 days
West Virginia (§ 55-248.37)
LL – 30 days
TN – 30 days
Wisconsin (§ 704.19)
LL – 28 days
TN – 28 days
Wyoming (No statute)
No requirements
---
Related Forms
---
How to Write
The following instructions are for completing the month-to-month lease in both Adobe PDF and MS Word (docx). For those that need to make edits to the document, the Word format should be downloaded. It is important the landlord read through the entire agreement, making any changes to language as necessary to comply with local and state laws. Hiring a licensed attorney or real estate professional is highly recommended to ensure all provisions of the agreement offer both legal protection and clearly convey the terms and conditions that the tenant is required to comply with during the course of the lease.
Step 1 – Download the Contract
At the top of the page, hover over the save button and select either the "PDF" or "WORD" options. The form will then be downloaded.
Step 2 – Date & Parties
Enter the day, month, and year that the agreement will officially go into effect. Then, the landlord will need to print their name followed by the name(s) of the tenant(s) that will be renting the property.

Step 3 – Grant of Lease
Write the full address of the rental property, including any apartment or condominium numbers.

Step 4 – Term of Lease
In this field, enter the following:
Lease start date
Landlord and tenant's required notice (in days) for terminating the agreement

Step 5 – Security Deposit
Write the total dollar amount in both words (e.g. "One-hundred dollars") and numbers ("$100"). Then, enter the percentage interest the tenant is entitled to receive.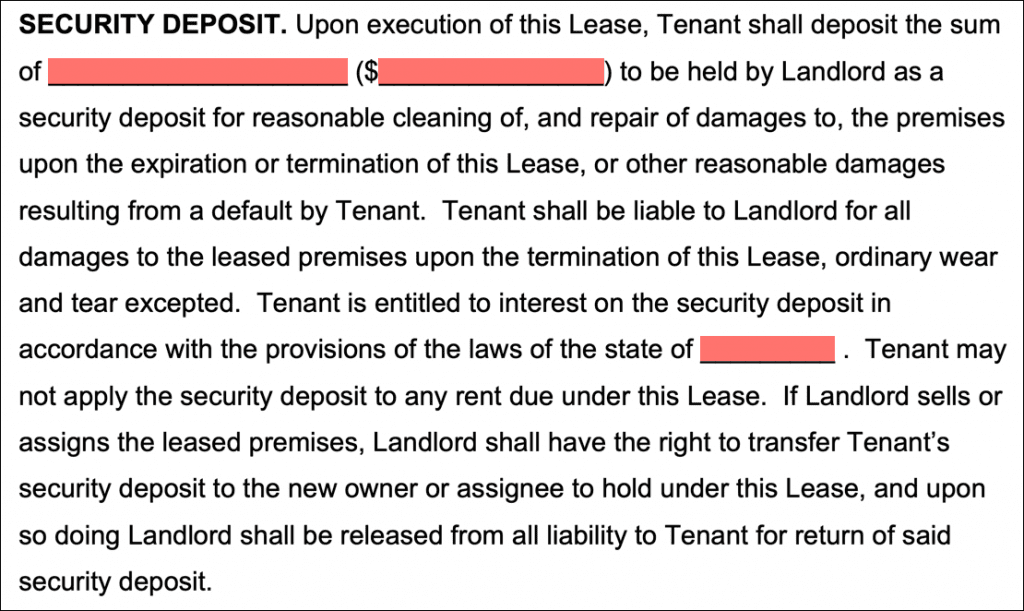 Step 6 – Rent Payments
In the first field, enter both the dollar amount in words and digits for the total amount of rent that will be paid to the landlord. Due to the agreement most likely having no set number of payments, leaving this field blank is acceptable.
On the proceeding lines, enter the following information:
The # of days a tenant has to pay rent after receiving notice (the law section can be deleted if the landlord does not wish to cite state law)
If the landlord will require the tenant to pay a move-in fee, enter a dollar amount. If none, leave blank.
If the parties decide on an end date to the agreement (while still allowing the contract to be terminated at any date – keeping as a monthly-based contract), enter both the contract beginning and end-date, starting with the date the agreement terminates.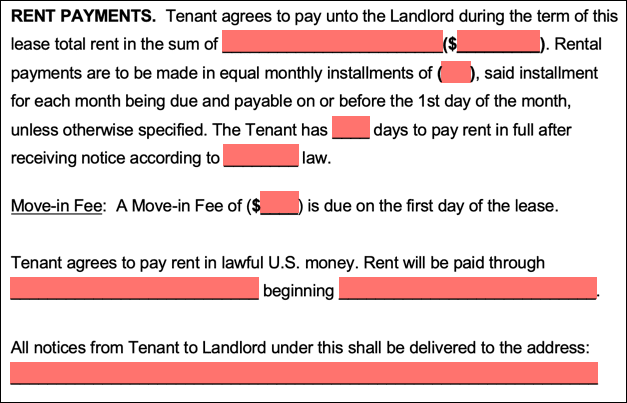 Step 7 – Eviction
Enter the number of days that can pass after non-payment of rent before the tenant can be evicted. Ensure state laws comply with the days listed.
Step 8 – Utilities
Check the corresponding box next to the utilities that the landlord will pay for. Any boxes left unchecked will be the tenant's responsibility.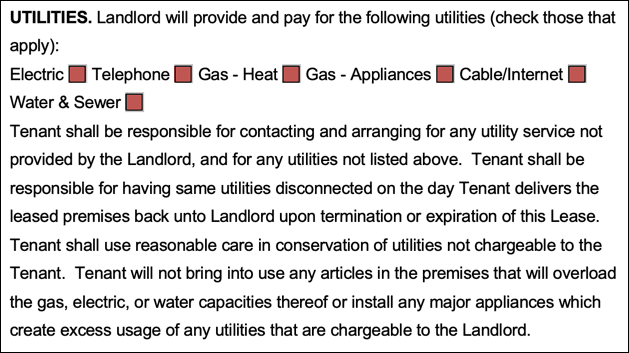 Step 9 – Mail Box Key
Enter the amount of money the tenant(s) will be required to pay if the issued mail key is lost, the mailbox number, and the parking space number. If no mailbox was issued or if there is no designated parking spot, leave the non-applicable fields blank or delete them altogether from the agreement.

Step 10 – Assignment / Sublet
Write the number of days' notice the tenant is required to give before subletting the rental.

Step 11 – Condition of Premises
State the number of days the tenant has to provide a report any structural defects, items that need replacing, leaks, and any other damage to the property.

Step 12 – Notice of Injuries
Enter the amount of time (in days) that can pass before the tenant is required to report any injuries or damage that occurred in or near the rental.

Step 13 – Abandonment
State the number of days in a row that the tenant(s) have to be gone from the property (while not paying rent) to classify the property as abandoned.

Step 14 – Absence
If the tenant will be away from the property for any length of time, use this section to specify the length of time which qualifies for requiring the tenant to give the landlord written notice of said absence.

Step 15 – Governing Law
Enter the name of the state in which the rental property is located.

Step 16 – Additional Provisions
Write additional conditions or state-mandated disclosures in the lines provided.

Step 17 – Signatures
The landlord and tenant(s) will need to write their printed names, their signatures, and the dates in which each party signed the contract. Once all signatures have been recorded on the lease, it will go into effect.