Connecticut Bill of Sale Forms (4)
A Connecticut Bill of Sale is a template that is completed by a resident of Connecticut (named the "seller") when transferring ownership of an item to another person (named the "buyer"). The form should include a description of the property being sold, such as its color, age, and size. Additionally, it is important for both parties to fill in their name, address, email, and phone number. All of the payment details, such as the price and type, should be stated, as well.
Connecticut provides residents with an official vehicle and boat bill of sale that can be printed or downloaded. However, a generic template can be used as long as it contains the required information and signatures from both parties.
---
---
By Type (4)
Use the following forms (designed for the state of Connecticut) to legally transfer ownership from the seller to the buyer:
Boat Bill of Sale – A fillable form that is used when purchasing a vessel.
Download: PDF
---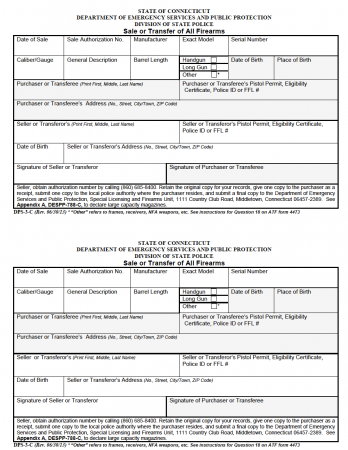 Firearm Bill of Sale – Authorizes an agreement pertaining to the exchange of a gun.
Download: PDF
---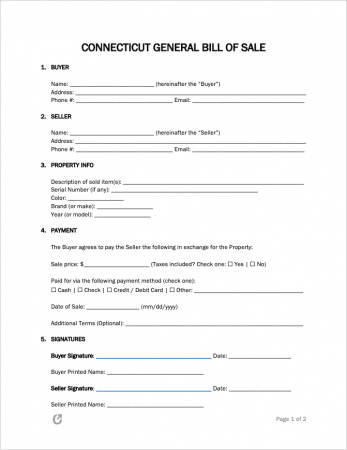 General Bill of Sale – Proves that a seller surrendered ownership of an item and transferred it to a buyer.
---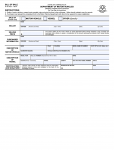 Motor Vehicle Bill of Sale – Holds information that enables a third party to understand the negotiation of a commercial vehicle sale.
Download: PDF
---
Signing requirements
| | | | |
| --- | --- | --- | --- |
| Bill of Sale Type | Buyer Signature | Seller Signature | Notarization |
| Motor Vehicle | Required | Required | Not required |
| Boat | Required | Required | Not required |
| Firearm | Required | Required | Not required |
| General (others) | Required | Required | Not required |
---
How to Register a Motor Vehicle (5 Steps)
New residents are given a grace period of sixty (60) days to register their vehicle. All registrations must occur in person at a Connecticut DMV office.
Step 1 – Check for Compliance Issues
Only owners that have satisfied all Connecticut requirements are eligible for registration. All vehicle holders must ensure that they have:
Paid all property taxes and parking tickets;
No reports of Commercial Vehicle Safety issues;
Passed emissions testing on time; and
No active suspensions or issues with insurance.
If an individual does not know their vehicle status, they run their information through the DMV online checker.
Step 2 – Get Connecticut Car Insurance
Connecticut requires that each driver has bodily injury coverage of $25,000 per person and $50,000 per accident, as well as $25,000 per accident involving property damage.
After the plan has been approved, the driver will receive an insurance card. They must keep this card as it must be presented as proof of coverage when registering. The card needs to list the following information:
Insurance Company Name
National Association of Insurance Commissioner's (NAIC) Number (i.e. Company Number)
Policy Owner/Holder Name
Policy Number
Date of Coverage & Expiration Date (must not be expired)
Year, Make, & Model of Vehicle
Vehicle Identification Number (VIN)
Step 3 – Gather Paperwork
To prevent any delays or cancellations, organize the required paperwork beforehand. All forms should be signed and notarized prior to the registration appointment.
Required Forms / Information:
Application (Form H-13B) – Owners must fill out each section completely and honestly to be considered.
Bill of Sale – Provides evidence that the owner purchased and acquired the vehicle.
Insurance Card – All cars, trucks, and vans are required to have liability insurance with the card in the vehicle at all times.
Ownership Proof – A signed title shows that the car holder is the rightful owner.
Government ID – An ID with a picture must be presented to the DMV when applying.
Payment – The amount due at the time of registration is based on the weight of the vehicle and its equity.
Step 4 – Register the Vehicle
To register a car, truck, or van in the state, an appointment must be reserved ahead of time. The DMV has a policy stating that they will cancel the appointment if the owner does not have the required documents and payment on hand. Applicants can schedule a meeting with the DMV using their online system.
On the day of the appointment, it is important to bring the required paperwork. The applicant must provide payment at that time, as well.
Step 5 – Renew Every Two (2) Years
Vehicle registrations in Connecticut last for two (2) years. The state will send a notice forty-five (45) days before the registration needs to be renewed. All of the required information must be sent in before its expiration to prevent late fees or fines. Renewals can occur online, by mail, or in person.
Renewals can only occur online if less than thirty (30) days have passed since the registration expired. Starting five (5) days after expiration, the registrar will be charged an extra $10 as a late fee. To register online, the owner must have their personal identification number (PIN) and Connecticut driver's license available. They must be able to pay using a Visa, Mastercard, or Discover card, as well.
Owners can use the notice sent by the state to register by mail. They should send the required information to the following address:
Department of Motor Vehicles
PO Box 150456
Hartford, CT 06115
---
How to Register a Boat (5 Steps)
All motorized boats and sailboats (19 1/2 feet or longer) must be registered for use through the state. Registration expires on April 30th of each year and must be renewed before that date.
Step 1 – Settle Debts
Connecticut does not allow boat holders to register their vessels unless they have followed all state requirements. They cannot owe any money (i.e. taxes, tickets, etc.) and their record must be free of restrictions or suspensions. Owners can check for compliance issues using the state's online service.
Step 2 – Gather Registration Forms
Registration will not be given to residents who do not provide all of the information needed. It is important to take time to gather the documents. Pay special attention to their expiration date and ensure they are signed (if applicable).
Required Forms / Information:
Application (Form B-148) – The owner must apply for a registration number and decal using this form.
Government-Issued Identification (ID) – Must hold a photo ID that matches the birth-given name (i.e. passport, driver's license, etc.)
Proof of Ownership – Depending on the state of residency and boat status, a Manufacturer's Certificate of Origin (MCO) or out-of-state title can be used.
Proof of Tax Payment – Unless Tax Exempt, the owner must show they've paid state tax through either an invoice or bill of sale.
Decal Certificate – Cannot be expired (regardless of whether it was issued by Connecticut or another state).
Bill of Sale – Only considered valid if it includes the required information and contains signatures from both parties.
Step 3 – Register + Pay for AIS Stamp
Connecticut only accepts registrations through in-person appointments. When making an appointment through their online system it is important to select the correct option. If the incorrect option is chosen, the DMV holds the right to cancel. On the specified day, the owner must bring all documents and payment to receive a registration.
Payment is due at the time of registration, as well. Fees are variable as they depend on the boat's length and hull type. Newer, larger vessels made of fiberglass and metal are the most expensive, whereas smaller, older, and wood-crafted vessels are the least costly. Sales tax must be paid in addition to the registration fees. The amount owed depends on the type of boat, where it was purchased, and residency status.
When registering or renewing, Connecticut residents will be charged $5 for an Aquatic Invasive Species (AIS) stamp. The registration decal will be stamped with the AIS logo to show that the fees have been paid. Out-of-state boaters must purchase the stamp prior to using the vessel in the state, as well. They will be charged $20 and must keep a copy of the online receipt that is sent to them as proof. The proceeds will go to projects that are working to keep harmful bacteria and water life out of Connecticut lakes, rivers, and ponds.
Step 4 – Adhere Decals + Connecticut Number
If registration is approved, the owner will receive a vessel number and two (2) decals. This information is not the same as the hull identification number (HIN), which is required on all boats built after 1972. If the boat does not yet have a HIN, it is mandatory to fill out an application (Form EPBS-02) to acquire one.
A Connecticut vessel registration number is identified by an eight (8) character sequence (i.e. CT-4859-JF). When placing it on the boat, each section should be separated by hyphens or spaces.
The number must be permanently placed on the left and right front sides of the boat so it can be seen at a distance of one hundred (100) feet. It should be displayed in three (3) inch tall block letters and in a color that stands out against the boat's paint.
Each decal must be located two (2) inches to the right of the registration number and aligned with it. Additional text or stickers should not be near the bow of the boat so that the number and decals can be easily spotted.
Step 5 – Renew Annually 
Boat registration in Connecticut must occur yearly. Vessel owners can renew online, by mail, or in-person as long as they do not owe taxes or fees to the state. There will be delays if the renewal notice contains incorrect information about the boat, as well.
To renew online, the registrar must ensure that they do not need to submit additional documents. If they do, they will have to send them by mail. Additionally, the owner needs to have their Connecticut driver's license, CT boat number, HIN, social security number, and a debit or credit card on hand. Registrations should be sent to the address on file within seven (7) to ten (10) days.
If renewing by mail, the applicant must submit the notice that was sent by the state with the updated information and payment. They should receive the registration by mail within twenty (20) days by sending the packet to the following address:
Department of Motor Vehicles
60 State Street
Wethersfield, CT  06109
Attention:  Central Issuance Operations Unit