Connecticut Bill of Sale Forms (5)
A Connecticut bill of sale form is completed by an individual (the seller) when transferring ownership of an item to another person (the buyer). The document provides space to include the item's color, age, size, and other identifying factors. It also contains fields for both parties to enter their name, address, email, and phone number. Providing this information traces each person back to the transaction and holds them accountable to the listed terms.
Summary
Only the seller must sign boat and car bill of sale forms
Residents must have a license to purchase, sell, or buy a firearm.
Owners must have a trailer bill of sale for registration.
---
---
Types (5)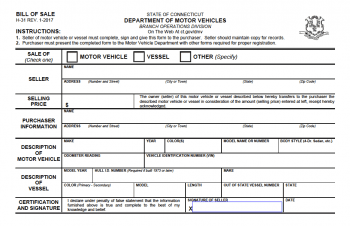 Boat Bill of Sale – A fillable form used when purchasing a vessel.
Download: PDF
---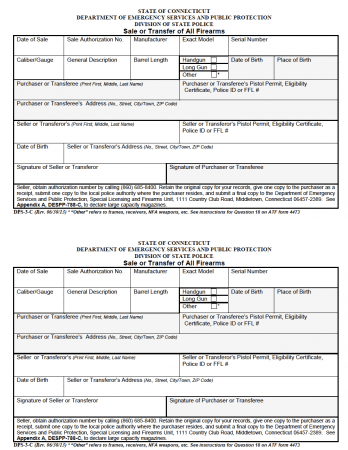 Firearm Bill of Sale – Authorizes an agreement to carry out a lawful transaction involving a gun.
Download: PDF
---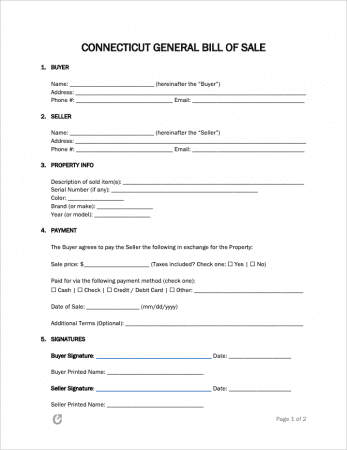 General Bill of Sale – Proves that a seller surrendered ownership of an item and transferred it to a buyer.
---
---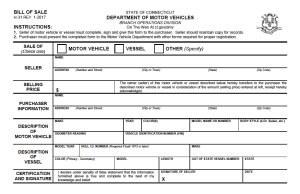 Trailer Bill of Sale – To transfer a carrying platform from one person to another.
Download: PDF
---
Signing Requirements
| | | | |
| --- | --- | --- | --- |
| Bill of Sale Type | Buyer Signature | Seller Signature | Notarization |
| Boat | Not required | Required | Not required |
| Firearm | Required | Required | Not required |
| General (others) | Required | Required | Not required |
| Motor Vehicle | Not required | Required | Not required |
| Trailer | Required | Required | Not required |
---
What is a Connecticut Bill of Sale?
A Connecticut bill of sale acts as a formal arrangement of how a deal involving cash, trade, or gift will occur. The buyer and seller finalize the form before making the swap, thus making each party accountable for the specified arrangement. If either person fails to hold up their end of the deal, the other can use this document to hold them responsible legally.
The state provides residents with an official vehicle and boat bill of sale that can be printed or downloaded. Buyers and sellers can use generic templates for other purchases that do not fall under these categories.
---
Registration Forms:
Boats
Make an appointment to file registration documents with a department of motor vehicles (DMV) office.
Bill of Sale (Form H-31) – To exchange funds or another item with a seller to acquire watercraft ownership.
Application for Vessel Registration and Certificate of Number Decal (Form B-148) – An owner completes this document to request a number and registration certificate for their boat.
Payment – Fees depend on the length of the boat and material type.
Identification (ID) – Forms of ID accepted by the state.
Certificate of Decal – Provides evidence that the vessel has a current decal.
Proof of Sales & Use Tax – A document verifying the owner has paid their yearly taxes. The state has set the following rates: 6.35% for purchases before 7/1/2018 and 2.99% for purchases on or after 7/1/2018.
Additional (Optional) Documents
---
Registration Forms:
Firearms
Standard guns (i.e., handguns, shotguns, and rifles) do not require registration. Owners of assault weapons, on the other hand, must register them with the state. Residents must apply to purchase and own a gun. Private sales require additional documentation and approval through the special licensing & firearms unit. They can obtain a permit from a Connecticut state police troops and district location.
---
Registration Forms:
Vehicles
Schedule an appointment through a DMV location to register a car.
Bill of Sale (Form H-31) – Facilitates the transfer of car ownership.
Application for Registration and Title (Form H-13B) – An owner fills out this form to give the DMV the car's information.
Odometer Disclosure Statement – The federal government provides this form for citizens to release the vehicle's odometer reading.
Insurance (Limits of Liability) –

Bodily Injury (per person): $25,000
Bodily Injury (per accident): $50,000
Property Damage (per accident): $25,000

DMV Status Check – This online portal gives registrars information about payments, fines, or legal problems. It allows individuals to take care of the issue(s) before registration occurs.
Identification (ID) – A list of forms that a person can use to verify their personal information.
Ownership Documentation – Includes forms needed in various situations.
Payment – Fees associated with Connecticut car registration.
Proof of Paid Sales and Use Tax – The owner must have paid 6.35% of the car's value in taxes before registering.
Title – Previous in- or out-of-state title. If not available, apply for a new one using the replacement certificate of title application (Form H-6B). Cars with an out-of-state title must undergo emissions at an approved testing center for $20.
Additional (Optional) Documents
---
Registration Forms:
Trailers
Bring applicable documents to DMV appointment for registration. 
Additional (Optional) Documents
Title & Registration – A previous Connecticut registration for trailers that weigh under 3,000 pounds (gross vehicle weight rating). Trailers that weigh over 3,000 pounds and are newer than twenty (20) years old must have a previous Connecticut title. Out-of-state trailers must have a current registration or title from that jurisdiction.
Vehicle Identification Number (VIN) Inspection – The owner needs to undergo a VIN inspection for out-of-state trailers and those without a VIN (see sample).