Georgia Bill of Sale Forms (4)
A Georgia bill of sale is a document that is completed by a seller and buyer when transferring ownership of an item. It is similar to a receipt as it contains specific information about the good(s) being sold and how the transaction occurred. The form should include a full description of each item (i.e. color, size, year, mileage, and other key details).
Both parties should fill in their name, address, phone number, and email so they can be contacted after the transaction. Once the document has been signed, the buyer immediately becomes the new owner of the item.
By Type (4)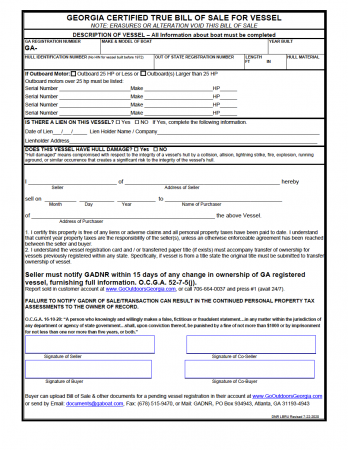 Boat Bill of Sale – A document used to record the details of a vessel sale.
Download: PDF
---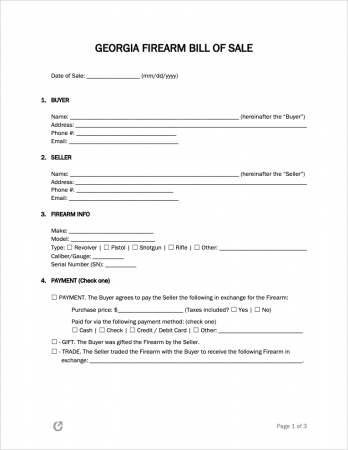 Firearm Bill of Sale – Filled out by a buyer and seller when transferring ownership of a gun.
---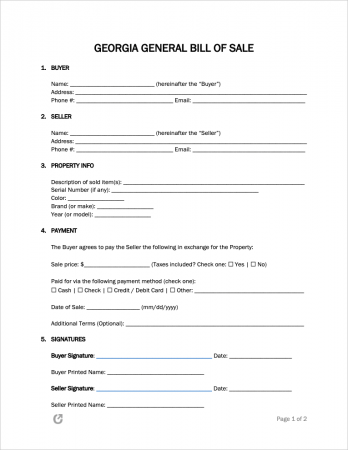 General Bill of Sale – Proves that the transaction of a non-specific item occurred between two (2) parties.
---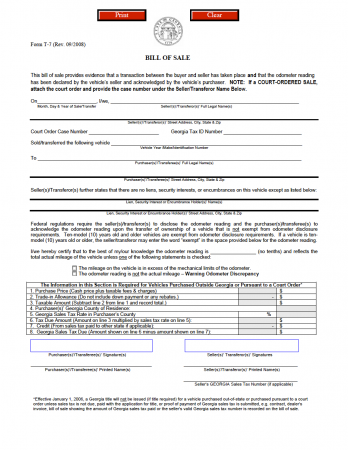 Motor Vehicle Bill of Sale – Used to outline the specifics in which a commercial vehicle was sold and acquired.
Download: PDF
---
Signing requirements
| | | | |
| --- | --- | --- | --- |
| Bill of Sale Type | Buyer Signature | Seller Signature | Notarization |
| Motor Vehicle | Required | Required | Not required |
| Boat | Required | Required | Not required |
| Firearm | Required | Required | Not required |
| General (others) | Not required | Required | Not required |
---
How to Register a Motor Vehicle (4 Steps)
Vehicles being operated on Georgia roadways must be titled and registered. Residents who are new to the state must apply for their Georgia driver's license, title, and registration within thirty (30) days of moving (§ 40-2-21).
Step 1 – Obtain Georgia Driver's License
A new resident must hold a Georgia driver's license before titling or registering their vehicle. Appointments with a Georgia Department of Driver Services (DDS) location can be made online.
Applicants must be at least eighteen (18) years of age or older to apply for a general (Class C) license. They can apply as long as they are seventeen (17) years of age or older so long as they have a valid license from another state. If the out-of-state license has an expiration date that is more than two (2) years ago, then the driver must obtain a driving record from their previous state of residence. Additionally, they must take and pass the written, road, and vision exams.
Georgia requires that applications fill out a preliminary form online to set up an appointment and send in their personal information. On the day of the appointment, they must hand in their previous license and pass a vision exam. They must also provide their photo identification (ID), social security number, proof of a Georgia address, citizenship of the United States, and payment.
Step 2 – Get Georgia Car Insurance
Georgia requires that drives have insurance that covers $25,000 of bodily injury per person and $50,000 per incident. They must also be covered up to $25,000 worth of property damage per incident.
Step 3 – Register Vehicle
As soon as the new resident has acquired their Georgia driver's license they are eligible to apply for a title and registration. The driver must register in person at their local County Tag Office (see locations). It is recommended to contact the office before the appointment to ensure that they do not require additional documents.
Required Forms / Information:
Proof of Identity – A driver's license or ID card from the state of Georgia.
Application (Form MV-1) – The driver can start their application online before their appointment using the Department of Revenue (DOR) online portal. However, they are able to wait until their appointment, as well.
Bill of Sale – Proves that the owner legally purchased the vehicle.
Ownership Verification – Original out-of-state title, a manufacturer's statement of origin (MSO), or a valid registration from a non-title state.
Insurance – All drivers must be insured according to Georgia requirements.
Payment – For a standard vehicle, first-time registration will likely cost $20. Other fees may be included.
Other Applicable Forms – Additional forms may be required.**
** In some cases, drivers may need to present the following:
Loan/Lease Statement (Form T-17) – If there is a remaining balance on the car loan or the vehicle is being leased, further information is required by the state.
Emissions – The state requires some (but not at all) vehicles to be tested.
Taxes – If taxes have not been paid on the vehicle, they must be submitted when applying.
Step 4 – Renew Annually 
Registration lasts for one (1) or two (2) years depending on the year of the vehicle. It will expire at midnight on the car owner's birthday. If the car registration is not renewed by the expiration date, additional fees will be added to the total renewal cost. Titleholders can renew online, in person, through the mail, or at a self-serve kiosk up to thirty (30) days in advance.
---
How to Register a Boat (4 Steps)
Boats (any size) powered by a motor and sailboats (over twelve (12) feet long) must be registered through the state if they are being used on public waterways (i.e. lakes and oceans). They do not need to be registered, however, if they are only being operated on private ponds and lakes.
All boat sales and/or change of addresses must be reported to the state within fifteen (15) days (§ 52-7-5). Out-of-state boaters must register if they use the boat for more than sixty (60) consecutive days in Georgia.
Step 1 – Make an Appointment
First-time boat registration can occur online, on the phone, or via mail. It is important to have all the required information on hand while applying to ensure that the application is accepted.
Step 2 – Register Boat
In addition to general registration, Georgia also requires that boats with a marine toilet have a Marine Toilet Certification. If the boat has not been previously certified, the applicant can apply when submitting their vessel registration.
Boat trailers must be registered, as well. All documents must be submitted to a local County Tax Commissioners Office.
Each document provided must include the boat registration number, hull identification number (HIN), length, make, year, and construction material(s) used. If this information is not present, the form may not be considered valid by the state.
Required Forms / Information:
Proof of Ownership – A form that proves the registerer rightfully owns the vessel.*
Application – Must be filled out by the owner and include their identifying information, such as a driver's license and social security number.
Payment – The cost differs based on the length of the boat and transaction prices, although it typically ranges from $35 to $210 for registration.
Other Documents – More information may be needed under certain circumstances.**
*Acceptable documents:
Bill of Sale – This document is most commonly used as proof of purchase. It must include the registration number (in or out-of-state), HIN, make, year built (or model year), length, hull material, and signatures from both the buyer and seller. The document does not require notarization.
Dealer's Invoice – Includes manufacturing details about the boat, such as the factory price and the specifications.
Gift/Prize/Donation/Raffle – Any form that shows that the vessel has been acquired through gift, raffle, donation, or by winning it.
Transfer – Documentation stating that that the boat's owner has changed. Forms may include those pertaining to a sale, divorce, death, or inheritance. If the boat was inherited, the new owner must fill out an affidavit (see affidavit).
Claims – A report, ticket, or affidavit stating that the boat has been lost, stolen, or purchased through a pawn shop. The owner must present a bill of sale in addition to these documents. If the boat was stolen or abandoned, the owner must submit a report to the state (see form).
Permission to Seller – Document(s) from the court, lienholder, bank, or entity stating that the seller has declared bankruptcy or defaulted on their payment.
Affidavit of Vessel Ownership – If the owner is unable to present the above documents, they can submit a written statement.
**Additional Requests:
Paper Title – Applies only to boats that have been previously registered in Georgia. The new owner must acquire the original document and submit it at the time of registration. Applicants that do not have the paper title must fill out a vessel affidavit of ownership form.
Manufacturer's Statement of Origin – Required for boats that were purchased new and have not been registered.
Title – Residents moving to Georgia who previously registered their boat in another state must present the title. If the state does not issue titles, then the out-of-state registration card must be provided.
Hull Identification Number (HIN) – Homemade boats must go through inspection to receive a HIN number, which must be shown when registering the vessel.
Step 3 – Adhere Decals & Florida Number
After the application process, the boat owner will receive decals and registration within two (2) weeks via mail. They must keep the certification card on the boat at all times.
The registration number must be on the left and right front of the boat and separated by spaces or hyphens in the following fashion: "GA-8574-HF" or "GA 4859 OD." It also needs to be in three (3) inch tall block characters and colored so that it stands out against the boat's paint.
Each decal must be placed to the left of the registration number. Other information should not be displayed near the number and decal so that they are clearly visible.
Step 4 – Renew Every Three (3) Years
Registration needs to be renewed every three (3) years as it expires on the last day of the owner's birth month.
Boat registration renewal in Georgia can occur through the phone or via mail. The state provides a sixty (60) day notice alerting residents to renew. Vessel owners are able to start submitting their documents on October 1st of the year before the registration expires.
When a buyer purchases a used boat, they must re-register it. Even if the seller had an unexpired registration at the time of the sale, the new owner must apply using their personal information. If approved, the vessel will be registered in the new owner's name and expire after three (3) years at the end of their birth month.