Idaho Bill of Sale Forms (5)
An Idaho bill of sale form transfers ownership after an individual purchases personal belongings through a business or private sale. The seller must announce all known facts about the item before selling, especially if it involves potential safety hazards. Notifying the buyer beforehand protects the seller while also preventing legal charges. In most cases, bill of sale forms accompany other documents, such as titles, registrations, an inspection papers. The buyer must ensure that the seller has provided all the paperwork before the transfer.
Summary
Vehicle bill of sale forms must include the odometer reading.
Residents do not need a purchase license to obtain a firearm.
Owners must have possession of the trailer bill of sale for registration.
---
---
Types (5)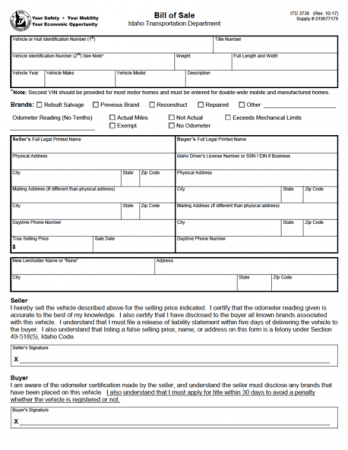 Boat Bill of Sale – A form that contains the fields necessary to record the details of a boat transaction.
Download: PDF
---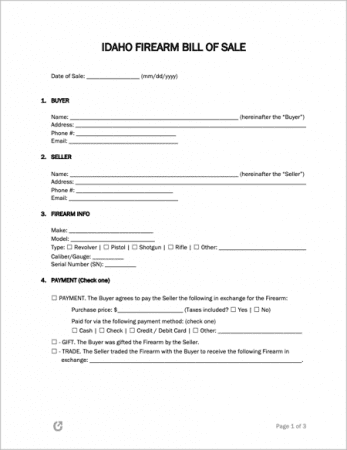 Firearm Bill of Sale – Filled out by a buyer and seller when transferring ownership of a gun.
---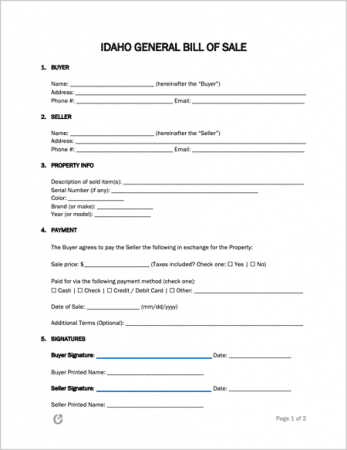 General Bill of Sale – Outlines how a buyer legally acquired an item.
---
---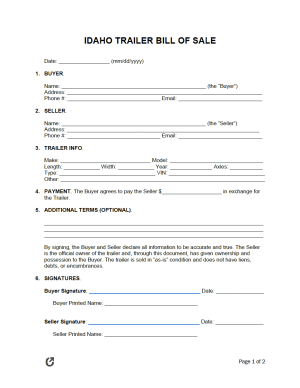 Trailer Bill of Sale – Used to transfer possession of a carrying platform.
---
Signing Requirements
| | | | |
| --- | --- | --- | --- |
| Bill of Sale Type | Buyer Signature | Seller Signature | Notarization |
| Boat | Required | Required | Not required |
| Firearm | Required | Required | Not required |
| General (others) | Required | Required | Not required |
| Motor Vehicle | Required | Required | Not required |
| Trailer | Required | Required | Not required |
---
What is an Idaho Bill of Sale?
An Idaho bill of sale educates third parties on the terms and conditions of a transaction between two (2) individuals. It indicates that the buyer and seller discussed the deal's complexities and formalized an arrangement to transfer an item. Once signed, the seller cannot accuse the buyer of stealing the item. In turn, the buyer cannot blame the seller for any damages after the sale.
However, the buyer can file a claim under one (1) condition: the seller knew about a mechanical or physical issue with the object before the sale and did not warn the buyer. Most often, these types of lawsuits occur if the item causes damage to property and/or injury or death to others.
In this situation, the court refers to repair orders or statements from dealerships or mechanics pre-sale. These forms often provide information about the recommended work or issues. Sometimes the seller genuinely does not know of the damages, and the state cannot deem them liable because they did not intentionally leave out the details to cause harm.
---
Registration Forms:
Boats
The Idaho Department of Parks and Recreation (DPR) handles all in-person and online application submissions. 
Bill of Sale (Form ITD 3738) – Formalizes the transfer of a vessel from one person to another.
Application for Certificate of Title (ITD 3337) – Enables the owner to apply for a boat title and/or registration.
Boater Safety Card – Owners must have this documentation to operate a boat in Idaho.
Invasive Species Sticker – A required sticker stating the vessel does not have any invasive species attached to it that could contaminate Idaho waters.
Payment – Fees vary according to the boat's length and whether or not the owner has paid for additional costs, such as the invasive species sticker.
Title – Either an in-state or out-of-state title transferred from the previous owner with the current owner's name. Residents must complete a duplicate Idaho title application (Form ITD 3367) when applying for a new title.
Identification (ID) – To validate where the boat owner lives and their name.
---
Registration Forms:
Firearms
Firearms do not require registration in Idaho. Nonetheless, residents can apply for a concealed carry permit by submitting the documents listed below to a county sheriff.
---
Registration Forms:
Vehicles
Car registration occurs through an Idaho Divison of Motor Vehicles (DMV) office.
Additional (Optional) Documents
---
Registration Forms:
Trailers
Residents must follow the instructions for trailer registration, which occurs through the Idaho transportation department.
Additional (Optional) Documents