Idaho Bill of Sale Forms (4)
An Idaho bill of sale is a document that is used to transfer ownership when a buyer purchases an item through a business or private sale. The seller is required by law to disclose all known facts about the item before it is sold, especially if it pertains to potential safety hazards. Notifying the buyer prior to the sale prevents injury and associated legal charges. Both parties must sign to authorize the information provided. Notarization may be required depending on the type of form.
---
By Type (4)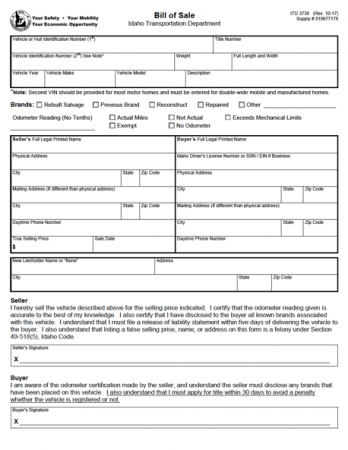 Boat Bill of Sale – A form that contains the fields necessary to record the details of a boat transaction.
Download: PDF
---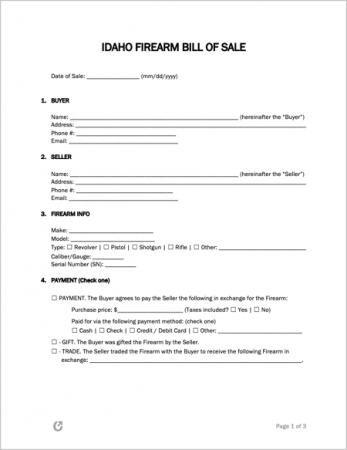 Firearm Bill of Sale – Filled out by a buyer and seller when transferring ownership of a gun.
---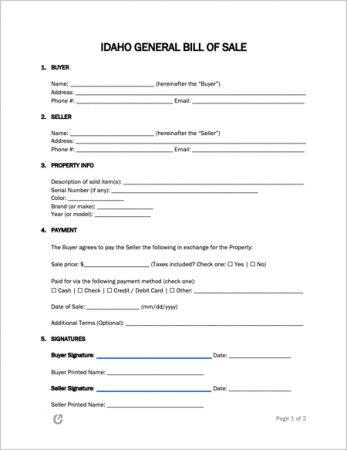 General Bill of Sale – Outlines the specifics of how an item was legally acquired by a buyer.
---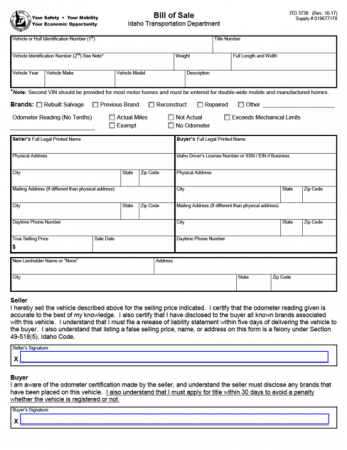 Motor Vehicle Bill of Sale – A template that is completed by two (2) parties during the sale of a commercial vehicle.
Download: PDF
---
Signing requirements
| | | | |
| --- | --- | --- | --- |
| Bill of Sale Type | Buyer Signature | Seller Signature | Notarization |
| Motor Vehicle | Required | Required | Not required |
| Boat | Required | Required | Required |
| Firearm | Required | Required | Not required |
| General (others) | Not required | Required | Not required |
---
How to Register a Motor Vehicle (4 Steps)
According to Idaho law, vehicles cannot be legally operated in the state unless they are titled and registered. Registration must occur within ninety (90) days of establishing residency.
Sellers must submit a release of liability (Form ITD-3858) no more than five (5) days after the sale of the vehicle. It can be completed online or sent to the Division of Motor Vehicles (DMV) by mail.
Step 1 – Obtain Idaho Driver's License
An owner must hold a valid Idaho license in order to register their vehicle. New residents have ninety (90) days after moving to the state to apply for a license.
If an applicant is unable to obtain an Idaho license prior to titling and registering, they must present their current out-of-state license along with their social security number (SSN).
To apply for a license, an appointment must be made through the Idaho DMV. On the selected day, the applicant will need to bring their previous license. If they do not have the card, they will have to present a birth certificate and a form of photo identification (ID).
Additionally, they will have to prove that they live in the state by providing an official document with their address on it (i.e. lease agreement, utility bills, employment records, etc.). Next, a visual and knowledge test must be taken and passed. If approved, the applicant will be issued a temporary license until they receive the official card through the mail.
Step 2 – Insure the Vehicle
Each vehicle owner is required to have an insurance policy that aligns with Idaho's minimum requirements. The policyholder must have at least $25,000 coverage for the injury or death of one (1) person and $50,000 for two (2) or more persons per accident. They are also required to have $15,000 coverage for property damage (§ 49-117 (18)).
Step 3 – Register Car 
After acquiring an Idaho driver's license and insuring the vehicle, the resident is eligible for registration. First-time registrars must apply at a DMV county assessor office by making an appointment by phone call or through the online system.
The vehicle must be titled in the state before it can be registered. However, the documents for titling can be submitted during the registration appointment.
Required Forms / Information:
Vehicle – The owner must bring the vehicle that they plan to register to the DMV office. At the time of registration, a deputy will inspect the vehicle identification number (VIN).
Title – An original document that is signed by the owner stating that the vehicle is in their possession. If the title is not in the applicant's name, it must include a signature from the seller, and the bill of sale must be submitted along with it.
Registration – The current out-of-state registration must be presented during the application process.
Application (Form ITD-3337) – Required for the issuance of an Idaho title.
Insurance – A physical or electronic copy of the vehicle owner's insurance policy.
Proof of Identity – An Idaho driver's license or ID is preferred, although an SSN or passport is also acceptable.
Payment – The cost is variable as it is based on the type of vehicle, its year, value, as well as the county that the applicant resides.
Step 4 – Renew
Idaho vehicle registration renewals occur annually. The owner will receive a notice that outlines the process before their registration expires.
A resident can re-register online, by mail, or in person. Online renewals require an Idaho driver's license and a credit card, whereas mail submissions can be paid by check.
---
How to Register a Boat (5 Steps)
All vessels powered by motors must be registered by the Idaho Department of Parks and Recreation (IDPR). Registration must occur within fifteen (15) days of purchasing. Out-of-state boaters are able to use their boat in state limits for up to sixty (60) consecutive days before they need to register it in Idaho.
While boating registration laws vary by county, the state does not require owners to have an insurance policy for the vessel. There is no minimum age requirement to operate the boat, as drivers can be of any age. They do not need to complete or pass a boating safety education course either.
Step 1 – Register Boat Trailer
Boat trailer registration is required in order to receive Idaho license plates. Both residents and non-residents are eligible to apply as long as they meet the criteria.
It is important to note that trailer registrations take place at the DMV rather than through the IDPR. Therefore, separate appointments must be made to register both the boat and trailer.
Residents must title the trailer in Idaho before registering. In addition to completing the title application, they must also present the original, signed bill of sale, along with payment. The owner will receive a forty-five (45) temporary registration that can be used until the title application is approved.
Non-residents do not need to title the trailer in Idaho to receive a boat trailer registration. However, they must show proof of the original title and regular inspections will be required to check that they are still the rightful owner. Once the fees and documents are submitted, the owner will receive special plates that they must attach to the trailer.
Step 2 – Register Boat
First-time registrations can occur online, through a vendor, or by phone. If the owner decides to submit the information online, they will be given a temporary sixty (60) day registration, which will give them immediate access. The permanent registration should arrive by mail to the address provided within two (2) weeks.
Required Forms / Information:
Application – A form that is completed by a boat owner to receive registration. It must be obtained in person or through the online portal.
Title – A signed legal document stating how the new owner acquired the boat, as well as the odometer reading at the time of the sale.
Identity Verification – The applicant's SSN, Idaho driver's license, or tax identification number.
Hull Identification Number (HIN) – A number given to the boat by the manufacturer.
Payment – Fees are different for each county, however, they are typically based on the length of the vessel.
Step 3 – Purchase Invasive Species Sticker
Residents and non-residents are only able to use their boats in Idaho waters if they have purchased a sticker for the Invasive Species Fund (ISF). Vessels that are motorized, as well as non-motorized watercraft (i.e. kayaks, canoes, etc.), are required to have a sticker.
When creatures, like quagga mussels, enter waterways, they will quickly populate. They can damage boats and cause harm to aquatic life. Therefore, the state requires boaters to purchase a sticker if they are planning to use their vessel in Idaho waters. The money is used to fund organizations that work to prevent unwanted species from overpopulating rivers and lakes.
Stickers are $10 and can be purchased online or at varying state park and vendor locations. Owners can be fined if they are stopped by law enforcement and do not have a sticker displayed on their vessel.
Step 4 – Apply Number + Stickers
If the application for registration is accepted, the owner will receive a certification number and decals by mail. They must display this information on their vessel so that it can be identified if it is in an accident, stolen, or the owner is stopped by an official.
Idaho vessel registration numbers appear in an eight (8) character format (i.e. ID-5839-DH). Each set of letters and numbers needs to be separated by a space or hyphens.
The certification number must be printed on the port and starboard sides of the boat on the front section. Three (3) inch high block letters must be used and the color should stand out against the background. Additional numbers or letters should not be placed nearby so that the information is visible.
Decals can be placed to either the left or right of the number, as long as it is aligned properly. It cannot be placed more than six (6) inches away. Previous decals must be completely removed before the new one is affixed.
Step 5 – Renew
Idaho boat registrations are good for one (1) calendar year and must be renewed by December 31 annually. Owners can submit the forms and payment using the IDPR online portal, by mail, or in person.