Michigan Bill of Sale Forms (5)
A Michigan bill of sale form assigns an individual as the new owner of a manufactured or homemade item. The document, which can be for motor vehicles, firearms, boats, or other items, provides pertinent information about the item being sold or gifted. It also includes the buyer and seller's phone number, address, and email to contact or locate them following the sale. 
Summary
Michigan provides an official bill of sale for watercraft, trailers, and snowmobiles.
Notary publics do not have to acknowledge bill of sale forms.
Private gun sellers must ensure the buyer has a clean record and permit to purchase.
---
---
Types (5)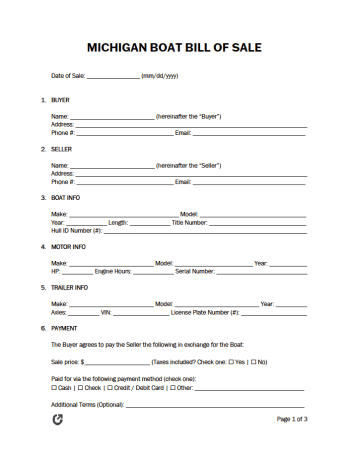 Boat Bill of Sale – A buyer's proof of purchase for a vessel from a seller.
---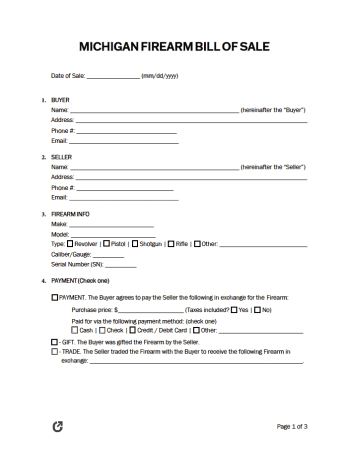 Firearm Bill of Sale – Used to document the transfer of ownership for guns, ammunition, or other related items.
---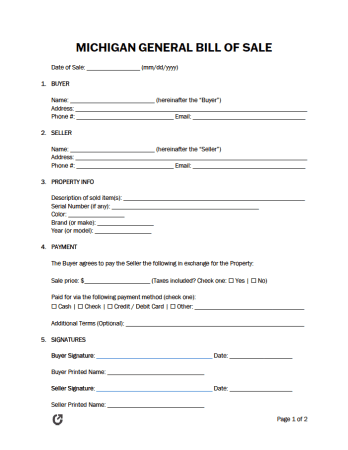 General Bill of Sale – Documents a sale of an item from one person to another.
---
---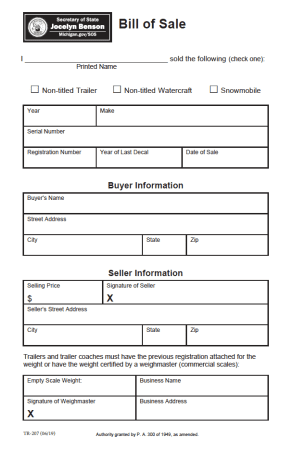 Trailer/Watercraft/Snowmobile Bill of Sale – Completed to outline a deal between two parties involving a trailer, a snowmobile, or watercraft.
Download: PDF
---
Signing Requirements
| | | | |
| --- | --- | --- | --- |
| Bill of Sale Type | Buyer Signature | Seller Signature | Notarization |
| Boat | Required | Required | Not required |
| Firearm | Required | Required | Not required |
| General (others) | Required | Required | Not required |
| Motor Vehicle | Required | Required | Not required |
| Trailer/Watercraft/Snowmobile | Not required | Required | Not required |
---
What is a Michigan Bill of Sale Form?
A Michigan bill of sale explains the process that occurred when a seller transferred an item to a purchaser. The state considers the document a legal agreement because it contains signatures from both parties, thereby authenticating the deal. It also defines the object through its year, make, model, identification number, and mileage.
Sellers can use a bill of sale form for other valuable items like family heirlooms, season tickets for professional sports teams, and expensive works of it. The exchange does not always need to involve money – it can also happen by gift or trade. The seller must list the purchase price as $0 and enter its current value when giving property to another person. Owners who trade with someone else must include information about both items in the bill of sale.
---
Registration Forms:
Boats
Create a registration appointment with a Secretary of State (SOS) Branch Office.
Bill of Sale – A document containing fields required for a vessel transaction.
Title (Form TR-11L) – Submit this form to receive a boat title within sixty (60) days.
Payment – The amount owed by the owner depends on the vessel's length and lasts for three (3) years.
---
Registration Forms:
Firearms
Gun owners residing in Maryland do not need to register their firearms, but they must report sales to law enforcement (even if acquired through a private sale). Although individuals do not need a license to purchase a gun through a dealer, they need one to buy from a private seller. Merchants must perform a background check on all buyers and ensure they have a permit. Firearm holders must have a concealed pistol license, as well, if they wish to have a gun on them in public. They can apply for the permit through a county clerk location.
Concealed Pistol License Guide and Application (Form-012) – Applicants who qualify must complete this form to request a permit.
Fingerprints –  The applicant must submit a fingerprinting receipt that has their name, driver's license or state ID number, date and time of the record, cost, the name of the servicer, an official receipt statement, and the CPL application receipt.
Pistol Safety Training Course – A certificate stating the person applying has taken and passed an education class on safe gun handling.
Photograph – A "passport quality" headshot of the applicant.
Payment – The individual owes $100 for application fees and must pay additional county-based costs.
---
Registration Forms:
Vehicles
Use the office locator to find a Secretary of State Branch Office for vehicle registration.
Bill of Sale – Used to purchase a vehicle through a private sale.
Application (Form TR-11L) – For cars with an out-of-state title.
Odometer Disclosure Statement (Form BVDR-108) – This document proves the vehicle's mileage reading.
Payment – The required fees vary according to the vehicle's type and model year.
Insurance Policy (Minimum Requirements) –

$20,000 for bodily injury (per person, per accident);
$40,000 for bodily injury (two or more people, per accident);
$10,000 for property damage (per incident);
$1,000,000 for property protection insurance (PPI); and
No maximum for personal injury protection (PIP).

Title – Official document confirming ownership and purchase. If the owner does not have the form, they must file for a replacement.
Driver's License – An official, valid Michigan driver's license with the vehicle owner's name, current address, and date of birth.
Additional (Optional) Documents
---
Registration Forms:
Trailers
Michigan trailer registration happens at an SOS office. All trailers require registration in the state; however, only tow-behind platforms 2,500 pounds or more need a title. 
Bill of Sale (Form TR-207) – Buyers and sellers use this state-provided form to transfer trailer ownership. The SOS office only considers it valid if it contains the following information about the trailer: 1) model year, 2) make, 3) vehicle identification number (VIN), and 4) the seller's name and address.
Payment – The empty weight of the trailer impacts the total cost.
Use Tax – The owner must pay 6% on the sale price or value upon acquiring the trailer. If the individual paid taxes on it during the transfer, the bill of sale must contain this information.
Identification (ID) – A card or form that tells the SOS that the registrar is the owner of the trailer.
Additional (Optional) Documents
Manufacturer's Certificate of Origin (MCO) – This form must accompany the registration documents if the owner purchased the trailer new from a dealership.
Certified Weight – If the trailer's gross weight does not exist on the MCO or previous registration, the owner must have it weighed at an official station.
Vehicle Number and Equipment Inspection (Form TR-54) – Owners of homemade trailers must have them inspected so the state can assign them a vehicle identification number (VIN).