Moped (Scooter) Bill of Sale Form
A moped bill of sale is a document that is used when selling a small motorcycle to a buyer. It includes important information about the scooter, the payment, and both parties. The document can be used to show the change of ownership and will be needed if the buyer ever wishes to sell it. For this reason, each person involved should keep a copy. It is only considered legit once the buyer and seller sign it.
---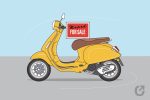 ---
How Much Are Mopeds Worth?
Used mopeds typically cost between $900 and $2,000. The value depends on a number of factors, including its make, model, condition, and cubic centimeters (ccs). Mopeds that are 150cc and 250cc are worth more than those that are 50cc.
Generally, mopeds are not as expensive as vehicles. They require less maintenance and gas compared to a car. In addition, they are more convenient because they do not take up as much space when parking or storing.
---
How to Sell a Moped
The first step to selling a moped is preparing it. Before the owner offers tours, the bike needs to be cleaned and fixed (if needed). Detailing the moped and replacing parts increases the value. The owner must legally disclose work that needs to be done or repairs that have been completed. If they do not, they are liable if the buyer is in an accident after the sale.
Next, it is important to spend time listing the moped. High-quality advertisements attract buyers and increase the chances of the sale. Facebook Marketplace, eBay, and Craiglist are popular online platforms for selling. Regardless of the site used, including photos, videos, and a description makes the post more trustworthy and appealing.
---
Moped vs. Scooter
Mopeds and scooters have two (2) wheels and engines that are smaller than a motorcycle. They are simple to use and provide a way to commute with ease. While they are similar, they also have key differences, which are listed in the table below.
| | | | | | |
| --- | --- | --- | --- | --- | --- |
| | Engine Size | Speed | Avg. MPG | Structure | License Needed? |
| Scooter | 50-250 cc | 35-70 mph | Varies (Less than 60 – 100 mpg) | Footrest (no pedals) | Yes |
| Moped | Less than 50 cc | 28-30 mph | 100 mpg | May or may not have pedals | Varies by state |