Painting Invoice Template
A painting invoice is a bill used by professional and part-time painters to charge their clients for the time spent painting and the products used during the job. The invoice can be used to request payment for a wide range of painting services, including commercial properties, residential homes, touch-ups, decks, and many more. It can also be used for services other than painting, including power washing, drywall repair, wallpaper installation, and staining.
---
---
How to Write
Step 1 – Download
Download the Painting Invoice in PDF or WORD.
Step 2 – Company & Client Contact Information
At the top-left of the invoice, enter the following contact details regarding the painting company:
Company Name
Street Address
City, State, and ZIP Code
Phone Number
Website (if applicable)
On the right side, enter the client's contact information, including:
Client Address
City, State, and ZIP Code
Phone Number
Email Address
Step 3 – Labor Charge
In the first table, enter a Description of the service done (e.g "Painted Exterior of Home"), the number of Hours Worked during the job, and the Hourly Rate that will be charged for the painting service. Multiply the Hours Worked by the Hourly Rate to calculate the Total. Enter any miscellaneous fees in the OTHER field, and add this value to the Total to calculate the TOTAL LABOR.

Step 4 – Product / Material Charge
Next, enter the costs of material or products that will be charged to the customer. This can include paint costs, brushes, or other items. In the table, start with a description of the Product or Material, then enter the Quantity, the Unit Cost (price of a single product or material), and the Amount, which is calculated by multiplying the Quantity by the Unit Cost. Sum the Amount column and enter the result into the TOTAL PRODUCT field. To calculate the TOTAL, sum the TOTAL LABOR and TOTAL PRODUCT values.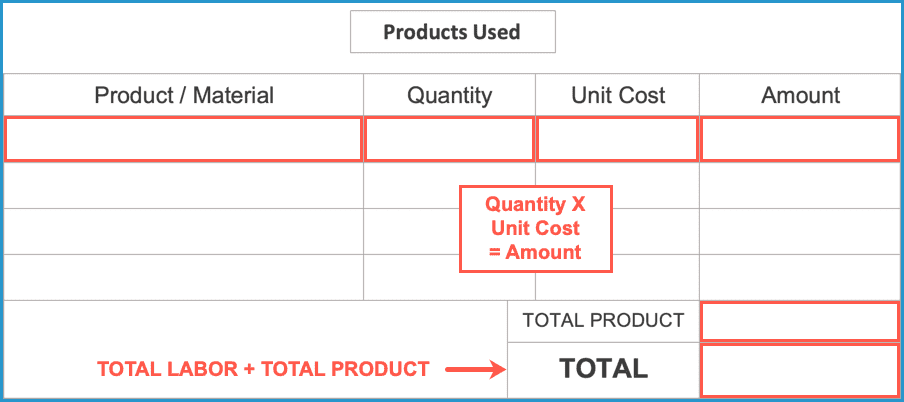 Step 5 – Due Date & Comments
Enter the following at the bottom of the invoice:
Issued Date (When the customer will be given bill)
Invoice Due Date (The date the customer needs to pay the total amount by)
Notes & Special Instructions (A personal thank-you, or payment instructions)