Alabama Commercial Lease Agreement
The Alabama Commercial Lease Agreement is a contract used for renting property specifically zoned for business purposes. The form can be used for leasing any type of commercial property, including retail outlets, warehouses, office space, entire buildings, and more.
The agreement is comprehensive, covering a wide range of topics necessary to establish the terms and conditions that all parties will follow. Unlike standard leases, the commercial lease is not affected by the majority of the state's landlord-tenant laws.
---
---
Versions (3)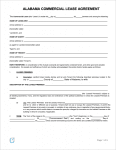 Version 1 (OpenDocs)
Download: Adobe PDF, MS Word (.docx)
---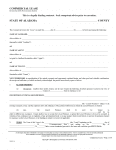 Version 2 (Birmingham Association of Realtors®)
Download: Adobe PDF
---
Version 3 (eForms)
Download: Adobe PDF, MS Word (.docx)
---
Required Information
Names and Addresses of the Landlord, Agent(s), and Tenant(s);
Full address of the rental + property description
Term of the lease
Monthly + yearly rent
Late fee
Required security deposit
Cost of insurance
Agent's commission (if any)
Transaction fee
Signatures of all parties