New Jersey Standard Residential Lease Agreement
The New Jersey Standard Residential Lease Agreement is a form used in property management to lock a tenant into a contract where they are required to make consistent rental payments in exchange for having a right to live in a property. Before using in a renting situation, the contract should be read through carefully to ensure all the landlord agrees with all included conditions. If there is a section that doesn't fit the renting scenario and it is not mandated to be included per state law, it can be removed.
In addition to featuring a Table of Contents, the form contains several notable sections, of which include:
The lease term,
Security deposits,
Subletting,
Entry,
Repairs / maintenance,
Insurance,
and more.
Tenant Screening: New Jersey Rental Application
---
---
State Laws
Laws: Title 46 "Property"; Chapter 8
Maximum Security Deposit (§ 46:8-21.2): One and a half (1.5) month's rent. Annually-collected security deposits cannot be greater than 10% of the previously charged security deposit.
Returning Security Deposits (§ 46:8-21.1): Landlords have thirty (30) days from the lease's termination to refund security deposits and any accrued interest. Landlords are required to return deposits within five (5) days if one of the following occurs:
The tenant(s) are displaced due to a fire, flood, evacuation, or condemnation, and
A building inspector (alongside a relocation officer) states that relocation will take longer than seven (7) days, or
The building/premises receives a posting from a public official prohibiting occupancy.
Notice for Increasing Rent: Landlords should provide tenants a minimum of thirty (30) days prior to raising rent through the use of a Notice to Quit.
Required Notice for Entry: Entry without notice only permitted in emergencies.
---
Association of Realtors Lease Agreement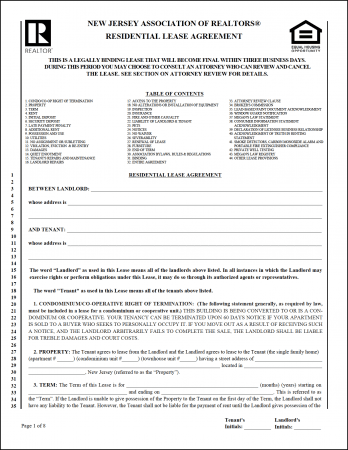 New Jersey Association of Realtors Residential Lease Agreement [.pdf] [.docx] – A comprehensive eight (8) page lease that covers countless topics relating to leasing in the state. Because the form was drafted by an official organization, it fully complies with both NJ's lease laws and the Federal Fair Housing Act.