Rhode Island Standard Residential Lease Agreement
The Rhode Island Standard Residential Lease Agreement is an official, binding contract formed between a landlord and tenant that provides a series of guidelines and rules that stay in effect for the duration of the lease. With a standard term of twelve (12) months, the agreement-type is on the longer-end compared to the shorter, month-to-month lease. The form serves several purposes, the most important being that it obligates the tenant(s) to pay the rent timely and in full, as well as treat the rental with respect. Although the form is drafted by landlords and is mainly used to protect their interests, it also contains information relating to the rights a tenant has during the lease.
Tenant Screening: Rhode Island Rental Application
---
---
State Laws
Laws: Residential Landlord and Tenant Act (§§ 34-18-1 to 34-18-57)
Maximum Security Deposit (§ 34-18-19): One (1) month's rent.
Deadline for Returning Security Deposits (§ 34-18-19(b)): Twenty (20) days starting from one (1) of the following:
The termination of the tenancy,
The tenant has provided the landlord with a forwarding address for the deposit, or
The tenant has delivered possession of the rental.
Required Notice for Property Access (§ 34-18-26): Two (2) days, and only at times deemed reasonable.
---
Realtors' Residential Lease Agreement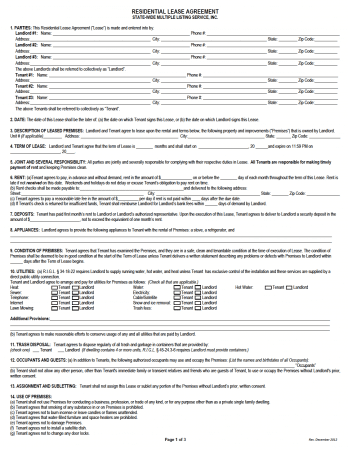 Rhode Island Realtors Residential Lease Agreement.pdf – A professionally-developed rental contract that can be used for the leasing of apartments, homes, condominiums, and other livable spaces. Consisting of forty-five (45) sections, the form is highly detailed and includes almost every aspect of a lease, covering topics that relate to the term of the lease, deposits, alterations, storage, pets, noise, utilities, rent, parties, and much more.