Hawaii Motor Vehicle Power of Attorney Form
A Hawaii motor vehicle power of attorney allows a person (the attorney-in-fact) to handle transactions and business for someone else. The attorney-in-fact must follow the direct orders from the owner, which can include applying for registration, transferring a title, or recording a lien. The appointed person can also carry out a private vehicle transaction using the form. Owners must provide precise instructions and the required documents to ensure a smooth ownership transition.
Signing requirements: Notarization required.
---
What is a Hawaii Motor Vehicle POA?
A Hawaii motor vehicle power of attorney endows a named individual with the ability to manage car tasks in another person's place. The appointed person, or the attorney-in-fact, and the owner should discuss financial matters about the vehicle beforehand. This step prevents undesired outcomes, such as overspending or purchasing incorrect parts or items. The attorney-in-fact must keep all receipts and/or distributions relating to the vehicle so that the owner can repay them (or they can repay the owner if they borrowed money).
---
How to Write
Download: PDF
Step 1 – Owner and Car Information
Disclose the name of the owner(s) and their address. Then, include the main identifiers of the vehicle, such as the:
License plate number;
Make (e.g., Honda);
Year (2016);
VIN (Vehicle Identification Number); and
Type (e.g., Sedan)

Step 2 – Attorney-in-Fact
Enter the name of the attorney-in-fact (the person acting on the car owner's behalf

Step 3 – Printed Name and Signature of Vehicle Owner(s)
Having a Notary Public as a witness, the owner(s) fill out the following section and include:
Printed name (Last, First, Middle)
Signature
Current date
Note: The Notary Public will write the current date above the owner's name(s).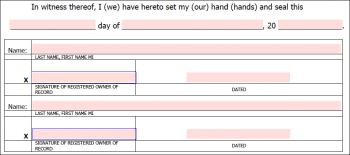 Step 4 – Notarization
A certified Notary Public must write the date, state in which they reside, commission expiration date, Notary Seal, and signature to verify they have witnessed the signing of the owner(s).