Delaware Bill of Sale Forms (5)
A Delaware bill of sale form allows private sellers and businesses to record the details of a transaction with a customer or buyer. It formally identifies each person concerned in the deal, thus making the seller the previous owner and the buyer the new owner. The document also represents the sale item using unique information, such as its identification number, color, or model. These details hold importance when registering or re-selling personal property.
Summary
Buyers and sellers must sign to indicate their approval of the deal.
Private sellers have to carry out a background check on all gun purchasers.
Utility trailers require both registration and title.
---
---
Types (5)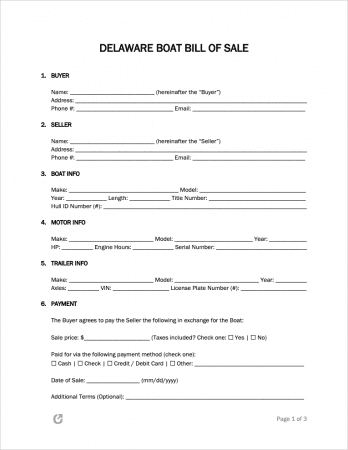 Boat Bill of Sale – A template that serves as a record in the sale of personal watercraft.
---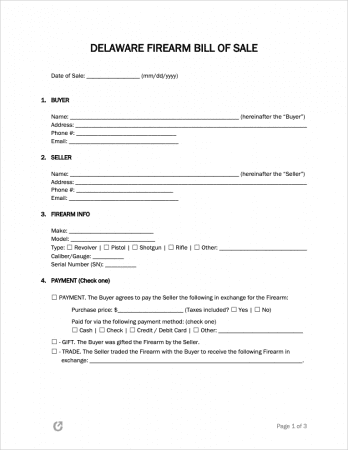 Firearm Bill of Sale – Provides both entities with a receipt for a gun sale.
---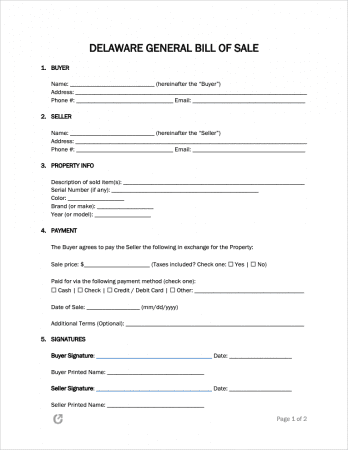 General Bill of Sale – A form used to exchange goods from a seller to a buyer.
---
---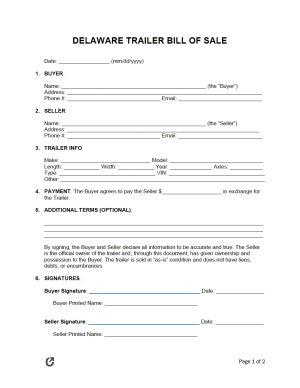 Trailer Bill of Sale – Used to trade a carrying platform between two (2) individuals.
---
Signing Requirements
| | | | |
| --- | --- | --- | --- |
| Bill of Sale Type | Buyer Signature | Seller Signature | Notarization |
| Boat | Required | Required | Not required |
| Firearm | Required | Required | Not required |
| General (others) | Required | Required | Not required |
| Motor Vehicle | Required | Required | Not required |
| Trailer | Required | Required | Not required |
---
What is a Delaware Bill of Sale?
A Delaware bill of sale gives the buyer evidence of ownership once signed by the seller. It implies that the purchaser appropriately compensated the merchant in the described manner. As a result, the new owner has full responsibility for the item and cannot hold the previous owner accountable for damages, repairs, fines, or other legal matters.
The person initiating the document must download it to fill it out by hand or electronically. Using a template ensures that both parties include the necessary information, particularly if they need the form for registration. Otherwise, the division of motor vehicles (DMV) or another state office can reject the application.
---
Registration Forms:
Boats
Visit a sales outlet to submit paperwork to a boat registration agent.
Bill of Sale – To give possession of a vessel to another person.
Vessel Registration Application – Needed to acquire a Delaware boat registration and title.
Payment – Fees depend on the size of the boat and the registration timeframe.
Hull Identification Number (HIN) – Outlined with a pencil to verify the boat's ID number.
Identification (ID) – The boat registration agent requests a form of photo ID to confirm the applicant's name, address, and date of birth.
Title – Current in-state or out-of-state title. If not available, the owner can present a valid registration.
Additional (Optional) Documents
Non-Resident Tidal Access Boat Ramp Certificate – A required form for out-of-state boaters that do not have a Delaware registration.
Manufacturer's Statement of Origin (MSO) – Provided by the dealer following the purchase of a new vessel.
---
Registration Forms:
Firearms
Delaware residents do not have to register a firearm or a purchase permit. Individuals can apply for a concealed carry permit to have their gun(s) on them in a confidential manner. Applicants must review the instructions before submitting the completed application and forms to a prothonotary's office.
Application for a License to Carry a Concealed Deadly Weapon – This form enables a person to apply for a concealed carry license and requires notarization.
Reference Questionnaire – The applicant must have five (5) individuals complete and sign this form to include it in the application.
Proof of Gun Safety Course – An official, signed document stating that the person applying has passed a firearm safety class taught by an approved individual.
Newspaper Circulation – Residents must post their information in their local newspaper stating their application to obtain a concealed carry license.
Fingerprints – The individual must have their fingerprints taken by an approved office within forty-five (45) days of the application.
Photographs – The person applying must have two (2 inches by 2 inches) taken of them within six (6) months of the submission.
Payment – A non-refundable fee of $65 by cash, money order, or check.
---
Registration Forms:
Vehicles
Choose a local DMV office to obtain a car registration and title. 
Additional (Optional) Documents
Delaware Motor Vehicle Power of Attorney (Form MV386) – For an agent to complete tasks for the automobile owner.
Emissions Testing – Applicants must prove that their car has undergone and passed inspection unless their vehicle is seven (7) years old or newer.
MSO – Brand new vehicle owners must present this document upon registration.
Safety Inspection – The inspector must perform a safety review on all vehicles coming from out of the state.
---
Registration Forms:
Trailers
Provide the applicable documentation to a DMV office for registration. 
Bill of Sale – For the official transfer of property to a buyer.
Payment (§ 2151) – Costs associated with registering a trailer in Delaware.
Title – Owners must have a trailer title before registering.
Vehicle's Insurance Policy – The car towing the trailer must have a valid insurance policy. Individuals must provide their current insurance card or document.
Additional (Optional) Documents
---
DMV Offices: By Location
Location
PHONE NUMBER
DMV OFFICE ADDRESS
Delaware City
(302) 326-5000

2101 Mid County Dr.

New Castle, DE 19720

Wilmington
(302) 434-3200

2230 Hessler Blvd.

New Castle, DE 19720

Dover
(302) 744-2500

303 Transportation Cir.

Dover, DE 19901

Georgetown
(302) 853-1000

23737 DuPont Blvd.

Georgetown, DE 19947