Delaware Bill of Sale Forms (4)
A Delaware bill of sale is a form used by private sellers and businesses to record the details of a transaction with a buyer. It should include the contact information of the seller and buyer, a description of the item being sold, and the payment method that was used. To be considered official proof of ownership, it must be signed by both parties. Both the buyer and seller should store the document if it needs to be referenced in the future.
By Type (4)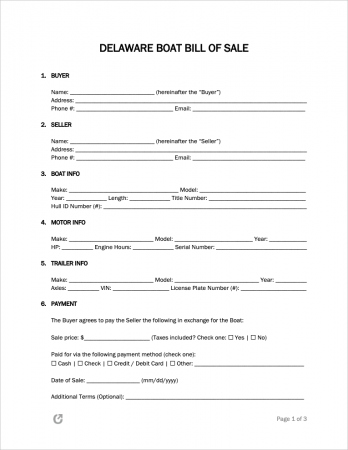 Boat Bill of Sale – A template that serves as a record in the sale of personal watercraft.
---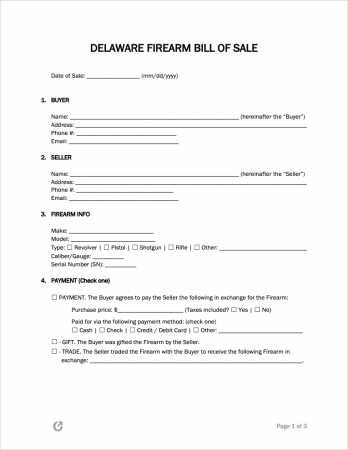 Firearm Bill of Sale – Provides both entities with a receipt for the sale of a gun.
---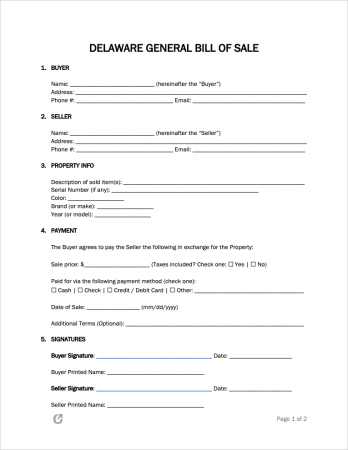 General Bill of Sale – A form used in the exchange of goods from a seller to a buyer.
---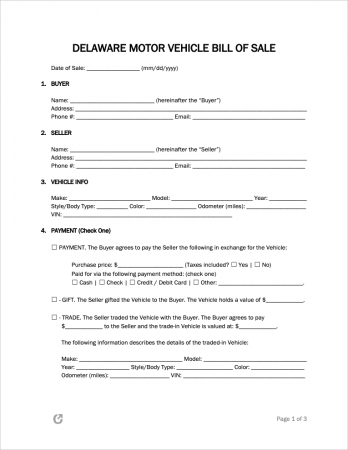 Motor Vehicle Bill of Sale – Proves that a car, truck, or van was exchanged between two (2) parties for cash or trade.
---
Signing requirements
| | | | |
| --- | --- | --- | --- |
| Bill of Sale Type | Buyer Signature | Seller Signature | Notarization |
| Motor Vehicle | Required | Required | Not required |
| Boat | Required | Required | Required |
| Firearm | Required | Required | Not required |
| General (others) | Required | Required | Not required |
---
How to Register a Motor Vehicle (4 Steps)
All commercial vehicles being operated in the state must be titled, registered, and insured. Previous out-of-state drivers planning to become full-time residents have thirty (30) days to submit their change of address to the Divison of Motor Vehicles (DMV). Within sixty (60) days of residency, they must also title and register their car, truck, or van (§ 2102).
Step 1 – Get Delaware Vehicle Insurance
The state of Delaware strictly enforces laws for automobile insurance. If the owner does not insure their vehicle, they are subject to fines of $1,500 or more, thirty (30) days in prison, and/or a six (6) month driver license suspension. The state will audit residents at random to check if they are insured.
When registering the vehicle, the insurance must be presented. Minimum insurance coverage in Delaware is as follows:
Bodily Injury or Death – $25,000 for one person or $50,000 for two (2) or more persons
Property Damage – $10,000 per incident
Personal Injury Protection (PIP) – $15,000 for each person or $30,000 for two (2) or more persons; $5,000 maximum for funeral expenses
Drivers can present a physical or electronic identification (ID) card to prove that they have valid coverage (§ 2118).
Step 2 – Pass Vehicle Inspection 
Inspection is required for every out-of-state vehicle that is being registered in Delaware. Either a full inspection or a vehicle identification number (VIN) verification will be conducted as it is based on the weight and year of the vehicle.
A full inspection is when each aspect of the automobile is assessed. For example, the inspector will check the lights, brakes, windows, mirrors, windshield wipers, and many more external components. The vehicle must be in good condition without any detectable issues.
If a VIN inspection is needed, the driver will need to provide documents proving that the vehicle matches the number. To further verify the automobile's identity, the inspector may briefly scan the inside and outside of the vehicle.
If the vehicle passes inspection, the owner must keep the associated report to apply for their title and registration. Automobiles with a failed inspection cannot be titled and registered until they pass.
Step 3 – Apply for Title + Registration
First-time applicants must register in person at a local DMV office.
Required Forms / Information:
Title – A current out-of-state title.
Request for Title (Form MV-35) – If there is a lien (or loan) against the vehicle, the car holder must send a form to the lienholder. Upon signing, the owner will be provided with a copy of the title.
Application (Form MV-212) – A form that is completed to receive a vehicle title and registration.
Bill of Sale – Official proof that the sale between the buyer and seller occurred.
Proof of Identity – A valid photo identification (ID) must be presented.
Proof of Insurance – A physical or electronic version of the insurance card.
Inspection Report (Form MV-210) – Out-of-state vehicles must undergo inspection.
Payment – Vehicles over 5,000 pounds cost $40 to register. For every 1,000 pounds over, the fee increases by $18.
All forms must be signed, dated, and notarized as needed to be considered valid.
Step 4 – Renew
Reminders are sent out one (1), two (2), and three (3) months via email or phone before expiration. The packet of information will include details on how to renew as the process depends on the weight and year of the vehicle.
An owner can renew their vehicle ninety (90) days before registration is due. Registration renewals cost $40 for commercial vehicles with a weight of 5,000 pounds or less. If the driver does not submit the renewal on time, they will be charged an additional $20.
---
How to Register a Boat (5 Steps)
Motorized boats (including vessels that are homemade) must be registered through the Delaware Department of Natural Resources and Environmental Control (DNREC). Residents and non-residents have sixty (60) days to register their boat through the state (§ 2113 (c)).
Delaware requires that all boat operators complete and pass a boat safety course. A driver who cannot present an education card will be fined (even if they are a resident of another state). There is no minimum age requirement to take the course. However, anyone under the age of fourteen (14) is not legally able to drive the boat, regardless of whether or not they have passed the safety course.
Step 1 – Residency Status
Owners cannot register their boat in Delaware if they use it more often in another state. In that case, they would need to register in the state where the boat is operated the most.
For example, this scenario may be applicable for residents who live near the New Jersey border. Instead of using Delaware waters, they may choose to use New Jersey lakes, rivers, and oceans, and would therefore need to register it out-of-state.
Additionally, the boat cannot be registered in Delaware if it is used or stored for over sixty (60) continuous days in another state.
Step 2 – Register Boat
If a boat is purchased through a private sale, the new owner needs to provide the following:
Required Forms / Information:
Application – A form used to obtain information from the owner to register the boat.
Title – The original document signed by the seller.
Bill of Sale – Delaware requires that the bill of sale is signed, notarized, and includes the boat's description.
Other Forms – In certain situations, the owner may need to provide more information.*
Payment – Fees are based on the boat's length and the amount of time it has been registered in the state.
*Additional Documents:
Certificate of Documentation – Applies only to vessels that are sold and acquired through the U.S. Coast Guard.
Lien Release – Required if the boat owner owes money to the lien and must be signed.
Registration – Only required if the previous state of residence does not issue titles.
Deceased Owner – The local DNREC must be contacted if the owner of the boat has passed away. A copy of the death certificate, short-form, and notarized bill of sale must be presented.
Homemade Boat – The following must be presented: a notarized form with a description of the boat from the builder & witness, materials purchased invoice(s), and a photograph of the boat after completion.
It is recommended that the boat owner contact the registering office prior to the appointment day to ensure that they have the paperwork required for registration.
Owners of new boats do not need to provide as many documents in the registration process. An application must be filled out along with the submission of an original manufacturer's certificate of origin (MCO) or builder's certificate. If neither of these forms is available, the original bill of sale can be used as proof of ownership.
Step 3 – Obtain Certificate + Sign
This section only applies to non-residents who wish to use or register their boats within state borders.
If an out-of-state owner wishes to launch their vessel from a Delaware Boat Ramp, they must hold a certificate. They can apply by filling out and submitting a form. The document and payment can be sent online, via mail, or through an agent.
Residents who do not live in Delaware full-time are eligible to register their trailer in the state. To obtain a title and registration, they must complete and sign an affidavit (Form MV725) stating that the trailer will remain in the state at all times. They must also provide their legal address in Delaware to be considered for approval.
Step 4 – Display Decals + Number
If registration is approved, the owner will receive an official card with important information pertaining to the boat. This document must be on board while the vessel is being operated. It can help to identify the boat if it is stolen, in an accident, or pulled over by boat police. An owner can be fined if they do not have their registration card on hand while using the watercraft.
Registration numbers in Delaware always start with "DL." A set of four (4) numbers and two (2) letters (i.e. DL-4859-HF) follow. When printing the number on the boat, each section must be divided by a space or hyphen so that it is easy to read. The text must be block-style with a minimum height of three (3) inches. Its color should be clear to see against the boat's background, as well.
The decal should be placed no more than six (6) inches after the registration number. It should be affixed carefully so that the decal is aligned with the number. Stickers must be removed and replaced during each registration period.
Step 5 – Renew Each Year
Boat registrations expire on December 31st annually. Information for renewals can be sent online, in person, or by mail, along with the payment.
If cards or decals are lost or stolen, the owner is responsible for obtaining new ones. They can apply online and will have to pay a small fee in the process.