Florida Bill of Sale Forms (5)
A Florida bill of sale form proves that two (2) parties had an exchange of goods. Buyers and sellers complete this document when transferring watercraft, guns, vehicles, or other items that hold value. It includes a complete description of the property sold, the information needed to contact the buyer and seller, and specifics regarding the change of ownership. The original owner and the purchaser must sign the form to endorse their agreement.
Summary
Notarization is not required, but the buyer and seller must sign the form.
Florida offers a boat and motor vehicle bill of sale, which residents must use.
Owners must have a signed bill of sale form to register a utility trailer.
---
---
Types (5)
Boat Bill of Sale – For selling a vessel from one person to another.
Download: PDF
---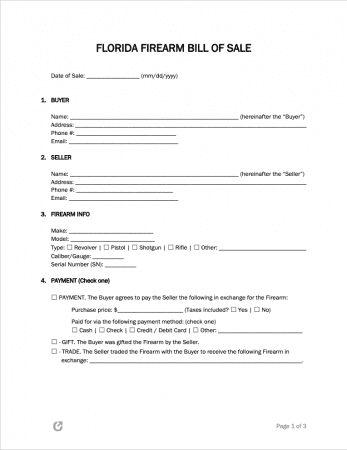 Firearm Bill of Sale – Acts as a receipt when exchanging a gun for money or trade.
---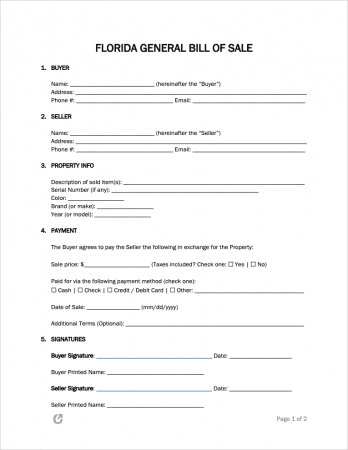 General Bill of Sale – Records the transfer of an item from a seller to a buyer.
---
---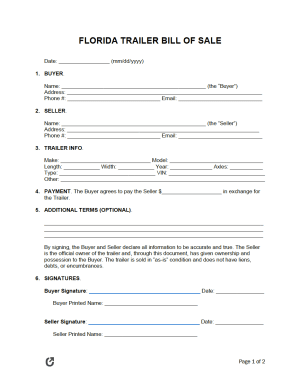 Trailer Bill of Sale – Provides each involved party with a way to prove the transfer of trailer ownership.
---
Signing Requirements
| | | | |
| --- | --- | --- | --- |
| Bill of Sale Type | Buyer Signature | Seller Signature | Notarization |
| Boat | Required | Required | Not required |
| Firearm | Required | Required | Not required |
| General (others) | Required | Required | Not required |
| Motor Vehicle | Required | Required | Not required |
| Trailer | Required | Required | Not required |
---
What is a Florida Bill of Sale?
A Florida bill of sale is a simple form that provides structure to a purchase occurring between a buyer and seller. The document has an organized layout that allows the buyer and seller to include information required by the state, such as the item's value and the purchase method. When registering cars, boats, trailers, or other personal property, these details become especially important.
Boat and vehicle owners must use the bill of sale form created by the state to formalize the transaction. The documents provide three essential pieces of information: 1) the item's description, 2) the odometer disclosure statement, and 3) certification and notice of sale. Once received by the Department of Motor Vehicles (DMV), they file it to verify that the previous owner no longer owns the property. By default, the responsibility transfers to the buyer, and they must register or title it as needed.
---
Registration Forms:
Boats
The Florida Highway Safety and Motor Vehicles (FLHSMV) handles all boat transactions, including registration and titling.
---
Registration Forms:
Firearms
While Florida does not mandate gun registration or a permit to purchase, firearm owners can apply for a concealed carry license. They must submit the following information to a Florida Department of Agriculture and Consumer Services regional office or a tax collector's office. Individuals can also apply by mail (directions in the instructions packet). 
Concealed Weapon or Firearm License Application – Required for a concealed carry license.
Payment – Includes fees for the application, fingerprinting, licensing, and renewals.
Proof of Firearms Training – Completion of an approved training course.
Identification – The owner must provide a driver's license or state ID.
Fingerprints & Photos – Taken at the office upon applying. The individual may have to pay additional fees for the service.
---
Registration Forms:
Vehicles
Car registrations happen at the FLHSMV by appointment.
Additional (Optional) Documents
---
Registration Forms:
Trailers
Residents must register their trailer with the FLHSMV.
Additional (Optional) Documents
Dealer Invoice – Required if the customer purchased a new trailer from a dealership.
Manufacturer's Statement of Origin – For brand new boats only. Must name each owner.
Registration – If the buyer purchased the trailer new, they must present the registration from the previous owner.
Trailer Sales Tax Statement – An official document from the dealer and the invoice from the dealer or manufacturer.
Weight Slip – For homemade boats to establish the trailer's empty weight.