Florida Bill of Sale Forms (4)
A Florida bill of sale is a form used to prove that an exchange of goods occurred between two (2) parties. Buyers and sellers complete this document when transferring watercraft, guns, vehicles, or any item that holds value. It includes a full description of the item(s) being sold, the information needed to contact the buyer and seller, and specifics regarding the change of ownership. The original owner and the purchaser must sign the form in order to endorse their agreement.
By Type (4)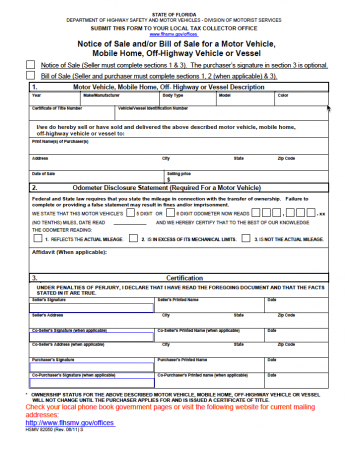 Boat Bill of Sale – For the selling of a vessel from one person to another.
Download: PDF
---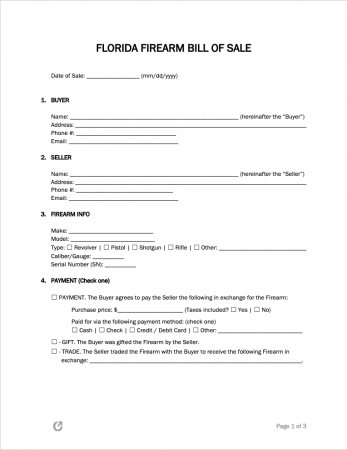 Firearm Bill of Sale – Acts as a receipt when exchanging a gun for money or trade.
---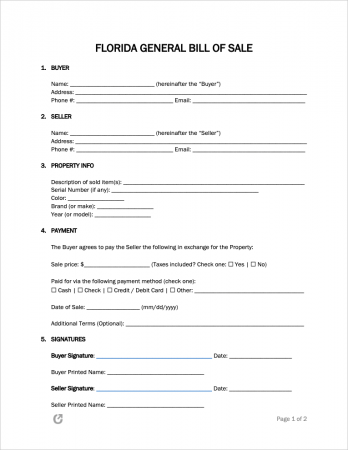 General Bill of Sale – Records the transfer of an item from a seller to a buyer.
---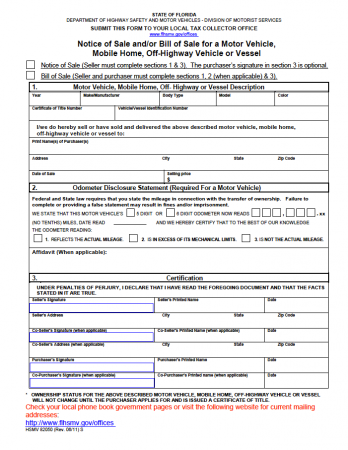 Motor Vehicle Bill of Sale – Used when a buyer purchases a commercial vehicle from a private seller or business.
Download: PDF
---
Signing requirements
| | | | |
| --- | --- | --- | --- |
| Bill of Sale Type | Buyer Signature | Seller Signature | Notarization |
| Motor Vehicle | Required | Required | Not required |
| Boat | Required | Required | Not required |
| Firearm | Required | Required | Not required |
| General (others) | Not required | Required | Not required |
---
How to Register a Motor Vehicle (3 Steps)
All vehicles that are driven on roadways in the state must be registered. However, registration is not required for automobiles that are owned, but not operated (§ 320.02).
Drivers moving to Florida must register their car, truck, or van within ten (10) of becoming a resident.
Step 1 – Submit Forms + Payment
First-time registrations must be done in person. Appointments can be made through the Florida Highway Safety and Motor Vehicles (FLHSMV) website.
Required Forms / Information:
Application (Form HSV 82040) – A form that provides the office with all necessary information to register the vehicle once it is completed.
Identification (ID) – A government-issued form of photo identity (i.e. driver's license, passport, etc.).
Proof of Insurance – All Florida vehicle owners must have an insurance policy.*
Payment – Drivers must pay $225, plus an additional fee based on the weight of the vehicle.
*At a minimum, drivers must have insurance coverage of at least $10,000 for both personal injury protection (PIP) and property damage liability (PDL).
Step 2 – Display Registration Sticker
Florida drivers must have a driver's license and registration documents in the vehicle while operating it. A registration decal must be located in the upper-right hand corner of the vehicle's license plate, as well.
While not required, the driver should also retain the original notarized bill of sale in addition to the registration paperwork. This signed document allows the holder to prove their ownership, and they can also show it to apply for a new title or to sell the vehicle.
Step 3 – Renew
Vehicle registration renewals occur every one (1) to two (2) years and expire at midnight on the owner's birth date (§ 320.07).
The application, documents, and payment can be sent in up to ninety (90) days before they are due. If the requested information is not submitted by the last day of the month following the expiration date, the registration holder will be fined.
The renewal process can occur through the mobile app or online if the owner is able to verify their license plate or vehicle identification number (VIN). If this information is not available, registration can occur in person or over the phone.
---
How to Register a Boat (5 Steps)
According to Florida law, only vessels being used in public water systems need to be registered. Registration must occur within thirty (30) days of purchase for both new and used watercraft. If the operator fails to register within that time frame, they may be fined (§ 327.73).
Step 1 – Review Requirements
The majority of vessels being used in the state require registration, although there are some that do not. Boats do not need to be registered if they are:
Being used on a private lake or pond;
Owned by the United States government;
Used as a ship's lifeboat;
Is not powered and is less than sixteen (16) feet in length; or
Is not considered a boat and is non-powered (i.e. canoe, kayak, etc.) (§ 328.48).
Abandoned boats in Florida cannot be used by another entity unless the original owner gives them the title. If the title has not been transferred, the person who discovered the vessel has to follow a protocol to obtain ownership. First, they must report the item as stolen to law enforcement. Then, the detective will conduct a thorough investigation and contact the rightful owner. If it is not claimed, the discoverer will be presented a bill of sale and a write-up to apply for a title.
Step 2 – Pass Inspection
Homemade boats under sixteen (16) feet long do not need to be inspected. However, the owner must complete a Title Application (see HSMV 82040) and a Vessel Statement of Builder (see HSMV 87002). At that time, all applicable fees (between $5.25 and $11) must be paid.
Boats that are over sixteen (16) feet in length must be checked by a member of the Fish and Wildlife Conversation Commission (FWC). The owner must show the inspector a signed Vessel Statement of Builder (see above). If it passes, the officer will provide a signed Certificate of Inspection. When applying for the registration and title, this certificate must be presented, along with the original Vessel Statement of Builder and Title Application.
Step 3 – Submit Registration Forms + Fees
Registration for new residents or vehicles must occur at a local office. Appointments can be made by contacting a county tax collector or license plate agent.
Required Forms / Information:
Proof of Ownership – Forms proving that the owner legally owns the vessel.*
Title – A document that verifies ownership over the boat.
Application – This form is only available through the tax collector and/or license plate agent office. It must be completed by the registerer during the appointment.
Photo Identification (ID) – Applicants must submit a government-issued ID containing a photo.
Payment – The cost depends on the type of boat and its length. Sales tax is due at registration if it has not previously been paid.
*Documents accepted as proof of ownership:
Bill of Sale – Must include the boat's description and signatures from both parties.
Builder's Contract – A document that provides details about the construction of the boat, as well as signatures from the owner and builder.
Manufacturer's Statement of Origin (MSO) – Lists where the vessel was built and any applicable taxes.
Federal Marine Document – Any form that shows that the boat has been federally registered through the U.S. Coast Guard.
Before the appointment, it is important to check whether or not the documents need to be signed or notarized. If the applicant is not able to provide the information needed, they may be turned away.
Step 4 – Adhere Florida Number + Decal
After the application has been approved the owner will be given a registration number and a decal. This information must be permanently displayed so that other boaters and/or police patrol can see them from a distance.
A Florida registration number appears in the following sequence: FL-8576-IF. It must be displayed in block letters that are no less than three (3) inches high. The number needs to be attached permanently to the front section of the vessel on the left and right sides. Its color must be easy to see against the background, as well.
A decal is valid for one (1) year and must be replaced annually. It must be on the left side of the boat either before or after the registration number. The area should be kept clean and free of any text or stickers.
Step 5 – Renew
Vessel registrations need to be renewed every one (1) or two (2) years. The expiration date depends on the period that is selected during registration.
Renewals can occur through the FLHSMV website, mobile app, or in person. Online registrations require additional identifying information and must be paid using a credit card.