Hawaii Bill of Sale Forms (5)
A Hawaii bill of sale form contains information about exchanging goods from one party to another. Each type of form has an essential but unique purpose. For example, a motor vehicle bill of sale requests the license plate number, vehicle identification number (VIN), and odometer reading of a car. A boat bill of sale, on the other hand, contains fillable fields for the hull identification number (HIN), motor information, and trailer details. Other documents, such as those for transferring a firearm or generic object, include information specific to the item.
Summary
Car bill of sale forms require the seller's signature and notarization.
Hawaii has stricter gun restrictions than most other states.
Residents must register and title all tow-behind trailers.
---
---
Types (5)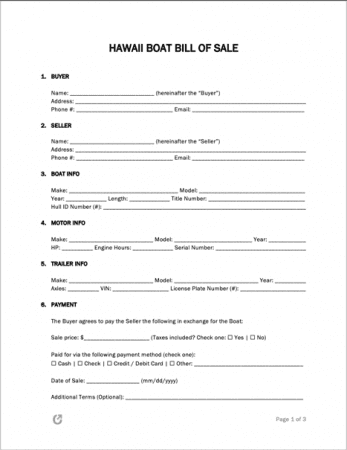 Boat Bill of Sale – A form that proves that the buyer acquired ownership of a vessel and that the seller no longer has possession of it.
---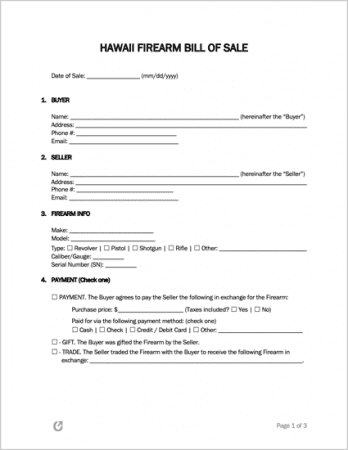 Firearm Bill of Sale – Used when one party purchases a rifle, handgun, shotgun, or any other gun from another.
---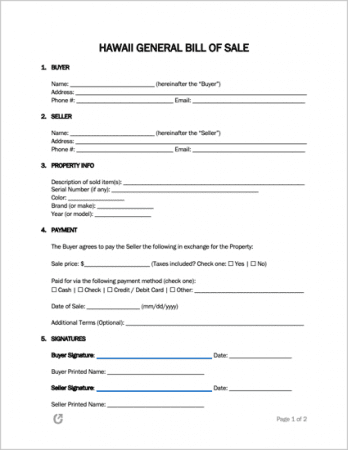 General Bill of Sale – Provides the details of a transaction between two (2) entities when the item is non-specific.
---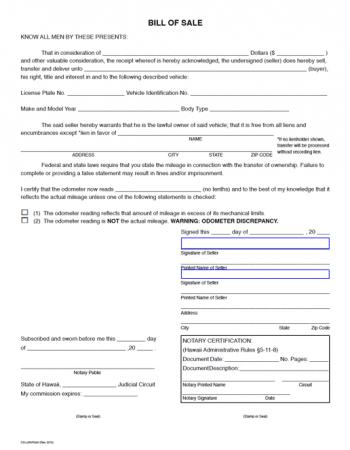 Motor Vehicle Bill of Sale – A document used to sell a passenger vehicle that describes the car, truck, or van and how a buyer purchased it.
Download: PDF
---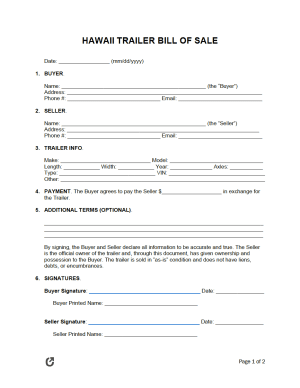 Trailer Bill of Sale – For the documenting of a utility trailer commerce.
---
Signing Requirements
| | | | |
| --- | --- | --- | --- |
| Bill of Sale Type | Buyer Signature | Seller Signature | Notarization |
| Boat | Required | Required | Not required |
| Firearm | Required | Required | Not required |
| General (others) | Required | Required | Not required |
| Motor Vehicle | Not required | Required | Required |
| Trailer | Required | Required | Not required |
---
What is a Hawaii Bill of Sale?
A Hawaii bill of sale serves as a guide to the proceedings between a buyer and seller. It encompasses the minute details of the transaction, such as the sales price, tax amounts, and the condition of the item sold. Neither party can back out of the deal once signed, meaning the buyer cannot request an exchange, and the seller cannot ask for the item back. Instead, the new owner would need to complete and sign a separate bill of sale form to carry out the reassignment of ownership.
A bill of sale differs from a purchase order because it requires the buyer to pay the seller immediately. The buyer cannot make installments, pay in advance, or provide reimbursement later. In addition, businesses and clients often use purchase orders when ordering a list of goods from a company. On the other hand, private sellers and buyers utilize bill of sale forms, which generally involve one (1) used item but can include more depending on the agreed-upon terms.
---
Registration Forms:
Boats
Residents must undergo vessel registration at a Boating and Ocean Recreation (DOBOR) office.
Bill of Sale – To transfer ownership of watercraft.
Application for Vessel Certificate of Title – To apply for a title and/or a certificate of number for the vessel.
Proof of Boating Safety Class – A certificate stating that the applicant took and passed a boat education course.
Payment – A fee chart that contains prices based on the boat's length.
Title – Required if a bill of sale does not exist for an out-of-state boat.
Identification (ID) – To ensure the applicant has legitimate ownership of the boat.
Additional (Optional) Documents
Change of Status (Form LNR 3-023) – To note an address change or report the vessel as lost, stolen, documented, abandoned, or destroyed.
Manufacturer's Certificate of Origin (MCO) – For boats purchased new from a dealership only.
Vessel Notice of Transfer – The seller must use this form to notify the state of their release of ownership within seven (7) days of the sale. Notarization required.
---
Registration Forms:
Firearms
Hawaii requires individuals to register their firearms and hold a permit to purchase and own a gun. The resident must follow the listed guidelines, which require gun registration within five (5) days of purchasing.
To register the gun in person, the individual must bring their unloaded firearm, government-issued photo identification, and permit to acquire. The state recommends the buyer and seller transfer the gun at the police station for quick registration and record-keeping.
When registering the gun by mail, they must provide the ID, permit, and information sheet (example). If the transfer does not occur at the office, the seller must send a notice of transfer within forty-eight (48) hours of the sale (example). 
Incoming residents and guests must register their firearms within five (5) days of arriving in the state. They can bring the gun in person to have it inspected or send an out-of-state information sheet (example). In addition, they must provide their fingerprints, photograph, and proof of U.S. citizenship (or permanent residency). The state runs a background check on the individual. If denied, a law enforcement officer confiscates the gun(s) and ammunition. If approved, the individual receives registration documents to prove their rightful ownership. 
---
Registration Forms:
Vehicles
Vehicle registration must occur at the motor vehicle office closest to the applicant. Hawaii, Honolulu, Kauai, and Maui counties provide lists of locations to residents. 
Bill of Sale (Form CS-L(MVR)40) – Provides information about how an owner traded a car for cash or another item of equivalent value. The document also includes the odometer disclosure statement.
Application for Registration of Motor Vehicle – This form allows the car owner to apply for a Hawaii registration.
Insurance (Minimum Liability) –

Personal Injury Protection Benefits (per person): $10,000
Bodily Injury (one person): $20,000
Bodily Injury (2+ people): $40,000
Property Damage (per incident): $10,000

Payment – Each county has a unique pricing model.
Title – An original copy of the title with the new owner's name.
Registration – The owner must provide the current registration from the former owner (the seller).
Identification (ID) – A Hawaii ID (i.e., driver's license, state card, or passport).
Safety Check Inspection – The applicant must present the "failed for registration only" certificate to the DOT.
Additional (Optional) Documents
---
Registration Forms:
Trailers
Trailer owners must go to their nearest office (Hawaii, Honolulu, Kauai, or Maui) to register. 
Bill of Sale – To legally transfer ownership of a trailer between two (2) people.
Registration Application – A document from the state that allows a person to apply for a trailer registration and license plate.
Bill of Lading – For out-of-state owners to verify the date that their trailer entered the state.
Payment – Fees associated with registration, inspection, and other related matters.
Additional (Optional) Documents
Inspection – New and homemade trailers require a review. Must occur before and after registration.
MCO – A form provided by the dealership that includes the trailer's weight and parts.
Previous Registration and/or Title – Owners of trailers previously registered in or outside of Hawaii must provide the current registration and title.
Weight Slip – Provides the unladen weight of homemade trailers.