Hawaii Bill of Sale Forms (4)
A Hawaii bill of sale is a document that contains information about the exchange of goods from one party to another. The form can be used for the sale of a vessel, firearm, motor vehicle, or any generic item that holds value. It must be signed and dated by both the buyer and seller in order for it to be considered legit. Notarization can be required (depending on the item being sold), and therefore, it is best practice to check state laws before finalizing the deal.
By Type (4)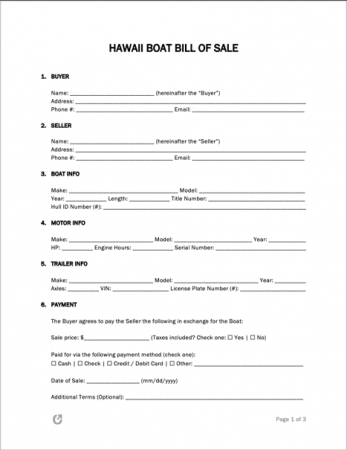 Boat Bill of Sale – A form that proves that the buyer acquired ownership of a vessel and that the seller no longer has possession of it.
---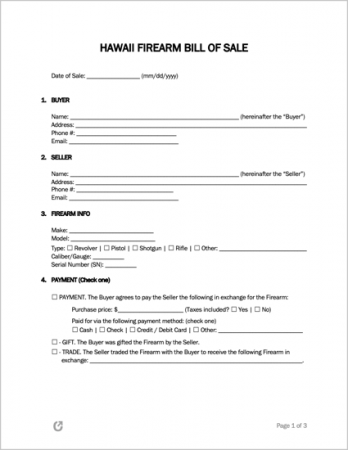 Firearm Bill of Sale – Used when one party purchases a rifle, handgun, shotgun, or any other gun from another.
---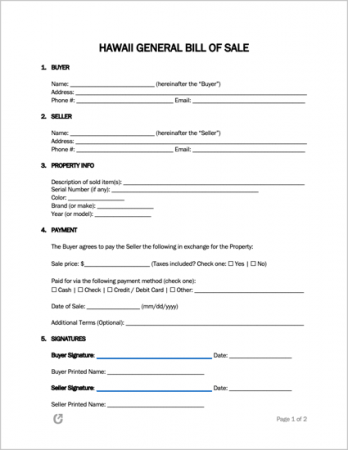 General Bill of Sale – Provides the details of a transaction between two (2) entities when the item is non-specific.
---
Motor Vehicle Bill of Sale – A document used in the sale of a commercial vehicle that describes the car, truck, or van, as well as how it was obtained.
Download: PDF
---
Signing requirements
| | | | |
| --- | --- | --- | --- |
| Bill of Sale Type | Buyer Signature | Seller Signature | Notarization |
| Motor Vehicle | Not required | Required | Required |
| Boat | Not required | Required | Required |
| Firearm | Not required | Required | Required |
| General (others) | Not required | Required | Not required |
---
How to Register a Motor Vehicle (3 Steps)
Cars, trucks, or vans being used in Hawaii must be registered within thirty (30) days of purchasing or becoming a resident. If the registration is not submitted by that date, the owner will be penalized on their taxes and receive a $50 fine.
If an automobile is purchased through a dealership, the buyer does not have to register it as the seller will submit all of the signed forms and provided payment(s). However, new owners who acquired the vehicle through a private sale are responsible for registration.
Step 1 – Get Hawaii Insurance
The state of Hawaii requires drivers to have a minimum coverage of $10,000 for personal injury per accident and $10,000 for damage liability per occurrence. They must have bodily liability coverage of $20,000 per person and $40,000 per accident, as well.
Step 2 – Register Vehicle
Each county in Hawaii (Honolulu, Maui, Hawaii, Kaua`i) has one (1) department of motor vehicles. Residents must register their car at the county office in which they reside. Every office has unique guidelines for documents and payment, although the forms listed below are generally required.
Required Forms / Information:
Title /Registration – Can be in-state or out-of-state depending upon the type of registration.
Bill of Sale – Serves as a receipt of the automobile purchase.
Application – Forms vary by county, but all applications must be completed and signed by the vehicle owner.
Safety Inspection Certificate – Must be performed by an authorized service station or vehicle repair shop and typically lasts for one (1) year.
Proof of Insurance – Mandated for all drivers to have coverage that aligns with state requirements.
Proof of Identity – A valid photo ID issued by the state of Hawaii.
Payment – The cost varies depending on the county, vehicle weight, and taxes.
*Additional Required Forms for New Residents
Shipping Receipt (Bill of Lading) – Contains information on when and how the vehicle was shipped overseas.
Manufacturer's Statement of Origin (MSO) – Required to show official proof of weight. If an MSO is not available, the owner must show proof that the vehicle has been weighed using a certified scale.
Motor Vehicle Use Tax Certification (Form G-27) – Vehicles that are imported to Hawaii have additional tax fees, and this form proves that they have been paid.
Military personnel must also show supplemental forms that can be found through the local DMV website.
Step 3 – Renew Annually 
Like first-time registrations, renewals must occur through the county of residence. Each office has specific rules for renewals, and therefore, it is important to defer to their website for more details. Typically, registration lasts for one (1) year and must be renewed by the last working day of the expiration month.
Although renewal requirements vary by county, the steps are relatively similar to one another. Typically, the information can be given in person, online, or through the mail. Additionally, residents can submit the documents up to forty-five (45) days before the registration expires. They must adhere to the instructions provided by the state in the renewal notice, as well.
Applicants cannot renew online if they have had a change in their address, their registration has expired, or their safety inspection certificate is no longer valid. They must also use a Visa or Mastercard to pay for the fees, opposed to a check or cash. If they are unable to meet these requirements, they must send in the forms and payment through the mail or visit a local office.
---
How to Register a Boat (5 Steps)
Boating is prohibited in Hawaii unless the owner holds a valid registration and hull identification number (HIN). These forms of identification must be visible on the vessel at all times. Failure to follow these rules can result in fines.
Owners must also notify the state within seven (7) days of acquiring or selling the vessel.
Step 1 – Registration Requirements
While the majority of boats in Hawaii require registration, there are exemptions. Vessels do not need to be registered if they are:
Propelled manually (i.e. paddled, rowed, poled, etc.);
Sailboats (eight (8) feet or less in length);
Public vessels (specific);
Lifeboats of a ship; or
Out-of-state boats in Hawaii waters for less than sixty (60) consecutive days (§ 200-31).
All other vessels must be registered through the Department of Land and Natural Resources, Divison of Boating and Ocean Recreation (DLNR/DOBOR).
Step 2 – Prepare for Registration
Hawaii residents cannot drive a vessel unless they have completed a boating safety course. While it is not required for registration, owners must hold a certification before they can legally operate the boat (§ 13-244-15.5).
Owners of new or transferred boats must register in person at a vessel registration branch. They can set up an appointment by calling a local DOBOR office.
Applicants should prepare by gathering the required documents beforehand, ensuring that they are signed or notarized if needed.
Residents should inquire about the required fees and the forms of payments that the office accepts, as well. Bringing the correct amount of money to the appointment will prevent processing delays.
Step 3 – Attend Appointment
Boat owners must be present and prepared during registration. Submitting all of the required documents on time increases the chances of approval.
Required Forms / Information:
Proof of Ownership* – Provides the state with evidence that the owner has legally obtained the vessel by paying for it in full.
Application – Must be completed to receive a registration number and/or title.
State-Issued Identification (ID) – The applicant must present a photo ID that proves that they are a Hawaii resident.
Payment – Most locations will accept cash, pre-printed checks, and specific credit cards; however, it is recommended to check with the certifying office.
*Approved Documents:
Bill of Sale – Outlines the agreement between the buyer and seller, and must be notarized.
Vessel Notice of Transfer – Proves that ownership has been moved from one person to another, and must be signed in front of a notary public.
Title/Registration – If applicable, the owner must present the title and/or registration from their previous state of residence.
Manufacturer's Statement of Origin (MSO) – Includes specific details about when and how the boat was built.
Affidavit – If the applicant is unable to show proof of ownership using the listed documents, they must complete an affidavit.
Step 4 – Display Registration Number
Once registration has been approved, the owner will receive a Certificate of Number and a registration sticker. The information must be clearly presented on the boat to prevent being fined. All boats should already have a legible HIN, but if it does not, it must be permanently attached.
In addition to the HIN, the registration number must be permanently affixed (i.e. paint, a decal, etc.) on the left and right front sides of the boat. It must be placed reading left to right and at an angle that can be seen from a distance.
An example of a Hawaii certification number reads as follows: HA – 3894 – WN. Each of the three sections must be separated by a hyphen or space (larger than the letter "I") on the boat. The lettering must be at least three inches high in block format, as well, and be printed in one color that is easy to see against the boat's color.
Nothing else can be displayed near the boat registration number except the decal sticker provided by the state. Starting at the last letter of the number, measure three (3) inches. The decal can be placed in this location as long as it is aligned with the number.
Step 5 – Renew
A Certificate of Number lasts for one (1) year and must be renewed annually. Renewals can occur online or through mail up to ninety days before expiration.
If the registration sticker or certification is lost, stolen, or no longer legible, the boat owner is required to notify the state within seven (7) days. The recertification fee is $5 (Form LNR 3-023).