Illinois Bill of Sale Forms (4)
An Illinois bill of sale is completed when a buyer purchases personal property through a private sale. It is comparable to a receipt as it outlines the specifics of the transaction, such as the selling price and payment method. This form is most often completed for motor vehicles, although it can be used for other items (like boats or firearms). While a bill of sale is not required by the state of Illinois, it is in the best interest of both parties to fill out the form. This is because once it is signed, it proves that the seller has transferred ownership to the buyer.
---
---
By Type (4)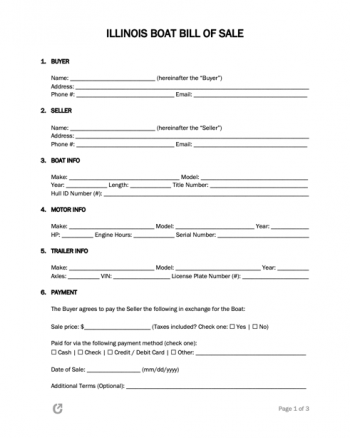 Boat Bill of Sale – A form that contains important details about the exchange of a water vessel between a buyer and seller.
---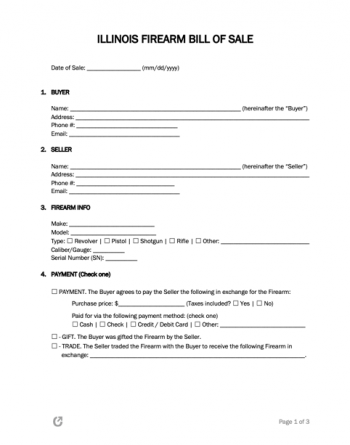 Firearm Bill of Sale – Documents the transfer of a handgun, shotgun, or long gun to a buyer.
---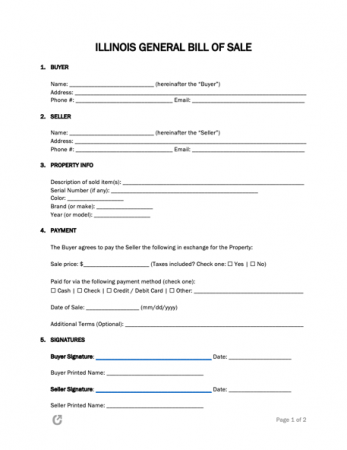 General Bill of Sale – Records the specifics for the sale of a non-specific item.
---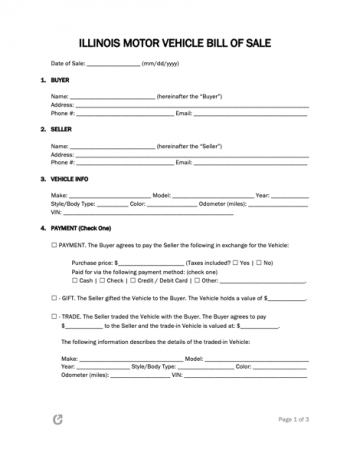 Motor Vehicle Bill of Sale – A legal document that includes how and when a car, truck, or van was purchased.
---
Signing requirements
| | | | |
| --- | --- | --- | --- |
| Bill of Sale Type | Buyer Signature | Seller Signature | Notarization |
| Motor Vehicle | Required | Required | Not required |
| Boat | Required | Required | Not required |
| Firearm | Required | Required | Not required |
| General (others) | Not required | Required | Not required |
---
How to Register a Motor Vehicle (5 Steps)
Illinois residents have twenty (20) days to register their motor vehicle after purchasing. Non-residents must submit their vehicle registration within thirty (30) days. Drivers operating an unregistered vehicle can be fined up to $90 per incident (§ 1010.330).
Step 1 – Obtain Illinois License
Non-residents have ninety (90) days to apply for a driver's license after moving to Illinois. Having an identification (ID) in the state is recommended prior to registration as it can be used as proof of residency.
Applicants must visit a Secretary of State (SOS) Driver Services facility to have their photo taken and complete the required exam(s). Once this step has been completed, the new ID will be mailed within fifteen (15) days.
Step 2 – Get Illinois Auto Insurance
All vehicles in the state of Illinois must be insured. If an uninsured driver is stopped by law enforcement, they can be fined up to $1000.
The insurance policy must cover $25,000 for the injury or death of one (1) person and $50,000 for the injury or death of two (2) or more people. In addition, it must include coverage for $20,000 of property damage per accident (§ 625 ILCS 5/7-601).
Step 3 – Safety Inspection + Emissions
New residents cannot register a vehicle until a safety inspection and emissions testing occurs. At that time, the owner receives a "pass" or "fail" document. The applicant must keep this form as it needs to be submitted during registration.
Vehicles over four (4) years old must undergo emissions testing every two (2) years. Certain counties in Illinois do not require emissions testing. However, counties that mandate it send a renewal notice to the resident before expiration.
Step 4 – Submit Documents
Motor vehicle registration can occur at an SOS facility or by mail. Applications must be sent to the following address:
Secretary of State
Vehicle Services Department
501 S. 2nd. St., Room 014
Springfield, IL 62756
Required Forms / Information:
Application (Form VSD-190) – Applicants can fill out and print this form through the Electronic Registration and Title system and must mail or submit it to an SOS office within seven (7) days of completion. The document can be obtained by visiting an SOS office, as well.
Illinois Residency – A document that proves that the person registering the vehicle lives in the state. An Illinois driver's license, utility bill, or bank statement are valid forms of proof.
Ownership – The original, signed title and registration can be presented. If these documents are not available, a copy of the title and certificate of origin can be submitted. A copy of the loan agreement and bill of sale are accepted, as well.
Insurance – The vehicle must have a valid insurance policy under the state of Illinois.
Safety Inspection + Emissions – New residents must have their vehicles inspected and emissions tested.
Odometer Disclosure Statement (Form VSD-333) – This document confirms that the odometer reading at the time of the sale is valid. It must be signed by the previous and current owners.
Tax Transaction Form (Form RUT-50) – If the car was purchased through a private sale, this form is used to document the taxes. It is not available online as it must be obtained through an SOS office.
Payment – It costs $301 to register and title a vehicle in Illinois. Fees must be paid in full when applying.
Step 5 – Renew Yearly
Motor vehicle registration in Illinois expires each year. Registration holders can renew online (license plates renewal), by phone (866-545-9609), via mail, or in person.