Illinois Bill of Sale Forms (5)
An Illinois bill of sale form outlines the purchase details of how a buyer acquired personal property from a seller. This transaction can occur through a private seller or dealership. The buyer and seller may need to include additional forms depending on the item. For example, brand new cars require a manufacturer's statement of origin (MSO). On the other hand, used cars often need a vehicle identification number (VIN) inspection and an odometer reading.
Summary
Notarization is suggested but not required.
Residents must obtain a permit to purchase, own, and carry firearms.
Owners must register and title utility trailers with the state.
---
---
Types (5)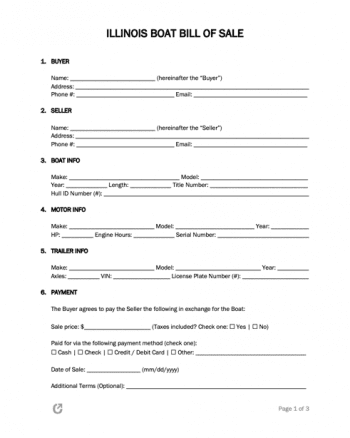 Boat Bill of Sale – A form that contains important details about the exchange of a water vessel between a buyer and seller.
---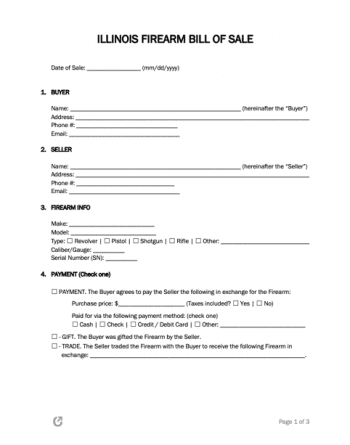 Firearm Bill of Sale – Documents the transfer of a handgun, shotgun, or long gun to a buyer.
---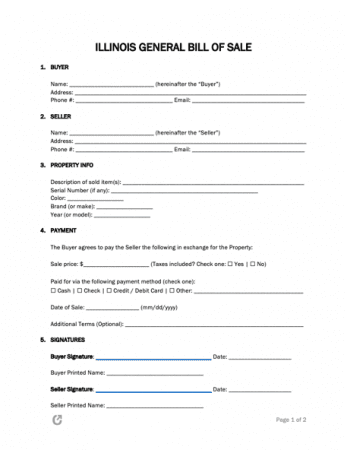 General Bill of Sale – Records the specifics for selling a non-specific item.
---
---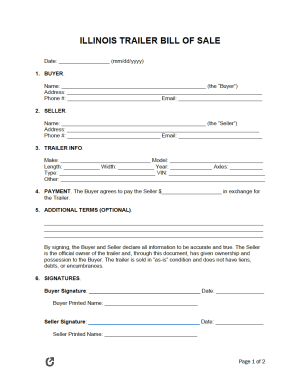 Trailer Bill of Sale – Aids in transferring a trailer between two (2) Illinois residents.
---
Signing Requirements
| | | | |
| --- | --- | --- | --- |
| Bill of Sale Type | Buyer Signature | Seller Signature | Notarization |
| Boat | Required | Required | Not required |
| Firearm | Required | Required | Not required |
| General (others) | Required | Required | Not required |
| Motor Vehicle | Required | Required | Not required |
| Trailer | Required | Required | Not required |
---
What is an Illinois Bill of Sale?
An Illinois bill of sale certifies the transmission of belongings from an owner to an interested party. The purchaser often tours the item before buying to ensure its condition. Once the individual decides to buy, both parties use the document to sort out the transfer details.
Although the state does not require a bill of sale form, they recommend that both parties complete one to record the date of the sale and what it entailed. Neither party can prove the transfer took place without the document unless they have transferred and signed the title. However, a title does not include as much identifying information as a bill of sale.
---
Registration Forms:
Boats
Applicants must bring the necessary forms to an Illinois department of natural resources (IDNR) office.
Bill of Sale – A form that documents a vessel transfer. If unavailable, submit a purchase agreement instead.
Watercraft Registration / Title Application – To provide the IDNR with information to title and register the water vessel.
Payment – The state calculates fees according to the class (weight) of the boat.
Title & Registration – The in-state or out-of-state title (from titling states). If from a non-title state, the owner must present a registration card.
Identification (ID) – A form of state ID that confirms residency.
Additional (Optional) Documents
Affirmation of Correction (Form VSD 393.9) – To make changes to the boat title, registration, or other related documents.
Boat Power of Attorney (Form IL 422-0329) – Gives the DNR permission (or lienholder) to sign forms on behalf of the principal's boat and handle related matters.
Boat Use Tax

Form RUT-25 – For brand new vessels purchased from an out-of-state dealership.
Form RUT-75 – An owner must complete this form if they acquired a used boat through a private seller.
Form RUT ST-556 – Required for boats obtained through an in-state dealership.

Manufacturer's Statement of Origin (MSO) – Needed for brand new watercraft.
Small Estate Affidavit (Form IL 1017) – Provides an individual with ownership of the boat if the owner passes away.
Statement of Trust (Form TR-39) – Written by the trust to give the trustee(s) complete authority over the vessel.
---
Registration Forms:
Firearms
Illinois residents must register their name with the state and obtain a firearm owner's identification (FOID) card. The FOID card functions as a purchase and ownership permit. Individuals must also have a license to concealed carry their firearm(s). Interested parties must consult with their local Illinois State Police (ISP) Firearm Services Bureau office. Applicants can submit the paperwork online or call the ISP (217-782-7980) to obtain the required documents by mail. 
Concealed Carry License Application – The applicant can only access the application online or after receiving it in the mail.
Firearm Owner's Identification Act (FOID) Card – A state ID card allows individuals to possess and purchase guns.
Proof of Firearms Training – An individual cannot apply without passing a certified instructor's gun safety course.
Fingerprints – Only accepted if taken by an approved vendor.
Identification (ID) – A form that verifies Illinois residency and the name and birthday of the person applying.
Photograph – All individuals must have a picture taken of them thirty (30) days before applying.
Payment – Illinois residents must pay $150, and out-of-state individuals must pay $300 for the license.
---
Registration Forms:
Vehicles
Residents must select a nearby secretary of state (SOS) office to register their vehicle.
Additional (Optional) Documents
---
Registration Forms:
Trailers
Trailer owners must bring the applicable forms to an SOS location.
Bill of Sale – A representation of the deal that happened when transferring ownership of a utility trailer.
Payment – Fees for registering a trailer and obtaining a license plate.
Additional (Optional) Documents