Indiana Bill of Sale Forms (4)
An Indiana bill of sale proves that a buyer purchased an item, such as a motor vehicle, boat, or firearm, from a seller. It does not require notarization, although the buyer and seller must sign to acknowledge that the information provided is accurate and honest.
Indiana requires motor vehicle bill of sale forms to include a description and a vehicle identification number (VIN). In addition, it must contain the buyer's name and the seller's address and signature. It only proves ownership of the motor vehicle if it is combined with an official, signed title.
---
---
By Type (4)
Boat Bill of Sale – A form that outlines the specifics of a vessel transaction.
Download: PDF
---
Firearm Bill of Sale – An official record of how and when a gun was sold to a buyer.
---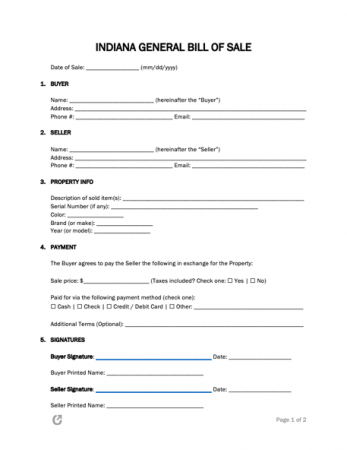 General Bill of Sale – Proves that the transfer of a generic item occurred between two (2) parties.
---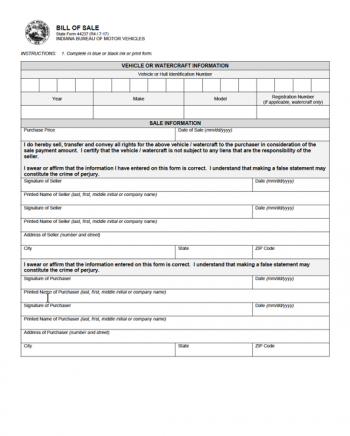 Motor Vehicle Bill of Sale – A legal document that is completed when a buyer purchases a commercial vehicle, such as a car, truck, or van from a seller.
Download: PDF
---
Signing requirements
| | | | |
| --- | --- | --- | --- |
| Bill of Sale Type | Buyer Signature | Seller Signature | Notarization |
| Motor Vehicle | Required | Required | Not required |
| Boat | Required | Required | Not required |
| Firearm | Required | Required | Not required |
| General (others) | Not required | Required | Not required |