Kansas Trailer Bill of Sale Form
A Kansas trailer bill of sale form harnesses relations between transferors and transferees. Both individuals use the document to elaborate on the crucial happenings of a given transaction. Buyers and sellers should fill it out so that third parties can decipher the information without confusion. Most importantly, the bill of sale should list the purchase price, date of the deal, trailer's description, and contact details of all persons involved.
---
---
Versions (2)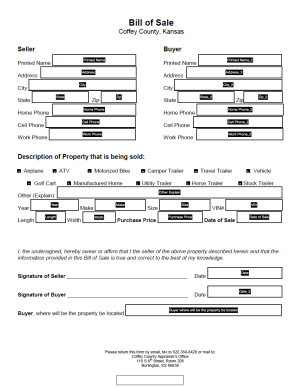 Coffey County
Download: PDF
---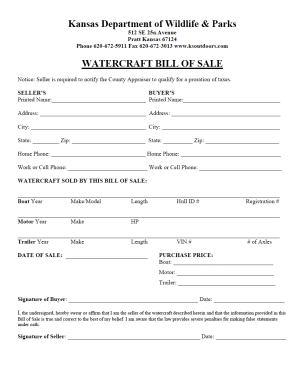 Kansas Department of Wildlife & Parks
Download: PDF
---
What is a Kansas Trailer Bill of Sale?
A Kansas trailer bill of sale breaks down the particulars of a deal into tangible pieces. The form explicitly outlines the buyer and seller's personal information to prove their identities and bind them to the agreement. Each individual can use the other's address, phone number, or email address to contact them after the sale.
Bill of sale forms also contain critical information about the trailer. Buyers and sellers record the brand, version, dimensions, age, condition, and more. If either person wants to include more information, they can utilize the "Additional Terms" section. They should also use it for documenting transfers that happen by trade or gift.
---
How to Register a Trailer (5 Steps)
Per state law, trailers in Kansas require registration and titling if they weigh 2,001 pounds or more, including their laden weight. Trailers weighing 2,000 pounds or less (loaded weight) can have a registration, but do not need it. Residents can apply for a permanent registration, which costs $10 and lasts the trailer's lifespan or until the owner sells it to another person.
Locals must register and title their trailer (as needed) within sixty (60) days. New residents have ninety (90) days to submit the required paperwork and payment.
Step 1 – Requirements
Kansas trailers must have a valid registration and title. The only exemptions include:
Farm trailers hauling 6,000 pounds or less (trailer weight not included);
Farm trailers (not semitrailers) carrying hay or food from a field to a storage area or from a storage area to a feedlot via highways; and/or
Utility or boat trailers weighing 2,000 pounds or less (weight includes load).
Step 2 – Inspection
Only specific trailers require a vehicle identification number (VIN) inspection. The following qualify: 1) homemade trailers built by the owner, 2) homemade trailers purchased by a buyer on a bill of sale, and 3) trailers purchased out-of-state without a VIN.
Inspection must happen at a certified station. Once the examiner approves, they provide the owner with an MVE-1 form. Then, the registrar gives the pink copy to the county treasurer.
Homemade trailers bought on a bill of sale require the owner to obtain a Quiet Title action from their nearby district court. After receiving the document, they must pass a VIN inspection.
Out-of-state trailers purchased without a VIN must undergo inspection. The owner must provide a source of secondary identification for the examiner to assign a replacement number.
Step 3 – Title
Trailer owners must go through the titling process before registration. Per state law, individuals can only sell a trailer weighing 2,001 pounds or more if it has a title. Otherwise, they must title it before selling it using a vehicle/motor ownership affidavit (Form TR-90).
Step 4 – Registration
Registration occurs at the county treasurers' offices. The owner must make an appointment to provide the documentation and fees.
Haulers weighing 2,000 pounds or less (including load) must complete an affidavit to a fact (Form TR-12). On the other hand, trailers weighing 2,001 pounds or more (including cargo) require a vehicle/motor ownership affidavit (Form TR-90).
Step 5 – Renewal
Trailer registration lasts for one (1) calendar year. The expiration date depends on the first letter of the owner's last name. Individuals can renew online, by mail, in person, or through the app.
Online renewals can only happen if the owner has their unique PIN and an electronic form of payment. The notice provided by the state often includes the number; however, the resident can also find it online or by phone (785-296-3621).
Mailing Address:
Titles and Registration
P.O. Box 2505
Topeka, KS 66601-2505