Kansas Bill of Sale Forms (5)
A Kansas bill of sale form legitimizes the ownership transfer of an item between two (2) entities. The deal can involve a business, such as a dealership, selling high-value property, such as cars, boats, and weapons. A buyer and seller can also use the form when engaging in a private sale. The new owner can pay by cash or check, or they can exchange an object of similar value. In addition, the previous owner can gift the item, meaning they receive $0 compensation. Each agreement should involve a bill of sale to outline the transaction details.
Summary
Kansas requires residents to use the official boat and car bill of sale forms.
The state does not have any notarization requirements.
Before the sale, private firearm sellers must ensure the buyer is not a felon.
---
---
Types (5)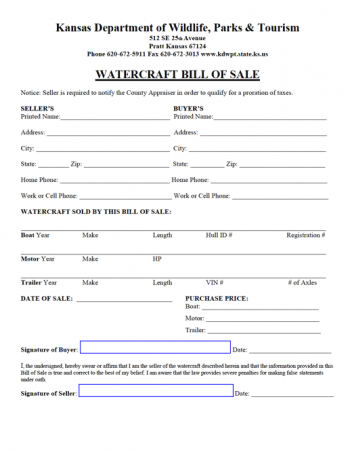 Boat Bill of Sale – For the selling of a water vessel.
Download: PDF
---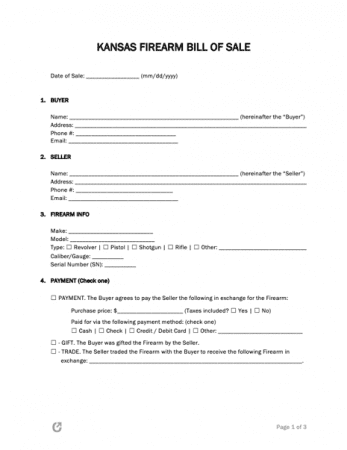 Firearm Bill of Sale – Used when the ownership of a gun changes.
---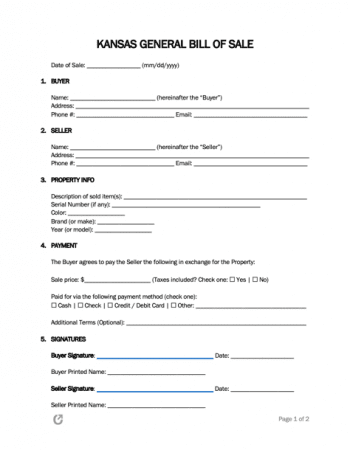 General Bill of Sale – Signifies that the sale of a generic item happened.
---
---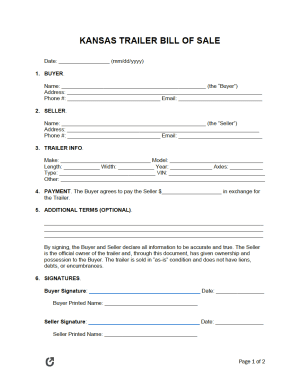 Trailer Bill of Sale – Provides evidence of a utility trailer transaction.
---
Signing Requirements
| | | | |
| --- | --- | --- | --- |
| Bill of Sale Type | Buyer Signature | Seller Signature | Notarization |
| Boat | Required | Required | Not required |
| Firearm | Required | Required | Not required |
| General (others) | Required | Required | Not required |
| Motor Vehicle | Required | Required | Not required |
| Trailer | Required | Required | Not required |
---
What is a Kansas Bill of Sale?
A Kansas bill of sale gives a person the ability to claim an item as their personal property. It shows that they legally paid for or acquired the object through trade or gift. They can use the form for registration, titling, or simply proving their ownership.
By claiming the possession, the owner has full responsibility for it. In other words, they must abide by the applicable federal and state laws. For example, if a person acquires a gun, they cannot use it while intoxicated. Similarly, if someone buys a boat, they must pay the yearly taxes. The bill of sale serves as the primary identifier of ownership and bestows these duties on the person named in the form.
---
Registration Forms:
Boats
Kansas vessel registration can occur at a regional office, state park, or through a boat registration agent. Residents can also mail their applications and payment to the operations office.
Bill of Sale – To record the transfer of watercraft from a seller to a buyer.
Application for Certificate of Number Kansas Boating Act – The form an applicant submits to receive a vessel registration.
Payment – The department charges a standard of $42.50 for boat registration.
Identification (ID) – The person applying must present a Kansas driver's license, ID card, or a valid form of photo ID.
Sales Tax Receipt – Boat owners must have a county appraiser value the vessel each year before March 15th to avoid penalties. If the owner does not need to pay taxes, they must file as exempt (Form ST-8B).
Hull Identification Number (HIN) – Owners of new boats made after 1972 must carefully trace their HIN with a pencil and paper or take a clear photo.
Additional (Optional) Documents
---
Registration Forms:
Firearms
Weapon holders do not need to register firearms in Kansas. To apply for a concealed carry handgun license, applicants must provide the correct forms and fees to a county sheriff's office.
Kansas Application for Concealed Carry Handgun License – The person desiring a concealed carry license completes this form to request it.
Kansas Concealed Carry Handgun Certified Instructors – A list of approved teachers who provide handgun safety education. The applicant must pass the class and submit a certification as evidence.
Payment – The application includes the amount that the person applying owes.
Photographs – Individuals must have a picture (2 inches by 2 inches) taken of them within thirty (30) days of applying.
Documentation – Residents need to provide state or government-issued documentation that verifies their Kansas and US residency.
---
Registration Forms:
Vehicles
All vehicle registration forms and fees go to a county treasurer's office. 
Bill of Sale (TR-312) – This form contains information about a car provided by the buyer and seller.
Title and Registration Manual Application (Form TR-212a) – The possessor must include the car's information, such as its mileage, lienholder(s), method of ownership, insurer, and fee summary in this form.
Odometer Disclosure Statement (Form TR-59) – This document includes the car's mileage or a correction to the odometer reading.
Insurance (Minimum Coverages)

Bodily Injury: $25,000 per person / $50,000 per accident
Property Damage: $25,000
Personal Injury Protection (PIP)
Uninsured/Underinsured: $25,000 per person / $50,000 per accident

Payment – A list of fees that a registrar owes when applying for registration.
Identification (ID) – The applicant must provide a driver's license or an approved ID card to confirm their identity.
Additional (Optional) Documents
---
Registration Forms:
Trailers
Residents must provide registration documents and payment at a county treasurer's location. 
Additional (Optional) Documents
Motor Vehicle Examination (MVE-1) – For trailers titled or purchased out-of-state or boat trailers weighing over 2,001 pounds without a title. The owner receives an MVE-1 after passing inspection and must provide the pink copy to the county treasurer when registering.