Kansas Bill of Sale Forms (4)
A Kansas bill of sale is a document that is completed and signed when a buyer obtains an item from a seller through cash, trade, or gift. It is comparable to a receipt as it contains very specific information about the item, the buyer and seller, and the type of payment.
A motor vehicle bill of sale must be presented with a valid title to prove ownership in Kansas. The only exception is antique vehicles that are thirty-five (35) years or older as a bill of sale officially transfers ownership of these cars, trucks, or vans. When selling a boat, the merchant must alert the county appraiser immediately to have their taxes prorated.
---
---
By Type (4)
Boat Bill of Sale – For the selling of a water vessel.
Download: PDF
---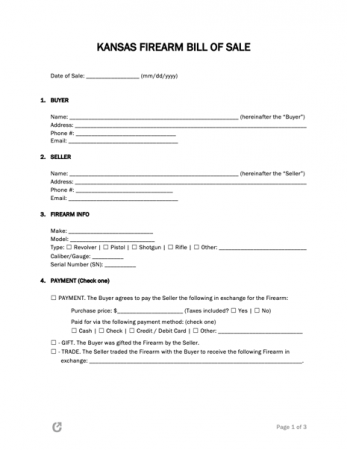 Firearm Bill of Sale – Used when the ownership of a gun changes.
---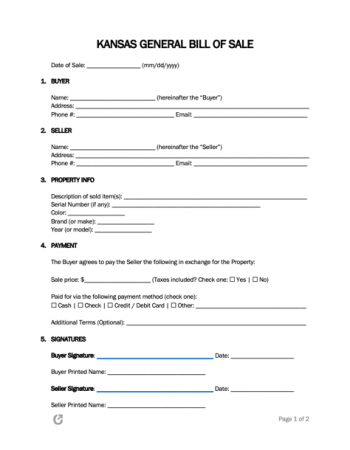 General Bill of Sale – Signifies that the sale of a generic item happened.
---
Motor Vehicle Bill of Sale – Accompanies a title to verify ownership of a commercial vehicle (e.g. car, truck, van, etc.).
Download: PDF
---
Signing requirements
| | | | |
| --- | --- | --- | --- |
| Bill of Sale Type | Buyer Signature | Seller Signature | Notarization |
| Motor Vehicle | Required | Required | Not required |
| Boat | Required | Required | Not required |
| Firearm | Required | Required | Not required |
| General (others) | Not required | Required | Not required |