Missouri Bill of Sale Forms (5)
A Missouri bill of sale form facilitates an item's change of ownership. Sellers often complete the document for motor vehicle exchanges; however, it can also accompany the sale of a boat, firearm, or another piece of valuable property. Once signed, the original owner no longer has possession or accountability for the item. Any issues that ensue after the deal become the duty of the buyer.
Summary
Residents must use the state bill of sale form for boat and car sales.
Vessel and car transactions might need notarization depending on county law.
Owners must protect themselves and others by only selling guns to authorized citizens.
---
---
Types (5)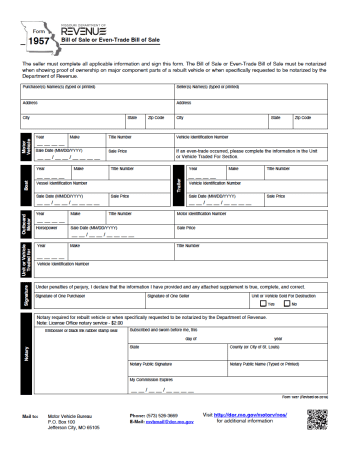 Boat Bill of Sale – Completed when someone (the owner) sells their boat or another water vessel to someone else (the buyer).
Download: PDF
---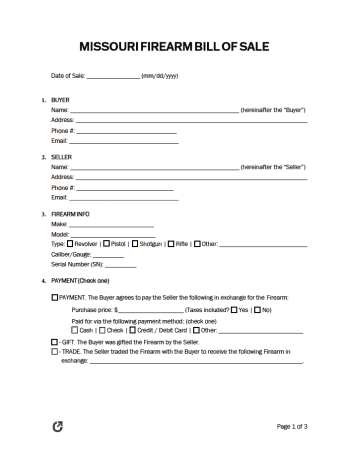 Firearm Bill of Sale – Records a gun's transfer of ownership from one person to another.
---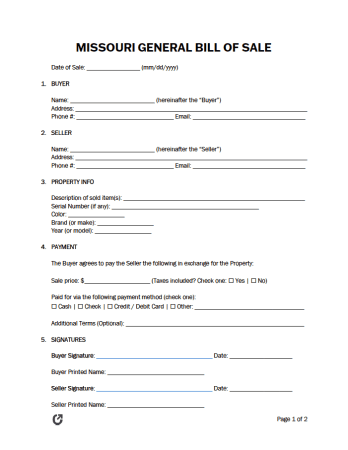 General Bill of Sale – Provides proof that an item was rightfully sold or gifted to a buyer.
---
---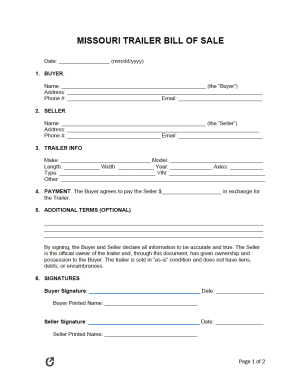 Trailer Bill of Sale – A form utilized when a person purchases a freight trailer from another person.
---
Signing Requirements
| | | | |
| --- | --- | --- | --- |
| Bill of Sale Type | Buyer Signature | Seller Signature | Notarization |
| Boat | Required | Required | Sometimes |
| Firearm | Required | Required | Not required |
| General (others) | Required | Required | Not required |
| Motor Vehicle | Required | Required | Sometimes |
| Trailer | Required | Required | Not required |
---
What is a Missouri Bill of Sale?
A Missouri bill of sale bequeaths the buyer with a commodity or personal property. The other person involved in the sale (the seller) must set a fair price and terms with the buyer. Then, they must sign the bill of sale to indicate their approval.
The Missouri Department of Revenue (DOR) provides residents with a state motor vehicle bill of sale form, which they must use. The form requires notarization if an authorized person requests it or the owner registers a homebuilt car. Boat bill of sale forms, on the other hand, need notarization regardless of the type of vessel.
While other bill of sale forms do not need notarization, the process is beneficial as it further verifies the exchange of property. Furthermore, court judges, state officials, and other third parties trust the document more if it has a notary stamp, seal, or signature.
---
Registration Forms:
Boats
Make an appointment with a Missouri DOR Office by searching for a nearby location.
---
Registration Forms:
Firearms
Citizens residing in Missouri do not need to register their guns or have a permit to carry and buy. If the sale occurs privately, the seller does not have to conduct a background check on the buyer. However, the merchant must ensure the purchaser is mentally stable and does not have a criminal record. To extend the number of places an owner can carry, they can apply for a standard, extended, or lifetime permit through their closest sheriff's office.
---
Registration Forms:
Vehicles
Use the Missouri DOR location map to find a local Motor Vehicle and Driver's License office.
Bill of Sale (Form 1957) – Serves as a record keeper for a vehicle transaction between two (2) parties.
Application for Missouri Title and License (Form 108) – The owner must complete and sign this form to receive a car, truck, or van registration.
Odometer Statement of Explanation (Form 1545) – This form contains information about the odometer reading and its validity.
Payment – Fees depend on the length of the registration and the vehicle's taxable horsepower.
Minimum Liability Insurance Policy –

Bodily Injury (per person, per accident): $25,000
Bodily Injury (multiple people, per accident): $50,000
Property Damage (per incident): $25,000

Title Certificate – A document containing information about the vehicle and its ownership. Owners who do not have the form must apply for a duplicate title.
Photo Identification (ID) – The owner can provide a valid Missouri driver's license, Passport, or ID card from the state, government, or employer.
Additional (Optional) Documents
---
Registration Forms:
Trailers
Bring the trailer forms and fees to a DOR office for registration and titling.
Additional (Optional) Documents
Application for Vehicle/Trailer Identification Number Plate for Verification (Form 5062) – An applicant uses this form to obtain a number for their trailer and can only get it from the inspection office.
Certificate of Title – If purchased used, the resident utilizes the title to authenticate their ownership.
Inspection – Homemade trailers must undergo inspection, and the owner must pay all associated fees (i.e., inspection, title application, and identification number plate).
Lien Release (Form 4809) – The lienholder completes and signs this document to confirm the owner paid off the trailer loan.
Manufacturer's Statement of Origin (MSO) – A trailer owner can use this form to prove their ownership of a new trailer.