New York Bill of Sale Forms (5)
A New York bill of sale form establishes the business agreement between two parties engaged in a transaction. The process begins when an individual possesses an item desired by another. The interested party negotiates with the owner to secure the item to reach a fair price. After agreeing on terms and conditions, both parties finalize a bill of sale form to signify their consent.
Summary
New York provides residents with an authorized vessel and car bill of sale form.
Buyers and sellers do not need to sign in front of a notary public.
Gun holders must register their firearms, and also need a permit to carry or buy.
---
---
Types (5)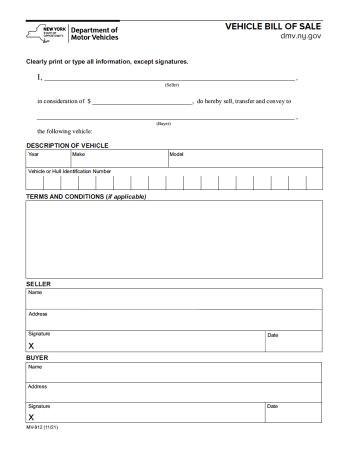 Boat Bill of Sale – Indicates a successful transaction between a vessel's titleholder and a purchaser.
Download: PDF
---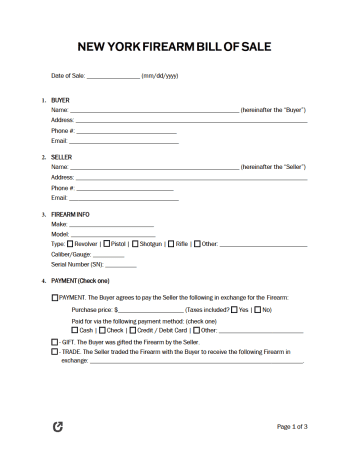 Firearm Bill of Sale – This form signifies the gathering of two individuals so they can construct an agreement for the sale of a gun and its accessories.
---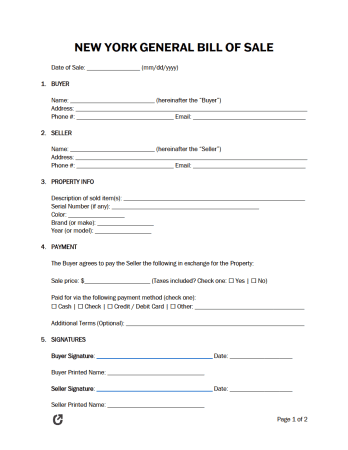 General Bill of Sale – A legal declaration of the buyer's payment and seller's transference of the listed item.
---
---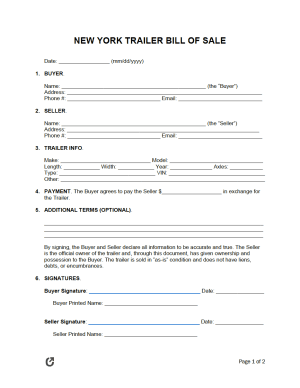 Trailer Bill of Sale – To demonstrate the rightful ownership of a utility trailer.
---
Signing Requirements
| | | | |
| --- | --- | --- | --- |
| Bill of Sale Type | Buyer Signature | Seller Signature | Notarization |
| Boat | Required | Required | Not required |
| Firearm | Required | Required | Not required |
| General (others) | Required             | Required | Not required |
| Motor Vehicle | Required | Required | Not required |
| Trailer | Required | Required | Not required |
---
What is a New York Bill of Sale?
A New York bill of sale demonstrates the exchange of goods from one person to another, with both buyer and seller completing the form upon mutual agreement. This form is commonly used for car and boat transactions but can also apply to weapons or other valuable assets.
When an item is gifted, the recipient can obtain the transfer confirmation through a signed bill of sale. This document protects the new owner from potential criminal charges, such as theft or fraud, and shields the seller from legal claims.
As a legal form, the bill of sale signifies the seller's relinquishment of responsibility and its transfer to the buyer. Consequently, the new owner assumes accountability for repairs, registration, titling, and other owner-related tasks.
---
Registration Forms:
Boats
To register a vessel for the first time, select the nearest New York Department of Motor Vehicle (DMV) Office.
---
Registration Forms:
Firearms
In New York, citizens must register handguns and assault weapons. They must also have a license to own, which they can acquire by making a Police Department Station or Sheriff's Office appointment.
---
Registration Forms:
Vehicles
Create an appointment with a DMV Facility to submit a car, truck, or van registration. 
Additional (Optional) Forms
---
Registration Forms:
Trailers
Trailers used in New York require registration through the DMV. Units over 999 pounds with the model year 1973 and newer need a title, as well.
Bill of Sale – Presenting this form to the DMV allows individuals to register and title their utility trailers appropriately.
Payment – The state increases their rate for every 500 pounds the trailer weighs. Additional taxes and fees may apply, depending on the county of registration.
Identification (ID) – The person applying for registration and/or title must have an official document that confirms their identity.
Inspection – New York mandates trailer owners to have their units inspected every year. The individual must have their inspection sticker on them while using the trailer.
Title & Registration – Used trailers require a title and registration from the previous owner. If purchased new, the dealer must give the owner the title as proof of purchase. It must contain both the buyer and seller names.