Rhode Island Bill of Sale Forms (5)
A Rhode Island bill of sale form records the negotiation and agreement between two parties. Buyers and sellers create this document for vehicles, watercraft, firearms, and other valuable items. The Department of Motor Vehicles (DMV) requires the original, signed bill of sale to register a vessel or vehicle. This document confirms the transaction occurred and that both parties agreed to the stipulated terms. It also proves the buyer's purchase, establishing their ownership of the item.
Summary
Residents must complete a trailer bill of sale form when changing ownership.
Rhode Island requires a signed bill of sale document for car and boat registration.
Buyers need to pass a background check and have a permit to purchase a gun.
---
---
Types (5)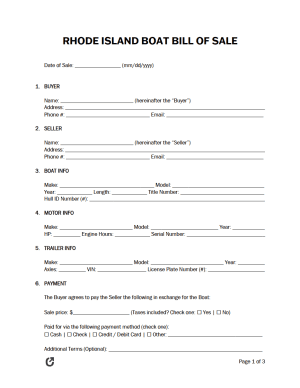 Boat Bill of Sale – Used to report a ship's change in ownership.
---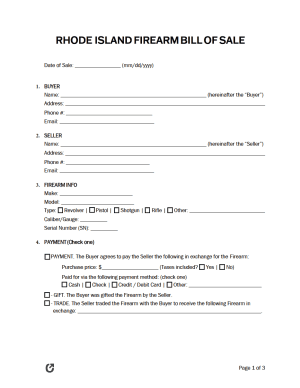 Firearm Bill of Sale – Serves as a note of how and when a private seller or dealer sold a gun.
---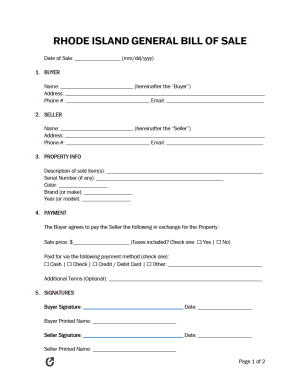 General Bill of Sale – A written log stating the method by which an item was conveyed from one person to another.
---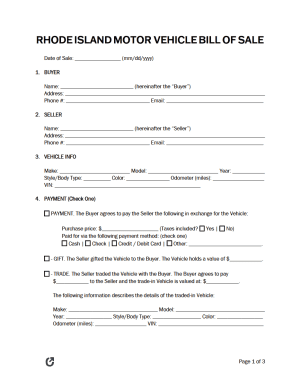 Motor Vehicle Bill of Sale – Implemented when a seller sells, donates, or gifts a car to a recipient.
---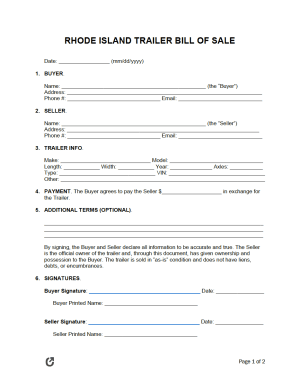 Trailer Bill of Sale – Signifies the agreement between a buyer and seller to change ownership of a trailer used for farming, transporting large items, and other related needs.
---
Signing Requirements
| | | | |
| --- | --- | --- | --- |
| Bill of Sale Type | Buyer Signature | Seller Signature | Notarization |
| Boat | Required | Required | Not required |
| Firearm | Required | Required | Not required |
| General (others) | Required             | Required | Not required |
| Motor Vehicle | Required | Required | Not required |
| Trailer | Required             | Required | Not required |
---
What is a Rhode Island Bill of Sale?
A Rhode Island bill of sale form outlines the exchange between a buyer and seller while transferring ownership of personal property. Upon completion, the document should provide identifiable information for the seller and buyer, including their full name, address, email, and phone number. Additionally, the form should describe the item and indicate its value through the written description and sale price.
Notarization further strengthens the agreement, involving a third party validating the transaction. In Rhode Island, notaries must sign or stamp bill of sale forms for boats, firearms, and automobiles. Although other items do not mandate notarization, a notary seal or signature adds authorization to the sale. Libraries, law offices, and various businesses often have notaries available.
Upon signing, the seller relinquishes control over the item, while the buyer assumes responsibility for its maintenance or lawful use. The seller is not liable if the new owner encounters an accident or causes harm after the transaction. To ensure the document's validity in such scenarios, both parties should retain a copy of the bill of sale for future reference.
---
Registration Forms:
Boats
Visit the Rhode Island Department of Environmental Manage (DEM) office or mail forms.
Additional (Optional) Forms
Manufacturer's Statement of Origin (MSO) – To ascertain the shipbuilder and the identity of the vessel. Only required for newly purchased boats.
Sales Tax – Owed on boats purchased before July 29, 1993, and homemade vessels. Builders must keep receipts for all materials and show evidence of paid sales tax when registering.
Inspection – For homebuilt boats longer than 14 feet in length.
Notarized Statement – Homemade boats only. Includes the total material costs, a full description, plans for construction, and any other relevant document. The owner must also present a photo of the finished watercraft.
---
Registration Forms:
Firearms
Gun owners do not need to register their weapon(s) with the state. However, they must obtain a concealed or open carry permit from the Attorney General to possess a firearm in places other than their personal property. 
Application for License to Carry a Concealable Weapon – The applicant must complete the form provided and follow the instructions packet.
Background Check – The CCL registrar must allow the state to perform a full criminal record and mental health history check at an approved location.
Certified Weapons Training – Proof of taking and passing a firearms course taught by an approved instructor.
Letter of Reason – Either a document written by the applicant or employer to explain why the individual needs a CCL.
Fingerprints – Taken on an FBI fingerprint applicant card and signed by the applicant.
Official Stamp – The Police Chief or city hall worker must stamp to acknowledge the information as true and valid on the application.
Photos – Two (2) official pictures 2 inches by 2 inches in size.
References – The application must contain three (3) references and reference letters for acceptance.
Identification (ID) – Two (2) forms of valid ID, such as a driver's license, state ID, passport, birth certificate, or permit.
---
Registration Forms:
Vehicles
Supply the necessary documents to a Rhode Island DMV location.
Bill of Sale – For the purchase of a truck, car, or van.
Application for Registration and Certificate of Title (Form TR-1) – Needed to apply for car registration.
Odometer Disclosure Statement – A form created by the federal government for citizens to state the mileage reading upon sale.
Insurance (Minimum Requirements) –

Bodily Injury (per accident) – $25,000 per person / $50,000 for 2+ people
Property Damage (per crash) – $25,000

Sales Tax Form (Form T-334-2) – Owners must pay sales tax by the 20th day of the month following the month of purchase. The individual must also complete a sales & use tax exemption (Form SU-NR-1) if they were a resident at the time of purchase. If the car is registered out-of-state, the owner must complete a tax exemption certificate (Form T-333-1).
Identification (ID) – The registrar must show an accepted form of photo ID.
Payment – Based on the type of transaction and the car's weight. Registrars can pay using cash, credit card, money orders, bank checks, and personal checks.
Gross Vehicle Weight – For new and used vehicles. Located next to VIN plate on the driver's side door.
Additional (Optional) Documents
---
Registration Forms:
Trailers
All trailers in Rhode Island require registration, but only need an inspection if they have a gross weight of 1,000 pounds or more. They also have to title the trailer if it weighs 3,001 pounds or more and has the model year 2001 or newer. All transactions must occur through a DMV office. 
Bill of Sale – The buyer and seller utilize this form during the transaction of a cargo-carrying trailer.
Application for Registration (TR-1) – A trailer owner completes and submits this form to the DMV in exchange for registration and/or title.
Payment – The cost for registration depends on the weight of the trailer (i.e., over or under 3,000 pounds).
Use Tax Return (Form T-334-2) – This statement verifies that the owner paid their taxes on the trailer. Dealerships handle tax-related matters for the client if they purchase a new or used trailer from them.
Proof of Ownership – The DMV requests the person registering to provide evidence of the previous owner(s). Titles, registrations, and bill of sale forms generally satisfy this requirement.
Car Insurance Verification – The vehicle pulling the trailer must have an insurance policy. When applying, the individual must present a verifying insurance card or document.
Length Confirmation – The state requires the owner to provide an official form that includes the trailer's dimensions.
Additional (Optional) Documents
Affidavit for Homemade Trailer – This form authorizes the creation or purchase of a homemade trailer prepared for registration.
Inspection – Trailers weighing 1,000 pounds or more must undergo inspection at an accredited station.
Tax Exempt Certificate (Form T-333-1) – Residents use this document to explain why they believe they do not need to pay taxes on the trailer.
Title – Trailers weighing 3,001 pounds (unladen) must obtain or have a Rhode Island title.
---
DMV Offices:

By City
City
PHONE NUMBER
DMV OFFICE ADDRESS
Cranston
(401) 462-4368

600 New London Ave.

Cranston, RI 02920

Cranston (AAA)
(401) 944-7300

1035 Reservoir Ave.

Cranston, RI 02910

Cumberland
(401) 333-9500

2000 Mendon Rd.

Cumberland, RI 02864

East Providence
(401) 519-5900

12 River Rd.

East Providence, RI 02915

Greenville
(401) 232-5100

Apple Valley Mall

445 Putnam Pike

Greenville, RI 02828

Middletown
(401) 846-5451

52 Valley Rd.

Middletown, RI 02842

Middletown (AAA)
(401) 841-5000

49 E. Main Rd.

Middletown, RI 02842

Narragansett
(401) 789-3000

14 Woodruff Ave., Ste. 15

Narragansett, RI 02882

Providence
(401) 462-5890

325 Melrose St.

Providence, RI 02907

Providence (HQ)
(401) 868-2010

110 Royal Little Dr.

Providence, RI 02904

South Attleboro
(508) 399-9000

405 Washington St.

South Attleboro, MA 02703

Wakefield
(401) 789-1430

4808 Tower Hill Rd.

Wakefield, RI 02879

Warren (Closed)
N/A
N/A
Warwick
(401) 732-5000

501 Centerville Rd.

Warwick, RI 02886

Westerly (Closed)
N/A
N/A
Woonsocket
(401) 356-4031

Diamond Hill Plaza

2000 Diamond Hill Rd.

Woonsocket, RI 02895