South Carolina Bill of Sale Forms (5)
A South Carolina bill of sale form is initiated by a seller once a buyer has reached out and decided to purchase an item from them. Both parties converse about the terms of the bargain, then utilize the document to record the particulars of the sale. 
Summary
Notarization is not mandatory.
Individuals use the form to prove (or disprove) their ownership.
Both parties must complete a bill of sale before the exchange.
---
---
Types (5)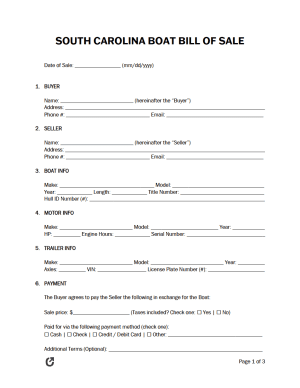 Boat Bill of Sale – Provides proof of purchase of a boat from a private seller.
---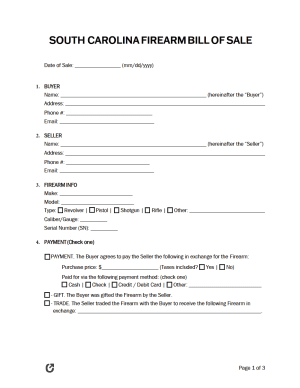 Firearm Bill of Sale – Acts as a receipt for the sale or purchase of firearms between two people.
---
General Bill of Sale – This legal document records the change in ownership for valuable items.
---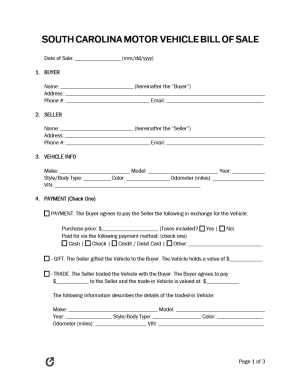 Motor Vehicle Bill of Sale – Used when a person transfers ownership of a car to someone else.
---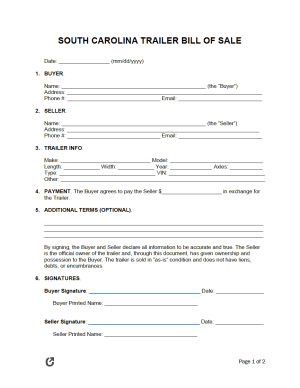 Trailer Bill of Sale – This document formally establishes a buyer as a new owner of a trailer and the seller as the previous owner.
---
Signing Requirements
| | | | |
| --- | --- | --- | --- |
| Bill of Sale Type | Buyer Signature | Seller Signature | Notarization |
| Boat | Required | Required | Not required |
| Firearm | Required | Required | Not required |
| General (others) | Required | Required | Not required |
| Motor Vehicle | Required | Required | Not required |
| Trailer | Required             | Required | Not required |
---
What is a South Carolina Bill of Sale?
A South Carolina bill of sale has the purpose of outlining someone's acquirement of personal property from a dealer or private seller.
The property can range from something broad to something very personal. For instance, a buyer can acquire a simple item, such as a car. Or the owner can hand down a wedding ring that has been in the family for many years. Essentially, it becomes suitable to use a bill of sale form whenever ownership changes over a cherished or costly possession.
When both parties sign the bill of sale, the seller no longer owns the property, and the buyer becomes the new owner. Per the state of South Carolina's Department of Motor Vehicles, a bill of sale must accompany the paperwork to appropriately title and register a vehicle if the current documentation does not list the sales price.
Although it is not required, notarizing the bill of sale authenticates the form by verifying the identities of each party and the validity of the sale. As a legal record, both parties should retain a copy of the bill of sale. It acts as a receipt, demonstrating that both the buyer and the seller willfully engaged in the item's transfer of ownership.
---
Registration Forms:
Boats
Submit boat registration paperwork and fees to a South Carolina Department of Natural Resources (DNR) office.
Bill of Sale – Gives the DNR evidence of the vessel transfer.
Watercraft / Outboard Motor Application (Form BTR-1) – Used by a vessel owner to acquire registration.
Title – The owner must present the original, signed copy and have it notarized as needed.
Property Tax Receipt – This sales form verifies that the owner has their boat paid taxes before registering.
Additional (Optional) Documents
Application for Hull Identification Number (HIN) – The owner must complete this form if they have built a homemade vessel and need a HIN.
HIN Verification – The owner records the HIN and motor's serial number by tracing it with a pencil or taking a clear photo. Vessels purchased out of state require this confirmation.
Lien Satisfaction Form – Proves the boat owner has repaid their debts to the lienholder.
Registration Card – Only if provided by the dealer.
---
Registration Forms:
Firearms
State law does not include registration requirements for firearms. Residents with licenses (obtained online or by mail) can open and concealed carry with fewer restrictions. 
South Carolina Concealed Weapon Permit Application – Necessary for the approval and obtainment of a gun permit.
Fingerprints – Taken at an Idemia in-person location.
Firearms Safety Certificate – The applicant must have a signed document that proves they took and passed an official class.
Identification (ID) – The person applying must show a valid driver's license or state ID card.
Additional (Optional) Documents
Military Orders (or DD214) – For active, retired, or former military applicants only.
Proof of Retirement Benefits / Pension – For retired law enforcement officer applicants only. Training documentation is needed if they are exempt from a handgun safety course.
VA Documentation – Disabled veterans must show the paperwork that proves they served.
---
Registration Forms:
Vehicles
Choose a local South Carolina Department of Motor Vehicles (SCDMV) location to make an appointment.
Bill of Sale – A form supplemental to the title that verifies an automobile transaction.
Title Application (Form 400) – The owner must complete this document to receive a vehicle title and registration.
Odometer Disclosure Statement – This document states the car's odometer reading and confirms its validity.
Payment – The type of car and its gross weight determine the fees.
Title – Must contain the sales price, odometer reading, and each person's contact information and signature.
Property Tax Receipt – Proof of paid county taxes for property.
Identification (ID) – This document must prove the person's identity, such as a driver's license, state ID card, permit, passport, employment authorization form, or residency card.
Infrastructure Maintenance Fee (IMF) – South Carolina imposes a 5% charge that replaces sales tax fees.
Additional (Optional) Documents
License Plate Number – Required to transfer the plate.
South Carolina Motor Vehicle Power of Attorney – Empowers a representative to act in the car owner's place.
Statement of Vehicle Operation in South Carolina (TI-006) – Needed for residents without a state identification card or driver's license issued by South Carolina.
---
Registration Forms:
Trailers
Trailers need registration if the owner plans to travel out of state or it has an unladen weight of 2,500 pounds or more. Upon applying, they can select permanent or biennial registration, depending on their preference. The owner must make an appointment with the SCDMV to present the applicable forms and fees.
Additional (Optional) Documents