California Rental Application
The California Rental Application is a form used in residential property management for screening through applicants until an ideal tenant is found. Requiring an application be completed (along with an application fee) serves as an additional screening measure in itself, as those not wholly invested in signing a lease will most likely be dissuaded by the time and cost that comes with the process. Whether landlords are managing multiple properties with tens to hundreds of yearly applicants, or are renting out a single property, requiring an application be completed improves organization and allows for clear cut comparisons without discrimination – which is imperative to ensure the screening process is fair.
---
---
Versions (5)
Download: Adobe PDF, MS Word (.docx)
---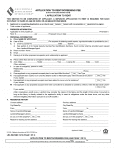 Version 2 – CAR Form LRA (Official)
Download: Adobe PDF
---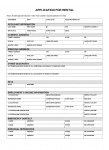 Version 3 – Application and Consumer Report
Download: Adobe PDF
---
Download: Adobe PDF
---
Download: Adobe PDF
---
State Laws
Maximum Application Fee (§ 1950.6): Up to $30. The property manager cannot make a profit on the application. The fee can only be used to cover the cost of running the checks. Additionally, unless agreed upon in a written contract, the landlord cannot charge an applicant a fee if there is no rental property vacant at the time of application (or won't be recent time).
After completing the application, the landlord must give (or mail) the applicant a receipt with each charge associated with running the application in an itemized fashion.
Security Deposits (§ 1950.5): For unfurnished properties, landlords can charge up to two (2) months' rent. For furnished properties (includes furniture and other decorations), landlords can charge up to three (3) months' rent.