North Carolina Standard Residential Lease Agreement
The North Carolina Standard Residential Lease Agreement is an official document that is used for securing one (1) or more tenants into a rental contract for an average term of (1) year. Upon being signed, the document binds both a landlord (known as the "lessor") and tenant (lessee) into a contract which contains information describing what is expected of the parties, what protections they are afforded, the length of the lease, consequences for certain actions or behavior, and several other important topics.
Tenant Screening: North Carolina Rental Application
---
---
State Laws
Laws: §§ 42-1 to 42-76 "Landlord and Tenant"
Maximum Security Deposit (§ 42-51): Two (2) months' rent if the lease term is longer than two (2) months. The section also covers the eight (8) deductions landlords can lawfully take from security deposits.
Returning Security Deposits: (§ 42-50): Landlord's have thirty (30) days to return security deposits to the tenant. However, if the landlord needs more time to evaluate any damage to the rental they can send out an interim notice within the thirty (30) days, extending the total possible return time to sixty (60) days.
Rent Increase Notice: Not specified in NC lease law. Nonetheless, landlords should still give tenants a reasonable notice to avoid having tenants move out.
---
Association of Realtors Lease Agreement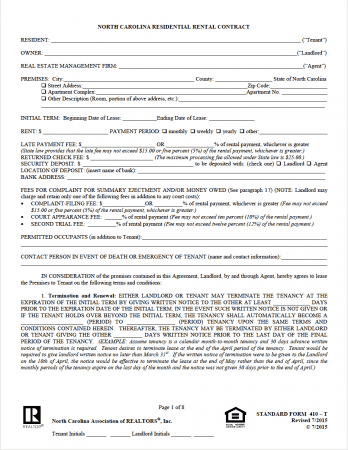 North Carolina Association of Realtors Residential Lease Agreement (Form 410-T).pdf – This professionally-created form is specific to NC and can be used for normal leasing situations to bind up to four (4) tenants into a contractual agreement regarding the renting of a unit or home. Being developed by the realtor's association, it is highly detailed and includes all necessary conditions in order to stay in-line with state law. If a landlord is not looking to make edits (or minor ones), this form should be used.