North Carolina Rental Lease Agreement Templates
The North Carolina Rental Lease Agreements are a set of property management documents that set the basis for granting a person permission to occupy a rental unit so long they pay the required rent to the landlord. The form identifies both parties' rights and establishes the timeframes and obligations they are required to follow. In addition to protecting both parties' respective rights, this agreement breaks down topics such as rent amount, furnishings, repairs, and the landlord's right to entry to the unit, among other subjects.
A positive to the state's laws is that landlords are required to make a minimal number of disclosures to tenants. Aside from notices about lead (for properties built prior to 1978) and a notice about where the tenant's security deposit is kept, landlords do not have to inform tenant(s) of anything unique.
---
---
Types (6)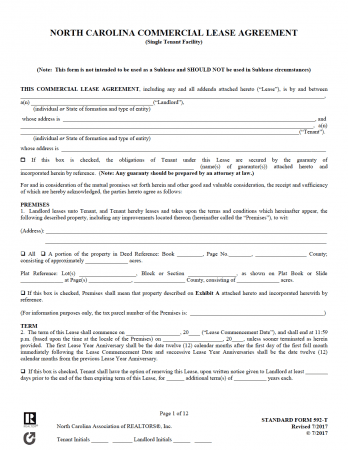 Commercial Lease Agreement (Association of Realtors Form 592-T) – Contains terms exclusive to a property that will be used for business purposes.
Download – Adobe PDF (.pdf)
---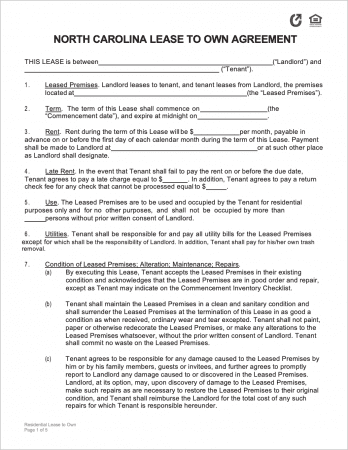 Lease to Own Agreement – Provides the owners of a home or similar property with a dual-agreement that serves as both a lease and a purchase agreement. Upon its execution, tenants can purchase the rental at a predetermined price (if they so choose).
Download – Adobe PDF, Word (.docx)
---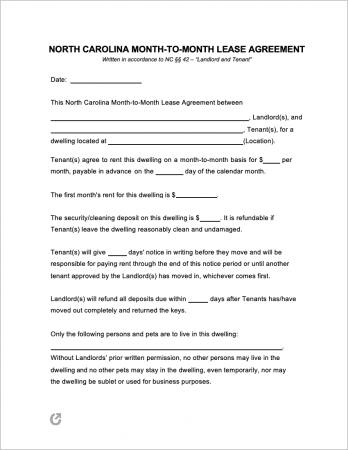 Month-to-Month Lease Agreement – A lease that contains no end-date and renews
Download – Adobe PDF, Word (.docx)
---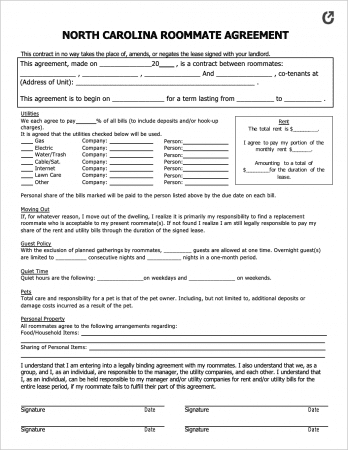 Roommate Agreement – For tenants that share the same apartment or common area(s). A less binding form used for preventing disagreements and ensuring general harmony.
Download – Adobe PDF, Word (.docx)
---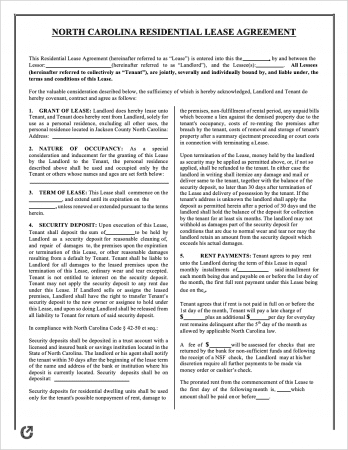 Standard Residential Lease Agreement – The "go-to" form for landlords looking to establish binding one (1) year contracts over the rent of a property that will be used for day-to-day living (not work). Compliant with all NC landlord-tenant code.
Download – Adobe PDF, Word (.docx)
---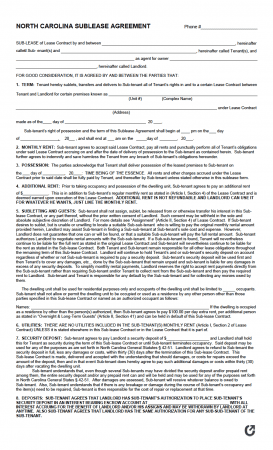 Sublease Agreement – Used for structuring the re-lease of a currently rented property. Completed by the original tenant. Should only be used after receiving direct permission from the landlord.
Download – Adobe PDF, Word (.docx)
---
What is a North Carolina Lease Agreement?
A North Carolina Lease Agreement is a legal document used by landlords and property owners for the purpose of lawfully renting out one (1) or more units. The form is designed to clarify the rights of all parties and serves as a written record of the contract. This serves as an additional level of liability protection for landlords. Prior to signing a lease, landlords will require all prospective tenants to complete a rental application. This gives landlords permission to screen the applicant, allowing them to make an informed decision as to whether the applicant(s) should be allowed to rent or not.
---
State Laws & Guides
Laws: Chapter 42 "Landlord and Tenant"
Landlord-Tenant Guides / Handbooks
---
When is Rent Due?
North Carolina landlord-tenant law does not cover when rent is due. Because of this, the due date of rent should be clearly stated in the written lease to avoid misunderstandings. In accordance with § 42-46(a), a grace period of five (5) days exists before a landlord may charge a late fee.
---
Landlord's Access
Emergency: No statute; although state law does not cover emergency-entry, Federal law grants landlords with permission to access a rental property without notice in emergency circumstances. This should be clarified in the lease.
Non-Emergency: No statute. Landlords are advised to provide tenants with at least twenty-four (24) hours notice prior to entering (and only enter at reasonable times).
---
Landlord's Duties
In accordance with § 42-42, landlords need to comply with the following state requirements:
Maintain compliance with all relevant building codes relating to the health and safety of tenant occupants.
Keep all rental units and common areas in a safe and habitable condition by making any and all necessary repairs.
Keep all systems (HVAC, plumbing, electrical, etc.) in good, safe working order.
Ensure there are working smoke alarms (with tamper-resistant 10-yr lithium batteries) and a minimum of one (1) working carbon-monoxide detector (more information can be found in § 42-42(5, 5a, & 7).
In situations where the landlord is charging tenant(s) for the cost of water and sewer, and they learn that the water exceeds contaminant standards, they need to provide a notice to said tenant(s) regarding the water's contamination.
Fix any serious/dangerous conditions in rental units. Issues that qualify as "imminently dangerous" can be found in § 42-42 (8a-8l).
---
Tenant's Duties
Per § 42-43, tenants have the following obligations for the term of the lease:
Maintain their rental by keeping it both clean, safe and sanitary (as reasonable).
Throw away trash cleanly and safely.
Maintain included plumbing systems/fixtures as clean as reasonable.
Refrain from purposely or accidentally destroying or damaging any part of the rental unit, common area(s) or included smoke/carbon monoxide alarms.
Ensure compliance with applicable building/housing codes.
Assume responsibility for any and all damage/removal of property inside a rental unit (that is under the exclusive control of the tenant). Exceptions: the damage was caused by normal wear and tear, the landlord (or their agent) caused the damage, faulty repairs or products (authorized by the landlord) caused the damage, the damage was caused by other individuals (not permitted/known by the tenant), or the damage was caused by nature.
Ensure the landlord is notified (in writing) if installed smoke/carbon monoxide alarms need repair or replacement.
---
Required Disclosures
Lead Paint Disclosure: Federal law establishes that landlords of properties built before 1978 must provide tenants with a pamphlet about lead-based hazards. They must also inform them of any known lead paint hazards in the rental dwelling.
---
Security Deposits
Maximum (§ 42-51): The amount a landlord can lawfully collect for a security deposit is based upon the length of the lease, as shown:
Week-to-week tenancies: Two (2) weeks' rent max.
Month-to-month tenancies: One-and-a-half (1.5) months' rent max.
Extended leases (longer than month-to-month tenancies): Two (2) months' rent max.
Returning to Tenant (§ 42-52): The landlord must return the deposit no later than thirty (30) days after the termination of the tenancy. If the landlord will retain any portion of the deposit due to damages caused by the tenant, they must itemize in writing any damages and mail or deliver it to the tenant within this time frame along with the balance of the security deposit. If the landlord's claim cannot be determined within the time frame, the landlord can send an interim notice within 30 days. A final determination must be made within sixty (60) days.
Bank Name & Address (§ 42-50): If the landlord demands a security deposit from the tenant, the landlord or their agent must alert the tenant within thirty (30) days after the beginning of the lease term of the name and address of the bank or institution where the tenant's deposit is currently located.
Deposit Interest: No statute.
Uses of the Deposit (§ 42-51): Landlords can make deductions from a tenant's security deposit for the following reasons:
To cover unpaid rent and/or utility costs relating to water, sewer, or electricity.
To fix damage to the rental and/or to replace or fix damaged or destroyed smoke or carbon monoxide alarms.
Damages caused by the tenant leaving the lease early – not including situations where the tenant(s) were caused to end the agreement due to the landlord's violation of applicable landlord-tenant statutes.
To pay for any unpaid bills that turned into a lien against the property, caused by the tenant's occupancy.
To cover the costs of re-renting the premises after the tenant's breach of the contract. Includes fees paid to a licensed real estate broker for the purpose of re-renting the premises.
To pay for the removal and storage of the tenant's personal property after they had been evicted.
To pay for applicable court costs.