Nevada Rental Lease Agreement Templates
Nevada rental lease agreements are formal documents outlining rental unit occupancy terms and conditions. A lessor (or landlord) and one or more lessees (or tenants) establish these agreements. Landlords are encouraged to utilize rental application forms to facilitate a thorough screening process. The documents help determine the suitability of potential tenants. Following the successful evaluation, both parties meet to review and sign the lease contract.
During this stage, the landlord must discuss all relevant aspects of the lease, including monthly rent, security deposits, utility expenses, and any additional rules or obligations. Both parties sign the document upon mutual agreement, thereby rendering the lease agreement legally binding and effective. A comprehensive and well-drafted lease agreement not only safeguards the rights and interests of both parties but also ensures compliance with Nevada's residential tenancy regulations.
---
---
Types (6)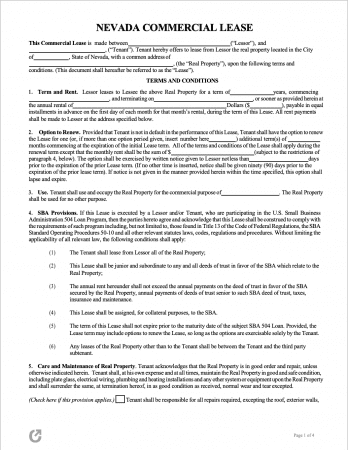 Commercial Lease Agreement – Outlines responsibilities between a landlord and a business so that the lease of a property for commercial purposes may be executed.
Download – PDF, Word (.docx)
---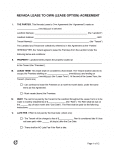 Lease to Own Agreement – Gives tenants the option to purchase the property they are leasing.
Download – PDF, Word (.docx)
---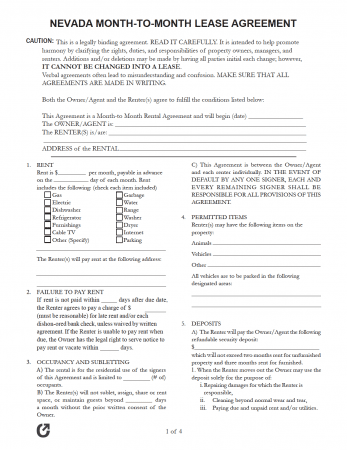 Month-to-Month Lease Agreement – A lease contract that continues on a monthly basis indefinitely until the lessee(s) or lessor terminates the contract by providing the necessary notice.
Download – PDF
---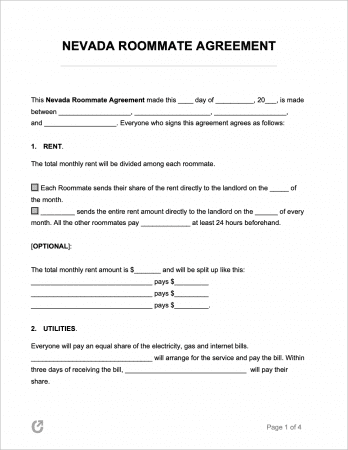 Roommate Agreement – Comprises a number of legally binding and non-legally binding terms related to how roommates should conduct themselves in their shared rental dwelling.
Download – PDF, Word (.docx)
---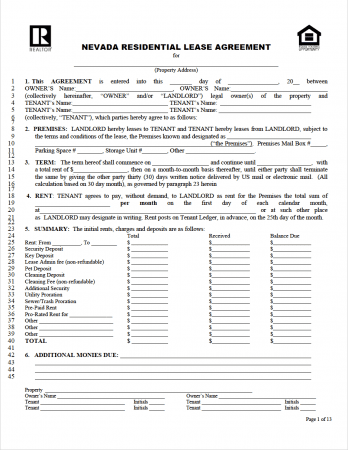 Standard Residential Lease Agreement – The official form provided by the state's realtors' association, the document complies with all state leasing statutes and can be used for renting a residential property.
Download – PDF
---
Sublease Agreement – Used for renting out an already-rented rental unit. Tenants should receive permission from their landlord before using the document.
Download – PDF, Word (.docx)
---
What is a Nevada Lease Agreement?
A Nevada lease agreement is a legal contract between a property owner and a future tenant. This agreement sets the rules for renting a home. Property owners should use rental application forms, which help find responsible tenants. They check the tenant's finances, rental history, and other essential details. This process leads to a safer and more successful rental experience. A well-written lease agreement is crucial. It protects the rights of both the property owner and the tenant and follows Nevada's residential tenancy laws.
---
State Laws & Guides
Laws: Ch. 118A "Landlord and Tenant: Dwellings"
Landlord-Tenant Guides / Handbooks
---
When is Rent Due?
Nevada does not have a state statute that governs rent due dates, and landlords must state them in the lease agreement. There is also no grace period; landlords must specify it in the lease if they wish to grant one.
---
Landlord's Access
Emergency (NRS 118A.330(2)): Landlords can enter a unit without permission during an emergency.
Non-Emergency (NRS 118A.330(3)): Landlords must provide a 24-hour notice before entering the rental unit in non-emergencies. They are only allowed to enter during reasonable times within normal business hours unless the tenant grants permission otherwise.
---
Tenant's Duties
Per NRS 118A.310, tenants are legally required to uphold the following obligations:
Comply with the rules and terms found in the lease agreement;
Keep the rental unit clean and free of trash/rubbish;
Throw away garbage in a safe and clean way;
Keep all appliances/fixtures clean and use them in a reasonable manner;
Do not damage (or allow another party to damage) the rental unit/premises; and
Refrain from disturbing other tenant's enjoyment of the premises.
---
Required Disclosures
---
Security Deposits
Maximum (NRS 118A.242): A maximum of three (3) months' rent equivalent may be demanded by the landlord as a security deposit.
Returning to Tenant (NRS 118A.242): The landlord must return the security deposit within thirty (30) days of the termination of the tenancy. If the landlord will retain any part of the security deposit, they must furnish the tenant with an itemized written accounting of how the security deposit will be distributed. These must be returned personally at the place where the rent is paid, or mail it to the tenant at the tenant's present address or, if it is unknown, at the tenant's last known address.
Deposit Interest: No statute.