Vermont Rental Lease Agreement Templates (6)
The Vermont Rental Lease Agreements are legal contracts used for defining a set of parameters pertaining to the rental of residential or commercial property. The agreements are formed between the property owner / manager and one to several tenants. In addition to the rights tenants and landlords are afforded by state law, the agreement should contain the rights and obligations of the parties to the lease. This is especially so for commercial leases, as they have far fewer protections than leases governed by the state's landlord-tenant laws.
---
---
Types (6)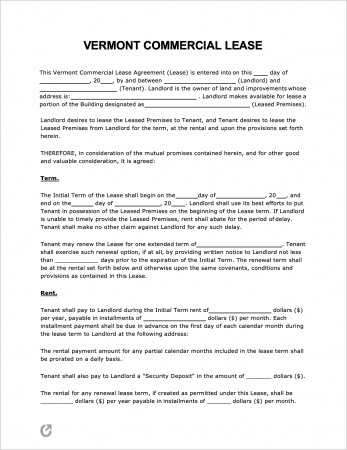 Commercial Lease Agreement – Creates a binding agreement between a landlord/property owner over the lease of rental property to be used by a business-tenant only.
Download – Adobe PDF, Word (.docx)
---
Lease to Own Agreement – A form commonly used by homeowners to sell their home after an initial period of leasing. A purchase price is set at the beginning of the lease that the tenants can optionally decide to act on.
Download – Adobe PDF, Word (.docx)
---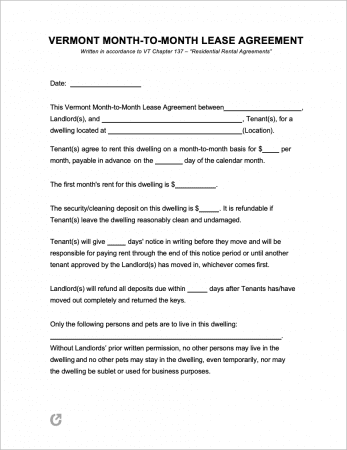 Month-to-Month Lease Agreement – A lease that automatically renews in thirty (30) day increments. Can theoretically continue on indefinitely if no party terminates the agreement.
Download – Adobe PDF, Word (.docx)
---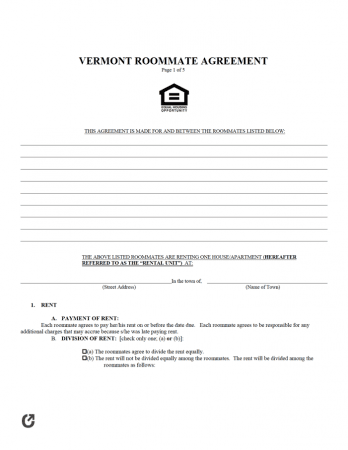 Roommate Agreement – Completed with the purpose of strengthening the bond between tenants that share the same rental property. Covers topics relating to rent splitting, utility payments, cleaning duties, and more.
Download – Adobe PDF
---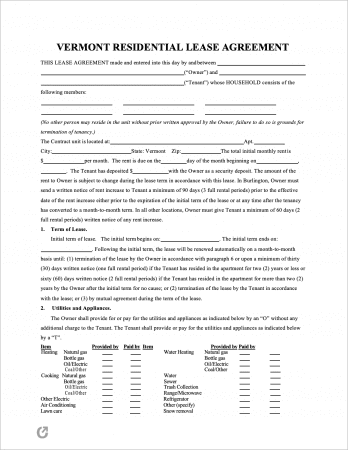 Standard Residential Lease Agreement – Structures an agreement for the leasing of a unit or entire property for one (1) year. Compliant with all applicable VT landlord-tenant laws.
Download – Adobe PDF, Word (.docx)
---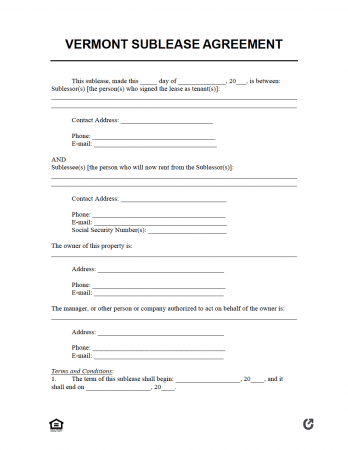 Sublease Agreement – Re-rents an already-rented unit to another tenant (known as the "subtenant"). In most cases, the landlord's permission is required prior to executing.
Download – Adobe PDF, Word (.docx)
---
What is a Vermont Lease Agreement?
A Vermont Lease Agreement is a form that details an arrangement in which a landlord rents a residential or commercial property to a tenant for a set sum of money paid each month. Landlords should ONLY sign a lease with applicants they have thoroughly screened via the use of a rental application form.
---
State Laws & Guides
Laws: Chapter 137 – "Residential Rental Agreements"
Landlord-Tenant Guides / Handbooks
---
When is Rent Due?
In accordance with § 4455(a), tenants must make rent payments to the landlord at the time (date) and location agreed upon in the written lease. There is no grace period provided by state law.
---
Landlord's Access
Emergency (§ 4460(c)): Vermont law provides landlords with the right to enter without notice so long the landlord believes there is imminent danger to the tenant(s) or the rental unit.

Non-Emergency (§ 4460(b)): Landlords can access rental dwellings with the tenant's consent, or by providing notice at least forty-eight (48) hours in advance of their entry. Entry can only be made between the hours of 9:00 AM and 9:00 PM. Entry can only be made for the following reasons:
To inspect the rental or premises;
To make repairs, alterations, or improvements to the rental;
To provide agreed-upon services; or
To show the rental unit to potential buyers, renters, workers/contractors, or mortgagees.
---
Landlord's Duties
Per § 4457, landlords are required to comply with the following (in addition to the duties established by the lease):
Ensure the rental and premises are safe, clean, and livable. Additionally, the property should fully comply with all applicable health, housing, and building codes/regulations, and
Provide tenants with heat and water, unless the rental is for summer occupancy only or is a hunting camp.
---
Tenant's Duties
In Vermont, tenants are required to comply with the following, per § 4456:
Not cause the rental to be uncompliant with local building, housing, and health code/laws;
Act in a way (and require visiting guests to conduct themselves in a way) that does not disturb neighboring tenants' enjoyment of the premises;
Unless the written specifies otherwise (or required by law), tenants need to terminate tenancies by providing landlords a notice equal to the length of one payment period prior to the date included in the notice;
Not alter, damage, deface, or remove any part of the rental or surrounding premises (or allow a guest to do the same);
In the event the tenant violates any of the duties listed here, they may need to pay for the landlord's reasonable attorney's fees and/or pay for damages that resulted from their violation.
---
Required Disclosures
Lead Paint Disclosure: Should a landlord be aware of any lead paint hazards in their rental property that was built before 1978, they are required to disclose this information to their tenants. They are also required to provide tenants with a government-produced pamphlet that will further educate them on the topic.
---
Security Deposits
Maximum: No statute; there is no upper limit on the amount landlords can charge tenants for a security deposit. Charging tenants the equivalent of one (1) to two (2) months of rent is standard.
Return to Tenant (§ 4461(c)): Landlords are required by law to return security deposits within fourteen (14) days from the date on which the landlord discovers the rental has been abandoned, or after the tenants move out and provide the landlord with notice of their vacancy. If the landlord will make deductions to the payment, the security deposit must be accompanied with a written statement listing any deductions.
For seasonal leases and in cases where the rental property is not intended as a primary residence, the security deposit and written statement must be returned within sixty (60) days.
Deposit Interest (§ 4461(g)): Landlords may be required to collect and pay out interest from tenants' security deposits per local ordinances.
Uses of the Deposit (§ 4461(b)): Deductions can be made from tenants' deposits for any of the following reasons:
To cover outstanding rent;
To repair damage to the rental property (so long the damage is not standard wear and tear, or a result of something beyond the control of the tenant);
To pay for expenses that resulted from the landlord needing to remove a tenant's possessions left abandoned in a rental unit; and
To pay for any unpaid utility (or other charges) that the tenant was required to pay for per the lease agreement.