Maine Motor Vehicle Power of Attorney Form
A Maine motor vehicle power of attorney form enables an attorney-in-fact to handle car-related tasks. The vehicle owner specifies the responsibilities that the assigned person needs to complete. These tasks include obtaining or renewing registrations or requesting a new or duplicate title from the Maine Department of Motor Vehicles (DMV).
Signing requirements: Notarization.
---
What is a Maine Motor Vehicle POA?
A Maine motor vehicle power of attorney permits an individual to grant legal authority to another person to act in their place for car-related needs. For example, the form allows the attorney-in-fact to have the vehicle inspected. If the car passes, the technician provides a document with their signature and personal information. Then, the attorney-in-fact submits the completed paperwork to the DMV.
An attorney-in-fact can also manage other tasks, such as private sales. Owners can take a "hands-off" approach and permit the attorney-in-fact to oversee the entire deal. Conversely, they can manage most of the sale themselves and appoint the attorney-in-fact to transfer the title.
The vehicle owner must be clear about what they expect from the attorney-in-fact. To avoid misunderstandings, they should explain what they need or want in detail. The owner and attorney-in-fact should also talk through the form's contents before signing it to make sure they both understand the roles they will have.
According to Maine state law, the car owner must file the form with the DMV for $20. Individual filers must provide their date of birth and social security number; companies must enter their federal identification number. All forms must include the representative's name and the car's identifying information.
---
How to Write
Download: PDF
Step 1 – Names and Signature
On the first line, write the name of the car owner (company or individual). Then print the name of the representative (attorney-in-fact). The owner signs, on the indicated line, with acknowledgment from a Notary Public.

Step 2 – Company or Individual Information
Enter the date of birth and Social Security Number if the owner is an individual; enter the federal ID number if the owner is a company.
Step 3 – Notarization
A Notary Public must complete and sign this section of the form to verify that the vehicle owner created and signed the motor vehicle power of attorney.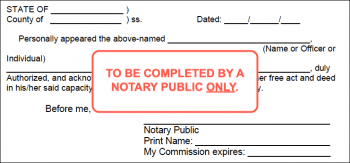 Step 4 – Vehicle Type and Inspection
The form requires the vehicle to be inspected by a Certified Technician. Take the car and this form to a mechanic, and fill out the form with the following information:
Address
Year
Make
Model
Style
Vehicle Identification Number (VIN)
Odometer
Owner's Birth Name and Address
Station Name and Address
Certified Technician Name and Number
Technician signature