Maine Power of Attorney Forms
A Maine power of attorney form permits an adult (the "principal") to handle someone else's financial and/or medical decisions when the principal cannot do so on their own. The principal can nominate anyone they wish to act as their agent, although the person chosen should be responsible and closely trusted by the principal. Depending on the POA selected, the form will terminate once the agent has completed all the task(s), or upon the principal's death. A POA that continues to remain in effect even after the principal is no longer mentally capable is known as a "durable" form.
---
---
Types (6)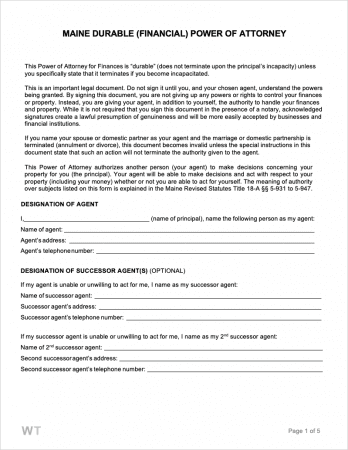 Durable Power of Attorney – For assigning an agent with powers that continue even after the principal can no longer make decisions. A long-term form.
---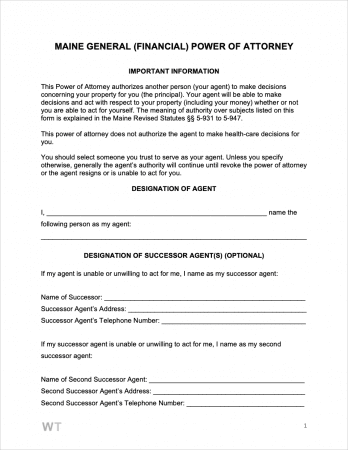 General (Financial) Power of Attorney – Similar to the durable form above, but is used for more short-term tasks. Is automatically terminated if the principal becomes incapacitated.
---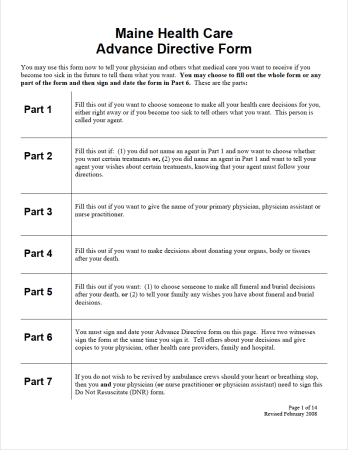 Health Care Advance Directive – Combines elements from a living will and medical POA. Allows a person to prepare for the care they would like to receive in the event they can't personally convey their wishes.
---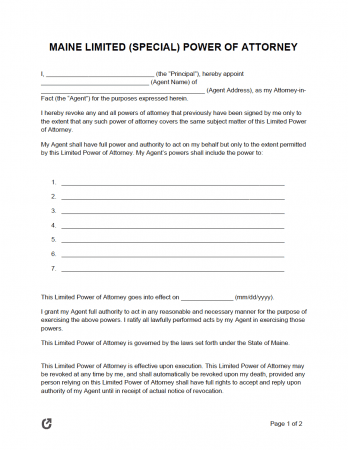 Limited (Special) Power of Attorney – A form that allows a person to specify unique tasks for an agent to perform.
---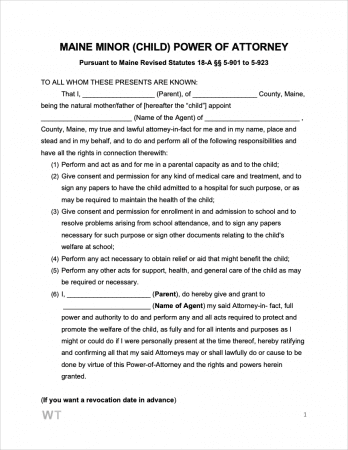 Minor Child Power of Attorney – Used for delegating parental powers to a trusted person for a short to medium length of time. Does NOT permanently assign parental powers.
---
Motor Vehicle (DMV) Power of Attorney – Assigns responsibility for a person's motor vehicle. Allows another person to register their vehicle, for instance.
Download: PDF
---
Laws & Signing Requirements
Maine Power of Attorney Laws – Title 18-C, Article 5
State Definition of Power of Attorney (§5-902(g)) – "means a writing or other record that grants authority to an agent to act in the place of the principal, whether or not the term "power of attorney" is used.
Signing Requirements

General/Durable Power of Attorney (§ 5-905) – Must be signed by the principal before a Notary Pubic.
Advance Directive / Medical Power of Attorney (§ 5-803(b)) – Signed by two (2) witnesses (in addition to the principal).