Washington General (Financial) Power of Attorney Form
The Washington General (Financial) Power of Attorney is a five (5) page written legal document completed to give someone you know and trust concession to act in your stead. Legally, the person that fills-in the form is known as the "Principal", and the person receiving designation is called the "Agent". The form lets the principal establish exactly what rights they wish to provide their agent, which can include managing their money, selling and buying investments, handling their rental properties, and more. So long the duties do not involve medical matters, they can be provided to the Agent.
Once the Agent completes their duties and/or the Principal wants to remove the Agent's powers, the Principal will need to complete and issue a form known as the "Revocation of Power of Attorney". This simple one (1) page document states the Agent no longer has any power to perform duties on their behalf.
---
---
Versions (3)
Download: Adobe PDF, MS Word (.docx)
---
Download: Adobe PDF
---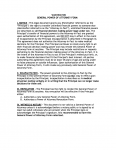 Version 3 – PowerofAttorney.com
Download: Adobe PDF
---
Laws: Chapter 11.125 RCW
Signing requirements (RCW 11.125.050): The Principal has two (2) options for verifying their signature (must use at least 1). They can either 1) acknowledge their signature before a Notary Public, or 2) have it signed by two (2) or more witnesses.