Washington Power of Attorney Forms
A Washington Power of Attorney Form is a type of legal document that allows a person to appoint an agent (of their choosing) to act in their best interests regarding specific tasks or decisions. A principal can only exercise a power of attorney if they are mentally competent (aka of a "sound mind"). Unless the principal selects a durable type of power of attorney, the form will automatically be revoked if the principal becomes mentally debilitated. When determining an agent, the principal should only choose someone they can trust without oversight. This can include a close family member (a child or spouse, for example), a close friend, or a professional (such as an attorney).
---
---
Types (6)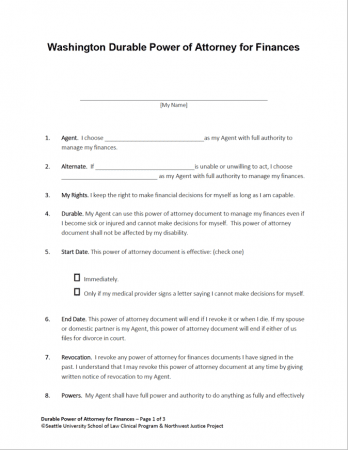 Durable Power of Attorney for Finances – For more permanent agent nominations. Only terminates if the principal dies, or they revoke it with a revocation of POA.
---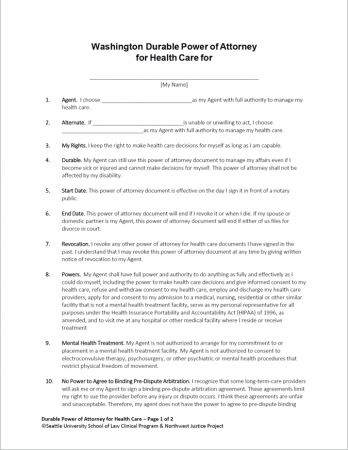 Durable Power of Attorney for Health Care – For nominating an individual to represent the principal in the hospital. Only becomes effective after the principal succumbs to a medical event (rendering them incapacitated).
---
General (Financial) Power of Attorney – Used for delegating tasks relating to the principal's finances, including (but not limited to) bank deposits/withdrawals, check/document signing, the managing of programs, investments, and more. The principal has the option of checking certain boxes to broaden the agent's powers as they wish.
---
Limited (Special) Power of Attorney – Should be used for giving an agent power for one-time instances, such as signing a document as the principal.
---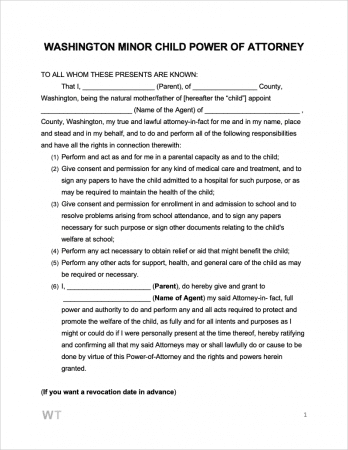 Minor Child Power of Attorney – For authorizing a trusted person (of good character) to make decisions/care for children under the age of eighteen (18).
---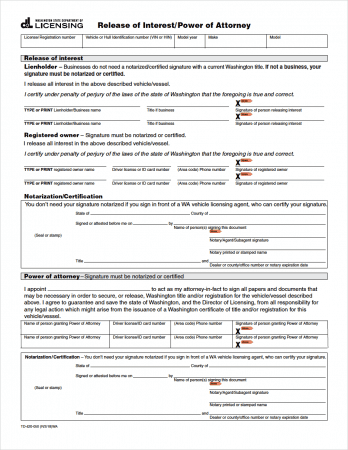 Motor Vehicle Power of Attorney (Form TD-420-050) – A one (1) page form used for allowing another person to register and/or apply or release a title for a civilian-owned vehicle. If signed in the presence of a WA vehicle licensing agent, the form does not need to be notarized.
Download: PDF
---
Laws & Signing Information
Washington Power of Attorney Laws
Signing Requirements
Durable / General Power of Attorney (RCW 11.125.050) – Must be signed and dated by the person completing it, and acknowledged before a Notary Public OR signed by two (2) witnesses.
Power of Attorney for Health Care / Directive (RCW 70.122.030) – Must be signed by the declared (person completing the form) in the presence of two (2) qualified witnesses.