Alabama Bill of Sale Forms (4)
An Alabama bill of sale is a form that contains important information about the sale of an item between a buyer and a seller. The document is similar to a receipt because it serves as a record of what happened during the transaction.
It is common for a bill of sale to be used when transferring ownership of a car, boat, or gun. However, it can be completed for many items, such as RVs, motorcycles, and tractors. Regardless of the item being sold, both parties must date and sign the form to prove that the deal occurred.
---
---
By Type (4)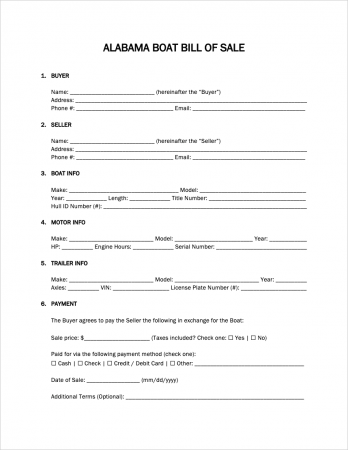 Boat Bill of Sale – A form that is required for registration as it proves that a buyer acquired ownership of watercraft from a seller.
---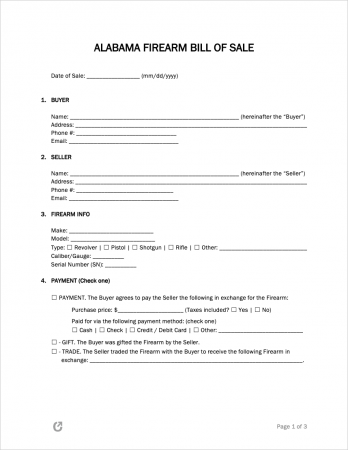 Firearm Bill of Sale – The legal document that confirms the sale and transfer of a gun from a seller to a buyer.
---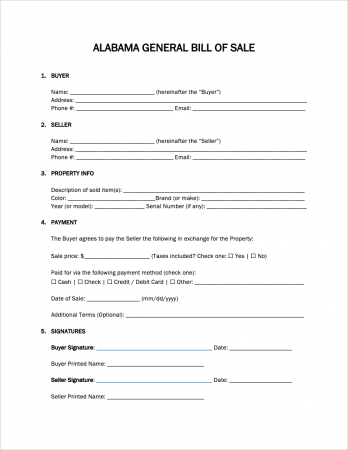 General Bill of Sale – A template used for selling, trading, or gifting items that do not fall into a specific category.
---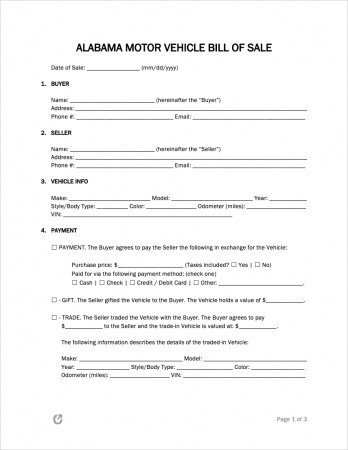 Motor Vehicle Bill of Sale – Used as a written record to prove that an individual legally purchased and obtained a motor vehicle.
---
Signing requirements
| | | | |
| --- | --- | --- | --- |
| Bill of Sale Type | Buyer Signature | Seller Signature | Notarization |
| Motor Vehicle | Required | Required | Not required |
| Boat | Required | Required | Required |
| Firearm | Required | Required | Not required |
| General (others) | Not required | Required | Not required |
---
How to Register a Motor Vehicle (5 Steps)
According to Alabama law, motor vehicle registration needs to occur within twenty (20) days after the sale. If the buyer bought the vehicle in another state, they have thirty (30) days to register it (§ 40-12-262(a)).
It is required that registration tags and tax receipts remain in the vehicle at all times. If a driver is stopped by law enforcement and is unable to provide this information they can be fined up to $50.
Step 1 – Transfer Title
The title must be presented to the Department of Revenue (DOR) office when registering the vehicle. If the car is sold through a private sale, the seller needs to sign the title and transfer it to the buyer. In this case, the buyer needs to present a signed bill of sale in addition to the title. The bill of sale must include the following:
Contact information of both parties;
Date of the sale;
Full description of the vehicle; and
Odometer reading at the time of the sale.
If the sale occurred through a dealership, the registration and titling documents are automatically sent to the registering office. This means that the buyer is not responsible for providing these forms during registration.
Car owners who inherited the vehicle from a family member or estate must provide the title, as well as a title certification and an affidavit for title assignment (Form MVT 5-6).
All fees must be paid at the time of the title transfer. The title application, as well as the duplicate title, cost $15 each. An additional $1.50 is charged for processing.
Step 2 – Obtain Alabama Car Insurance
The state of Alabama requires all drivers to have an insurance policy on their vehicles. The minimum requirements for bodily injury per accident are $25,000 for one (1) person and up to $50,000 for all persons. Each driver must have property damage coverage of $25,000 per accident.
Step 3 – Submit Registration Documents
First-time motor vehicle registration must occur at a DOR office in the county in which the applicant resides.
On the day of the appointment, the following forms must be presented to the DOR. It is required that the documents are notarized and signed if needed.
Required Forms / Information:
Bill of Sale – Must be completed and signed by both parties.
Title – A new title or a title from the previous owner.
Driver's License – A verification of Alabama residency.
Proof of Insurance – A current insurance policy that is not expired and aligns with state requirements.
Odometer Disclosure Statement (Form MVT 5-5) – An agreement between the buyer and seller (at the time of the sale) that the odometer reading is accurate.
Payment – All fees are variable based on each county's pricing model, as well as the type of vehicle and its weight.
An Alabama Motor Vehicle POA must be completed and signed if the vehicle is being registered by someone other than the legal owner.
Step 4 – Vehicle Identification Number (VIN) Inspection
Out-of-state vehicles and new vehicles that have not been titled in the state of Alabama must undergo a VIN inspection (Form MVT 5-10). This step is performed by a government official during registration as it verifies that the number on the title matches the vehicle.
Step 5 – Renew Yearly
After one (1) calendar year, motor vehicle registration expires. Residents are required to renew on time, even if they do not receive an annual renewal notice from their county. Renewals laws differ by county, although they occur in person, through the mail, or online.
The motor vehicle registration is no longer valid after the last day of the expiration month. Alabama uses the first letter of the owner's last name to determine the renewal date. The schedule is as follows:
January – A & D
February – B
March – C & E
April – F, G, N
May – H, O
June – I, M
July – L, P
August – J, K, R
September – Q, S, T
October – U, V, W, X, Y, Z
November – Leased, commercial, and fleet vehicles must renew between October 1st and November 30th.
---
How to Register a Boat (4 Steps)
It is mandatory to register motorized vessels, boats for hire, and sailboats in Alabama, as the owner may be fined otherwise. If the boat was purchased new, the owner has seventy-two (72) hours after purchase to register it. The grace period is extended to fifteen (15) days if the vessel was bought used with current registration.
Step 1 – Obtain Boating License
Before making an appointment, it is important that the registrar meets the requirements to operate a boat. Residents must be at least fourteen (14) years of age with a certification to operate a boat by themselves. If drivers are twelve (12) years of age (with a permit) they must be accompanied by a licensed person over the age of twenty-one (21) years. "Licensed" means that the resident has taken and passed a boat basics class approved by the state (§ 33-5-51).
County probate judges and licensed commissioners are the only officials in Alabama that are able to review and issue boat licenses. An appointment is needed to apply.
Step 2 – Submit Registration Forms
Requirements differ based on how the boat was acquired (e.g. dealer, private sale, homemade, etc.). That said, it is important to contact a local county office for more specifics on how to register.
Required Forms / Information:
Bill of Sale – Accepted by the state if it has been filled out and signed by both parties.
Application (ALEA) – A document that contains the necessary fields for an owner to apply for boat registration.
Current Registration – Proof of the previous registration is required if the boat is used.
Verification of Sales Tax Payment – A receipt that shows sales tax for the boat has been paid.
Payment – Fees are variable with the county, although they typically range from $20 to $100 before tax.
Step 3 – Adhere Decals + Alabama Number
Manufacturers are legally required to label the boat with its hull identification number (HIN). If this number is not already on the vessel, it cannot be used until it is properly tagged. In addition to the HIN, the registration number and decals must be visible. When placing this information abide by state laws (§ 220-6-.03).
An Alabama registration number appears as follows: AL-4658-OP. Space or hyphenate each section so that it is easy to read. Place the registration on the left and right sides of the boat in block-style letters that are at least three inches in height. Choose a highly visible color against the boat's paint, and do not place any other text or stickers near it. Align the decal with the number and place it on both sides so that it is closer to the stern.
Step 4 – Renew Each Year
Vessel renewal is similar to a car renewal as the expiration is determined by the first letter of the owner's last name (see above). Renewals must occur annually as registration expires after one (1) year. All information can be submitted online, via mail, or in-person (variable with county requirements).