Alabama Bill of Sale Forms
An Alabama Bill of Sale is a form that acts as a receipt and proves that a buyer purchased an item from a seller. The document contains the specific details of the purchase. This includes (but is not limited to) the contact information of both individuals, the property's description, and how the payment occurred. The buyer and seller should keep a copy for their personal records.
---
Bill of Sale Forms – By Type (4)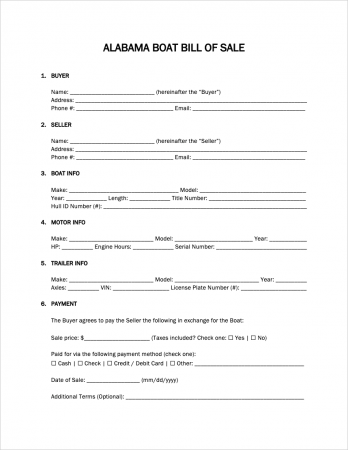 Boat Bill of Sale – A form that is required for registration as it proves that a buyer acquired ownership of watercraft from a seller. If the boat was purchased new, the owner must register it within seventy-two (72) hours after purchase. The state of Alabama extends the grace period to fifteen (15) days if the vessel was bought used with current registration.
Download: Adobe PDF, MS Word (.docx), Rich Text (.rtf)
---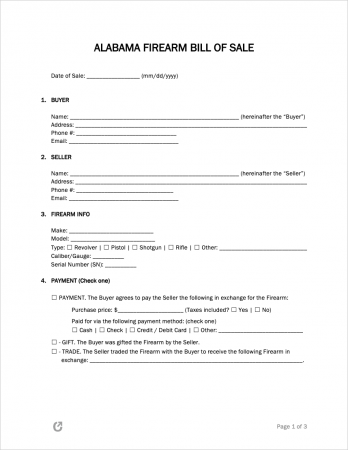 Firearm Bill of Sale – The legal document that confirms the sale and transfer of a gun from a seller to a buyer.
Download: Adobe PDF, MS Word (.docx), Rich Text (.rtf)
---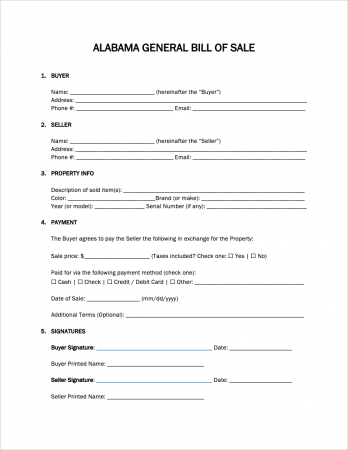 General Bill of Sale – A template used for selling, trading, or gifting items that do not fall into a specific category.
Download: Adobe PDF, MS Word (.docx), Rich Text (.rtf)
---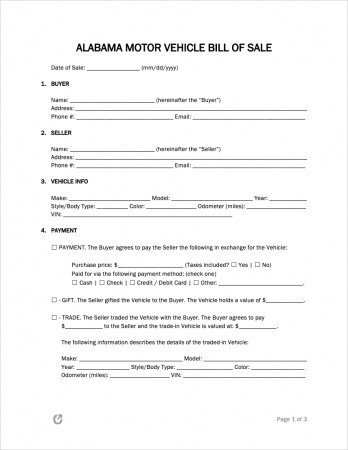 Motor Vehicle Bill of Sale – Used as a written record to prove that an individual legally purchased and obtained a motor vehicle. As Alabama law mandates, the signed bill of sale and title must be presented to the state within twenty (20) days after the sale to register the vehicle. This amount of time changes, however, if the sale occurred out of the state. In that case, the buyer has thirty (30) days to register their automobile (§ 40-12-262(a)).
Download: Adobe PDF, MS Word (.docx), Rich Text (.rtf)
---
Registration Requirements
Boats / Vessels
Alabama requirements (see Alabama DMV) for boat registration vary depending upon the type of boat and other location-based specifics.
Required Documents:
Bill of Sale – Must be completed and signed.
Registration Application – A document that allows owners to apply for the registration of their new or used boat.
Current Registration – If the boat is used, the new owner must show proof of the previous registration.
Fees for Registration and/or Licensing – Payment varies depending on the expiration of the current registration. If a new registration is required, fees are determined by the length of the boat and the county of residence.
Verification of Sales Tax Payment – A receipt must be presented that shows sales tax for the boat has been paid.
---
Firearms
Residents do not need to undergo a background check nor do they need a permit to purchase a gun of any kind. However, it is recommended that they fill out a bill of sale form as proof of purchase.
While Alabama is lenient with their private purchase laws, they do require a permit to concealed carry a handgun (§ 13A-11-75). Pistol permits are county-specific, meaning that laws vary depending on the location of the gun holder. For more information about applying, refer to the Alabama Sheriffs Association website.
---
Motor Vehicles
Laws differ when registering a motor vehicle in Alabama as they are based on how and where the sale occurred. Find specific details for first-time registration (see Alabama Registration) or registration renewals (see Alabama Registration Renewal). In general, the required documents for registration are as follows.
Required Documents:
Bill of Sale – The form must be filled out entirely with a signature from both parties.
Title – A new title or one from the previous owner must be presented. If the vehicle is out of state, the VIN must also be provided.
Driver's License – Must verify Alabama residency using a valid driver's license.
Proof of Insurance – Shows the DMV that the vehicle has a current insurance policy that is not expired.
License Plates – The owner can apply for new license plates, although they can also bring in current ones to attach to the vehicle.
Odometer Disclosure Statement – Confirms that the owner agrees that the odometer reading is accurate and fair at the time of the transfer (see Alabama Odometer Disclosure Statement).
Fees – Prepare to pay all associated fees. A table that lists possible charges can be found here.
If the vehicle is being registered by an individual other than the legal owner, an Alabama Motor Vehicle (DMV) Power of Attorney Form must be used.