California Bill of Sale Forms
A California Bill of Sale is a document, that once signed, transfers ownership from one person or entity to another. Similar to a receipt, the new owner can display the bill of sale to prove they are the rightful owner of said property. Both the seller and buyer must sign to indicate that all of the information included is correct. Once signing occurs, the previous owner has no say over the item, nor will they have any accountability for it.
Bill of Sale Forms – By Type (4)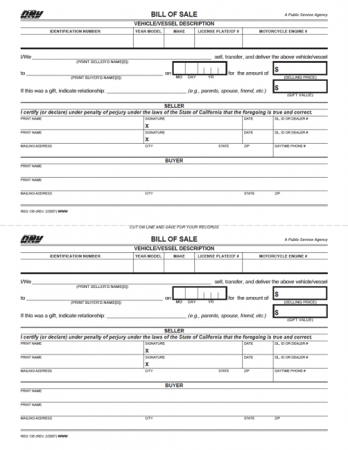 Boat Bill of Sale – Summarizes the specifics around selling, gifting, or trading a water vessel.
Download: Adobe PDF
---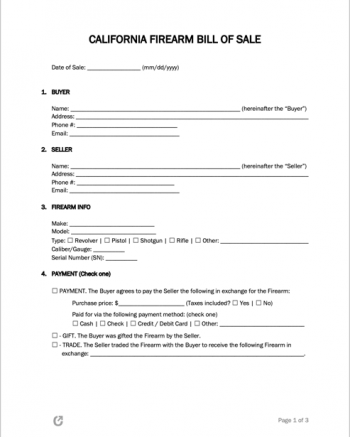 Firearm Bill of Sale – A blank template used to organize the key details of a gun sale.
Download: Adobe PDF, MS Word (.docx), Rich Text (.rtf)
---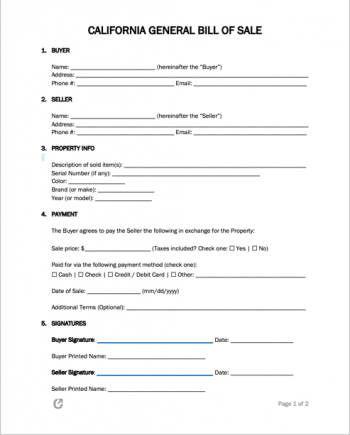 General Bill of Sale – Documents how an item was sold with a focus on its description, payment type, and contact information of the buyer and seller.
Download: Adobe PDF, MS Word (.docx), Rich Text (.rtf)
---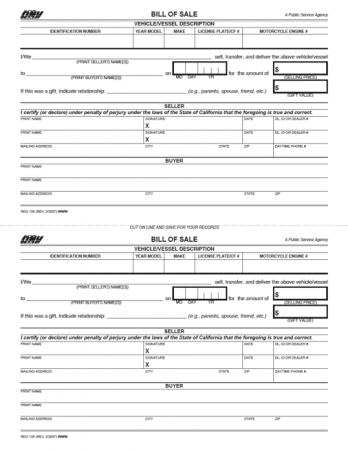 Motor Vehicle Bill of Sale – A form that accompanies the transfer of a motor vehicle from one person to another.
Download: Adobe PDF
---
Registration Requirements
Boats / Vessels
All motorized boats (or sailboats over eight (8) feet long) in California must be registered through a local government office. Once registered, the watercraft must be renewed by December 31st during each year ending in an odd number (i.e. 2011, 2019, 2021, etc.). The DMV will alert the owner via mail sixty (60) days before forms must be submitted. Renewal can occur online, through the mail, or at a local DMV office.
Step One – Submit Boat Registration 
Required Documents:
Vessel Certification of Number Application – This form is needed to receive a certificate of number, which must be presented on the boat (see BOAT 101).
Title – Must show either California or out-of-state title to verify ownership.
Bill of Sale – Private sales require a bill of sale form, which shows how and when the transaction occurred. If a valid bill of sale is not present, the owner will need to submit a Statement of Facts form (see REG 256).
Payment – All associated fees must be paid at the time of application (see Vessel Fees).
Step Two – Register Boat Trailer
When selling a boat or boat and trailer combination that holds a value of $1501 or more, the owner must acquire a Lien Sale Authorization and Lienholder's Certification (HNC § 503). For more details, visit California DMV Lien Sales.
Required Documents:
Title Information – The owner must show an out-of-state title (if applicable), a Registration of New Vehicle Application (REG 397), and a Manufacturer's Certificate of Origin (MCO).*
Permanent Trailer Identification (PTI) Application and Certification – Necessary to apply for the program and receive registration (see REG 4017).
Payment – Applicants must pay all fees to register their trailer (see PTI Fees).
*If any of these documents are not available, the following must be given in place:
Title (or Registration) Application – Filling out this PDF provides the DMV with the information needed to approve trailer registration (see REG 343).
Vehicle Verification – If the trailer has not been registered in the past, this form must be presented (see REG 31).
Statement of Facts – A document that includes the trailer's weight without holding a boat or any other items (see REG 256).
Step Three – Paint Registration Details
After the approval process, the owner must display all required information on their boat. Local patrol monitors and enforces these rules, meaning that they are important to follow. If the operator chooses not to follow the law then they may be penalized or fined. Completing all the steps listed below will prevent these legal charges from happening.
Vessel Registration Number – The owner will be given a personalized number that begins with CF. This number needs to be printed on both sides of the boat's front end. A generic, easy-to-read font that is at least three (3) inches in height must be used. The color must not contrast with the boat's paint either. Each section of the number should be divided by spaces or hyphens, as well.
Registration Sticker – Included with the registration is the sticker, which should be placed three (3) inches from the registered number. Nothing else should be placed near the sticker or printed number to ensure that it is visible.
Hull Identification Number (HIN) – A HIN is a twelve (12) digit number that is unique to each boat and immediately identifies it. The owner must place it in a separate location from the registration number and sticker
If any of the above documents have been damaged, lost, or stolen, fill out the following forms and submit them in-office or via mail.
Certificate of Ownership – Used to apply for a new title (see REG 227).
Replacement Plates, Stickers, Documents – Complete this PDF to receive registration sticker replacements (see REG 156).
---
Firearms
California gun laws are stricter than most U.S. states. In fact, they lean away from the 2nd amendment, making it tough for individuals to own a firearm. Unlike many states, residents are not automatically entitled to a concealed carry permit. In order to possess a firearm (loaded or unloaded) they must apply for a license. Without government-provided documentation, they are not legally able to have a gun (even in a private home). However, due to rising concerns around constitutional rights, the state is revisiting its gun laws with the possibility of future change.
The process of applying for a permit is purposely complex since it is considered a privilege to hold one. Individuals who wish to legally conceal carry must provide evidence that they are in danger and having a firearm would protect them from harm. They must also live in the state and cannot have a criminal background. Lastly, the person must have passed an official firearms training class (§ AB-2103). If a resident who is at least twenty-one (21) years of age meets these guidelines, it is at that point that they can submit the steps listed to be considered for approval.
Step 1 – Submit Application & Documents
The state makes it clear that sending in an application does not mean that person will be given a permit. Instead, the form acts as an initial review and helps the California Department of Justice (DOJ) Bureau of Firearms make a decision about whether or not they want to conduct an interview. For best chances of approval, the individual must fill out each question completely and honesty (see Application). Most counties in California also require an application fee, which must be paid when submitting the form via mail or in person.
Step 2 – Attend Interview 
Within ninety (90) days, the applicant will either be approved or denied. If approved, the individual will need to set up an interview with the DOJ.
Required Documents:
Government-Issued Identification (ID) – A California driver's license or ID must be shown in addition to a birth certificate. The person must also bring a piece of mail addressed to their residence proving that they live in their stated county.
Military (if applicable) – If the person was involved in the military or was released, they must present a DD-214.
Proof of "Good" Cause – Anything that supports the resident's case for obtaining a permit must be present. Examples could be a report from the police or a restraining order proving that they are endangered.
After showing proof of the above documents, the interviewer will conduct a background check and take fingerprints. All fees associated with the check and prints must be paid at that time.
Step 3 – Training Course and/or Testing
If the candidate passes the interview, they will be required to take a firearms training course. The class includes education on firearm safety, as well as instruction on how to use a gun. For new applicants, the course will be anywhere from sixteen (16) to twenty-four (24) hours long. Renewal requirements are only four (4) hours in comparison. Fees depend on the class but typically range from $100 to 200.
Applicants can also be subject to psychological testing if the interviewer feels that it is necessary. Tests may be up to $150 and involve a conversation with a psychologist. The licensed therapist will determine whether or not the person is sane and/or mentally stable to be in possession of a firearm.
Step 4 – Pay Fees & Receive License
Once the individual has successfully completed the firearms course and all psychological testing, they must submit evidence of approval to their county office. From there, they will receive further information on when and where to pick up their permit. At that time, they must pay their final fees (variable by county) along with a signed Shooting Proficiency form.
To maintain their license, the resident must continue to abide by California gun laws and renew their permit every two (2) years.
---
Motor Vehicles
Motor vehicle registration in California looks different depending upon whether the car was purchased through a dealer or a private seller. The Department of Motor Vehicles (DMV) requires specific documents for each situation.
Dealership Sales
One of the perks of buying from a dealer is that they typically take care of car registration. They are required to submit an application within thirty (30) days for a new vehicle and within twenty (20) days for a used car. It's important to note that not all dealers will register the vehicle.
Required Documents:
Title or Registration Application –  This application must be completed to apply for a title for new cars (see REG 343). However, owners of used cars with a previous title (or an out-of-state title) do not need to fill out the form. If they have lost their California Certificate of Title, they can also apply for a replacement (see REG 227). Signatures from both the buyer and seller must be present on the title.
Bill of Sale – Provides evidence that the buyer now has ownership over the vehicle.
Payment – Associated fees must be paid during registration (see DMV Fees).
Additional Documents:
Transfer and Reassignment (REG 227) – This form is used for disclosing the odometer reading of a vehicle.
Statement of Facts – Provides evidence that the facts listed in the document are true. The DMV must sign to officialize the form.
Smog Certification – Confirms that the vehicle is within range for emissions output.
Vehicle Emissions – The vehicle must be tested for emissions within ninety (90) days of purchasing. It does not matter whether the seller or buyer had it tested, but the new owner does need to show proof that testing was completed (see  (Reg 139).
Weight of Vehicle –  Confirms the amount that a vehicle weighs to determine fees and registration (Reg 4008).
Private Sales
Vehicle registration must occur within ten (10) days of the purchase.
Required Documents for Buyer:
Title – Must include the seller's name.
Bill of Sale – Must be presented if the seller's name is not listed on the title.
Odometer Mileage – Cars that are ten (10) years old or younger require documentation of an agreement of the odometer mileage at the time of the sale. Both the buyer and seller must sign in order for it to be valid.
Smog Certification – Most commercial vehicles will need to be tested to ensure that the amount of emissions they are putting out is within the range mandated by the state of California.
Payment – Cost depends on many factors such as residency, area of residence, vehicle weight, and vehicle type (see Fees).
The seller must also let the DMV know that they have sold their vehicle within five (5) days of the purchase.
Required Documents for Seller:
Buyer Information – Includes the purchaser's name and address. This information is typically included in the bill of sale.
Car Information – Know the vehicle's license plate number. Also, keep a record of its VIN (the last five (5) digits are needed).
Odometer Reading – The agreed-upon mileage can typically be found in the signed form.
Transfer and Release of Liability – Use the above information to complete and submit the form to officially transfer the vehicle (see Online Form).