California Bill of Sale Forms (4)
A California bill of sale is a document that transfers ownership of personal property from a California resident to another entity. The person selling the item is called the "seller", whereas the person purchasing it is called the "buyer." This type of form is similar to a receipt as it outlines the exact details of the transaction. It is most commonly used for automobile, vessel, and gun sales, although it is recommended for deals of any type.
---
---
By Type (4)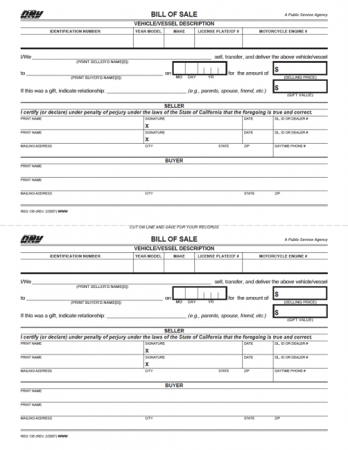 Boat Bill of Sale – Summarizes the specifics around selling, gifting, or trading a water vessel.
Download: PDF
---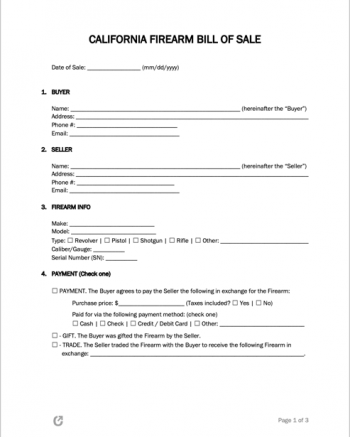 Firearm Bill of Sale – A blank template used to organize the key details of a gun sale.
---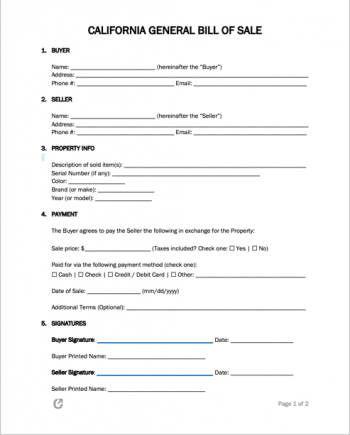 General Bill of Sale – Documents how an item was sold with a focus on its description, payment type, and contact information of the buyer and seller.
---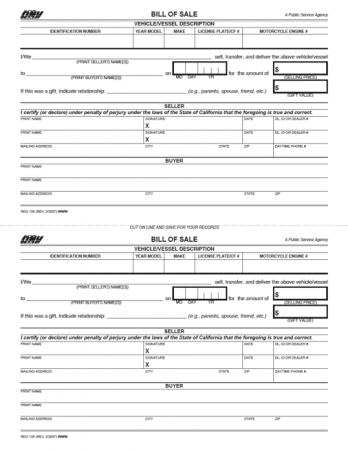 Motor Vehicle Bill of Sale – A form that accompanies the transfer of a motor vehicle from one person to another.
Download: PDF
---
Signing requirements
| | | | |
| --- | --- | --- | --- |
| Bill of Sale Type | Buyer Signature | Seller Signature | Notarization |
| Motor Vehicle | Required | Required | Not required |
| Boat | Required | Required | Not required |
| Firearm | Required | Required | Required |
| General (others) | Required | Required | Not required |
---
How to Register a Motor Vehicle (4 Steps)
California drivers must register their vehicle within ten (10) days of becoming a resident. Dealers have thirty (30) days to report the sale and registration for a new car and twenty (20) days for a used car. If a driver operates an unregistered vehicle, they can be fined by California law enforcement (§ 4000 (a)(1)).
Private sellers must inform the Department of Motor Vehicles (DMV) that they have sold their vehicle within five (5) days of the purchase. At that time, they will submit the following: the buyer's information (i.e. name, address, etc.), the car information (i.e. license plate number, last five (5) numbers of vehicle identification number (VIN)), a signed odometer disclosure statement, and a transfer and release of liability (REG 138).
Step 1 – Obtain California Motor Vehicle Insurance
California mandates that all drivers registering their vehicle have an insurance plan that aligns with state requirements. The bodily injury or death policy must extend to $15,000 per person and $30,000 for two (2) or more persons per accident. Property damage coverage must be at least $5,000 per incident.
Step 2 – Submit Registration Forms
The California DMV accepts registration forms and payment by mail and in person.
Required Forms / Information:
Application (REG 343) –  Must be filled out by the owner if they do not hold a valid title for the vehicle.
Bill of Sale – Provides evidence that the person registering rightfully owns the automobile.
Insurance – All vehicles in California must be insured.
Photo Identification (ID) – A government-issued form of identification that includes the applicant's picture.
Payment – Fees are based on many variables and must be paid when registering.
Other – In certain situations, the DMV may request additional documentation.*
*An applicant may need:
Vehicle Emissions (Reg 139) – The vehicle must be tested for emissions within ninety (90) days of the registration date. If the previous owner completed the emissions testing, it does not need to be performed again. However, the current owner is required to show proof that the vehicle passed.
Weight of Vehicle (Reg 4008) –  Required if the owner is unable to show proof of how much the car weighs.
Statement of Facts (Reg 256) – For exemptions, changes, or other special circumstances.
Odometer Reading – A Reg 262 (provided by the DMV) is only needed if the title or bill of sale do not include the odometer reading.
Smog Certification – Not needed for all vehicles, but must be presented if required.
More information about required forms can be found by contacting a California DMV office.
Step 3 – Apply Tabs + License Plates
Once the registration is accepted, the owner will receive license plates, which they must fasten to the vehicle. They must attach the stickers to the license plate, as well, so that law enforcement, and other officials, can clearly see them at all times.
Step 4 – Renew Annually
Vehicle registration in California must be renewed each year and can occur in person, by mail, or online. A resident can reapply up to sixty (60) days before their current registration expires as long as they have received a written reminder from the DMV. They will need the notice from the state, along with their license plate number, the last five (5) digits of their VIN, and a form of online payment.
---
How to Register a Boat (4 Steps)
All motorized boats and sailboats over eight (8) feet long must be registered by the DMV. Registration is required regardless of whether the operator is using it in public or private waters. Non-residents may use their vessel for up to ninety (90) consecutive days before they must register it in California. When transferring an out-of-state boat, the owner has 120 days to submit the paperwork (§ 9854).
Step 1 – Submit Boat Registration
Vessel registration can occur at a DMV office or by mail.
Required Forms / Information:
Application (BOAT 101) – Must be completed by the owner to receive a certificate of number.
Title – Used to prove ownership, and can be a California title or one that is from out of the state.
Bill of Sale (REG 135) – Owners who acquired the boat through a private sale must present a signed bill of sale. If they are unable to show the bill of sale, they will need to submit a statement of facts instead.
Payment – Registration fees must be submitted during the application process.
When registering through the mail, documents and payment can be sent to:
Department of Motor Vehicles
PO Box 942869
Sacramento, CA 94269-0001
Step 2 – Register Boat Trailer
Similar to boats, the trailer used to carry the vessel must be registered, as well. The owner must apply for registration by providing the DMV with the title, registration application (REG 397), manufacturer certificate of origin (MCO), permanent trailer identification (PTI) application (REG 4017), and the payment.
If the owner does not complete a registration application (REG 397), the following must be given in place: a title application (REG 343), a vehicle verification (REG 31), and a statement of facts (REG 256).
Step 3 – Apply California Number + Decals
Upon approval, the owner will be given a registration number and decals, which must be displayed on the boat. If the operator chooses not to include their information on the boat, they can be fined by the California boat patrol.
It is required by federal law that the hull identification number (HIN), a twelve (12) digit number, is printed on the boat. If it is not, it must be permanently attached before using the vessel.
The boat owner must print the registration number on the vessel, as well. The number begins with CF and is followed by four (4) numbers, then two (2) letters (i.e. CF-4758-TF). To be considered valid, it needs to be printed on both sides of the boat's front end. A generic, easy-to-read font that is at least three (3) inches in height must be used, and the color must not contrast with the boat's paint. Each set of letters and numbers must be divided by spaces or a hyphen.
The registration sticker, or decal, should be adhered three (3) inches from the number towards the back of the boat. Additional information cannot be near the sticker or printed number so that they remain legible from a distance. The only exception is if the boat is being used in freshwater areas and requires a "Mussel Fee Paid" sticker, which is placed next to the registration decal towards the stern.
Step 4 – Renew Every Odd Year
Once registered, the watercraft must be renewed by December 31st during each year ending in an odd number (i.e. 2015, 2017, 2019, etc.). The DMV will alert the owner via mail sixty (60) days before forms must be submitted. Renewal can occur online, through the mail, or at a local DMV office.
If the documents are damaged, lost, or stolen during the registration period, the DMV must be notified. To obtain a new title, mail or provide the DMV with a certificate of ownership (REG 227). For new registration stickers, complete and submit an application (REG 156).