Maine Bill of Sale Forms (5)
A Maine bill of sale form is used when a merchant sells an item in exchange for cash or another object. The seller can also complete a bill of sale to gift an individual their personal property. Buyers and sellers commonly create the document when transferring ownership of a valuable item; however, the object does not need to be costly. Keepsakes that hold significant meaning, such as a family heirloom, can meet the criteria for using a bill of sale.
Summary
Maine does not require notarization of bill of sale forms.
Owners must give buyers the official certificate of title upon selling a boat or car.
Buyers can purchase a gun through a private sale without needing a permit.
---
---
Types (5)
Boat Bill of Sale – A form confirming the purchaser compensated the seller when obtaining ownership of a vessel.
---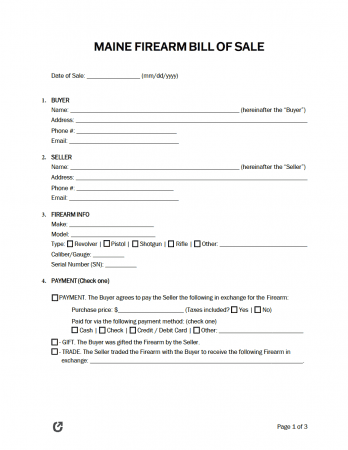 Firearm Bill of Sale – Refers to any gun that a seller legally transferred to a buyer.
---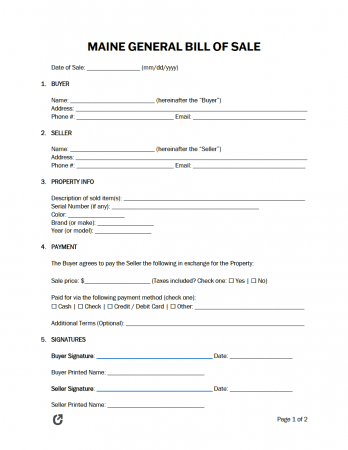 General Bill of Sale – The broadest bill of sale form that a buyer and seller use to exchange personal property.
---
---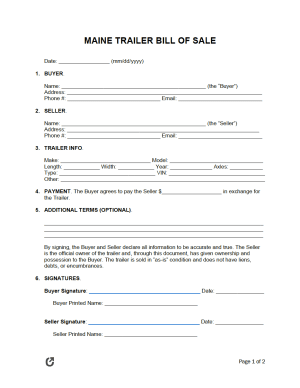 Trailer Bill of Sale – This form an owner to show another entity that they legally acquired a utility trailer from a seller.
---
Signing Requirements
| | | | |
| --- | --- | --- | --- |
| Bill of Sale Type | Buyer Signature | Seller Signature | Notarization |
| Boat | Required | Required | Not required |
| Firearm | Required | Required | Not required |
| General (others) | Required | Required | Not required |
| Motor Vehicle | Required | Required | Not required |
| Trailer | Required | Required | Not required |
---
What is a Maine Bill of Sale?
A Maine bill of sale conveys an item's change of possession, thus removing the seller's responsibility and bestowing it on the buyer. Each person listed in the form generally keeps a copy of it for their records if they ever need to affirm ownership.
Both parties must use the state-provided form when selling a motor vehicle. It requires signatures from the buyer and seller, an accurate odometer statement, and information regarding lienholders (if applicable). The state does not have an individualized form for boats, general items, or firearms, which means the individuals can use any bill of sale form as long as it contains the necessary details.
---
Registration Forms:

Boats
Submit documents to the Maine Department of Inland Fisheries & Wildlife Office.
Bill of Sale – A boat-specific document that provides information on the seller's release of ownership.
Maine Recreational Vehicle Registration Application – An owner must complete a form to apply for Maine boat registration.
Payment – The amount owed by the owner depends on the boat's horsepower.
"Preserve Maine Waters" Stickers – By paying the fee, the resident supports the protection of waterways from unwanted aquatic wildlife. This sticker is only required for inland waters as it excludes tidal waters. Residents must pay $15 for a sticker, whereas out-of-state boaters must pay $45 using the online portal.
Title – The owner must have a signed, authentic copy of the certificate of title.
Additional (Optional) Documents
---
Registration Forms:
Firearms
Maine residents do not need to obtain a purchase permit or register their firearm(s). When carrying out a private sale, the owner does not need to look into the buyer's criminal and mental background. However, the person purchasing the gun cannot have felony charges and must be of sound mind. The state requires gun holders to acquire a concealed carry license if they wish to possess a hidden firearm in public. They must provide the information listed below to an issuing authority police station.
Application for Permit to Carry Concealed Handgun – This document provides the issuing authority with information to accept or reject the license. By signing, the person applying allows the state police to conduct a background check on them to look for a history of criminal activity, drug abuse, mental disorders, or domestic violence. A witness must sign after observing the applicant's signature. Non-residents must use a separate application.
Payment – First-time applicants must pay $35. The application includes other additional costs.
Proof of Knowledge of Handgun Safety (HGS) – The person applying must present a certificate (no more than five (5) years old) that shows they took a certified class for firearm education. Armed Forces members can provide a copy of a DD214 unless they were dishonorably discharged or did not go to basic training.
Photograph – The image must be of passport quality, in color, size 2″ x 2″, and clearly show the face of the applicant. They cannot wear sunglasses, hats, or any other item covering the face.
Birth Certificate – A copy of the original birth certificate with the applicant's personal information. Citizens born out of the U.S. must present an immigration and naturalization service (INS) document.
---
Registration Forms:

Vehicles
Visit a BMV Office Monday through Friday during operating hours to submit documents.
Bill of Sale – An official state form that includes details of a sale between the buyer and seller.
Odometer Disclosure Statement (Form MVT-32) – Buyers and sellers sign this document to verify the mileage on the date of the sale.
Liability Insurance (§ 1605, § 2902, § 7305) –

$50,000 per person;
$100,000 per accident for bodily injury;
$25,000 for property damage;
$2,000 per person in medical payments coverage; and
$50,000 per person/$100,000 per accident for uninsured or underinsured motorists.

Payment – A chart of vehicle registration prices sorted by plate type.
Title – The owner must provide the BMV with the original title or apply for a new one using the online portal for motor vehicle title replacement.
Registration Application – White and yellow versions distributed at BMV locations.
Photo Identification (ID) – The owner must present an unexpired Maine driver's license or another government-issued photo ID like a birth certificate or passport.
Additional (Optional) Documents
Maine Motor Vehicle Power of Attorney – Owners fill out this form when giving another person responsibilities for their car, truck, or van.
Blue Title Application – For vehicle models 1995 or newer only.
Excise Tax Payment Receipt – A type of vehicle tax that requires a visit to a local municipal office. Owners of brand new vehicles must present the manufacturer's suggested retail price (MSRP) sticker to the tax collector. Upon paying, the owner receives a yellow excise tax receipt, which they must present to the BMV when registering the car.
---
Registration Forms:
Trailers
Residents must visit a BMV branch office or contact their local municipal office to register their trailer.
Bill of Sale – Individuals complete this document upon selling or acquiring a new or used trailer.
Payment – Trailer costs depend on the trailer's weight and registration duration.
Sales Tax – When buying a new trailer, the fees include sales tax. If the resident purchases a used trailer through a private sale, they must pay 5.5% sales tax during their registration appointment.
Title – Owners of dealer purchased trailers (model year 1995 or newer and over 3,000 pounds) must submit a blue title application. If the person acquired a trailer through a private seller, they must present the signed title in their name.
Identification (ID) – A state or government document that contains details about the applicant.
Additional (Optional) Documents
Vanity Plate – Residents can apply for a vanity plate using the online search engine.