Montana Bill of Sale Forms (5)
A Montana bill of sale form serves as a record of a bargain between two individuals. In most cases, the seller agrees to give the buyer an item in exchange for cash or another object of similar value. The seller can also gift the item to another person. A bill of sale acts as a receipt in this situation as it includes information about the agreement. The buyer and seller must simultaneously execute the bill of sale to officialize it.
Summary
Residents must register boats and cars being operated in state waters and roadways.
To register a vessel or vehicle, the owner must present a notarized bill of sale form.
Lawful individuals can purchase or sell a gun without needing a background check.
---
---
Types (5)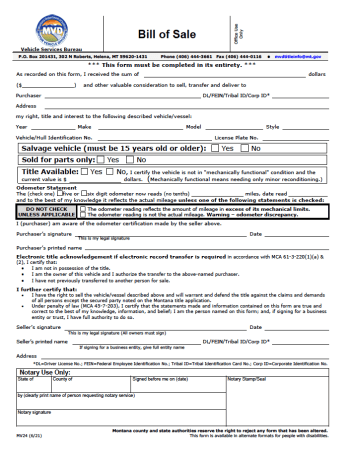 Boat Bill of Sale – Transfers watercraft ownership to a new owner.
Download: PDF
---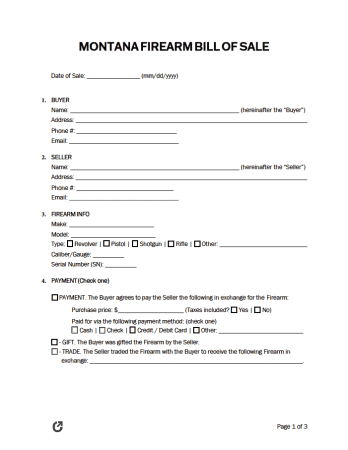 Firearm Bill of Sale – Provides evidence that a firearm was rightfully sold or given to another person.
---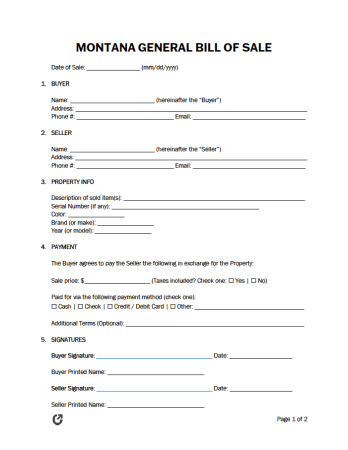 General Bill of Sale – Acts as a receipt for the sale of personal property, such as jewelry, artwork, instruments, or other high-dollar goods.
---
---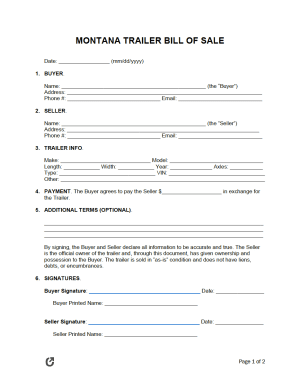 Trailer Bill of Sale – Enables a person to obtain ownership of a utility trailer legally.
---
Signing Requirements
| | | | |
| --- | --- | --- | --- |
| Bill of Sale Type | Buyer Signature | Seller Signature | Notarization |
| Boat | Required | Required | Required |
| Firearm | Required | Required | Not required |
| General (others) | Required | Required | Not required |
| Motor Vehicle | Required | Required | Required |
| Trailer | Required | Required | Not required |
---
What is a Montana Bill of Sale?
A Montana bill of sale entitles a buyer to the possession of personal property initially owned by a seller. The state requires the notarization of motor vehicle, boat, and firearm bill of sale forms.
The buyer and seller can find a notary public at a bank, library, law firm, accountant office, shipping store, and other locations. The buyer and seller may need to make an appointment, although some notaries allow walk-ins.
Both parties must bring the blank bill of sale form and valid photo identification (ID), such as a driver's license, passport, or state-issued ID, at the time of notarization. Each person will sign their name on the document before the notary public. In turn, the public official will sign, stamp, or seal the form. Other bill of sale forms do not need a notary's signature, although having it affirms the document.
For example, a situation could occur where a sister gifts her brother a family heirloom. After the transfer, the aunt claims the brother stole the item. In this case, the bill of sale becomes a key document in the dispute because it includes signatures from the brother, sister, and a notary public. Court judges, lawyers, and other involved legal personnel accept the form as evidence since a notary public endorsed it. As a result, the brother has a greater chance of winning the case as the document proves he legally obtained the heirloom.
---
Registration Forms:
Boats
Use the County Treasurer Office finder to make an appointment at a nearby location.
---
Registration Forms:
Firearms
In Montana, handguns, rifles, and shotguns do not need registration, and owners do not need a license to buy or own. While dealers must perform background checks on customers, private sellers are exempt from this law. 
While private merchants do not need to look into the buyer's background, they must ascertain they can have a gun. In other words, can only sell to individuals who can legally possess a firearm and do not have criminal intent. Furthermore, they must have a sound mind without legal charges or mental health history.
Residents can concealed carry in Montana without a permit. Individuals can choose to apply for a concealed weapon permit, nonetheless, as it allows them to concealed carry in a state government building, office, and other authorized locations. They must obtain a concealed weapon permit application (sample) from their nearest sheriff's office to apply.
---
Registration Forms:
Vehicles
Submit documents to the appropriate Montana County Treasurer's office.
Bill of Sale (Form MV24) – An official form of Montana used for documenting the details of a vehicle sale.
Application for Certificate of Title for a Motor Vehicle (Form MV1) – Obtained and completed by an owner to register the vehicle with the state.
Odometer Disclosure Statement (Form MV90A) – Declares the odometer reading as accurate or not accurate.
Insurance Minimum Limits Per Accident (§ 61-6-103) –

Bodily Injury (one person): $25,000
Bodily Injury (2+ people): $50,000
Property Damage: $20,000

Payment (§ 61-3-321) – The owner can register their vehicle for one (1) or two (2) years at a time. Owners of "lightweight" cars more than eleven years old can pay a set price for permanent registration (§ 61-3-562).
Title – An unexpired original document identifying the car and its official owner. If the title is not available, the owner must apply for a title replacement using Form MV7.
Identification (ID) – A Montana driver's license, state-issued ID card, passport, employer ID card, or any other official photo ID that includes the owner's information.
Additional (Optional) Documents
---
Registration Forms:
Trailers
Montana requires the permanent registration of trailers in the state. This process occurs at a County Treasurer's office.
Bill of Sale – The seller uses this form to record information about themselves, the trailer, and the purchaser.
Application for Certificate of Title for a Motor Vehicle (Form MV1) – Applicants need this form to register and title their trailer.
Payment – The state calculates fees based on the weight of the trailer (i.e., over or under 6,000 pounds).
Identification (ID) – Proves the applicant's full name, home location, and day of birth.
Additional (Optional) Documents