Pennsylvania Bill of Sale Forms (5)
A Pennsylvania bill of sale form validates the transfer of ownership for a valuable asset. The original owner (seller) of an automobile, watercraft, firearm, or other possessions finalizes and signs the document with the new owner (buyer). Although the state does not require a bill of sale, residents should use the form since it showcases due diligence and serves as a transaction receipt.
Summary
Pennsylvania bill of sale forms do not need notarization.
A bill of sale acts as a formal proof of ownership during car and boat registration.
A private gun merchant must check a buyer's criminal and mental history before selling.
---
---
Types (5)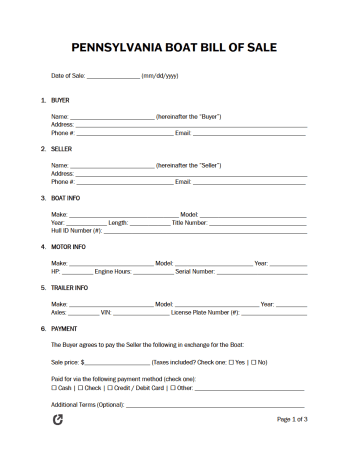 Boat Bill of Sale – A legal form for buyers when purchasing a boat or watercraft from a private seller.
---
Firearm Bill of Sale – Documents the transfer of ownership for firearms.
---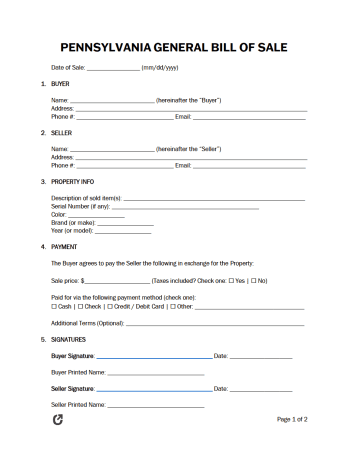 General Bill of Sale – A form used when an item of high value is sold or given to another person.
---
---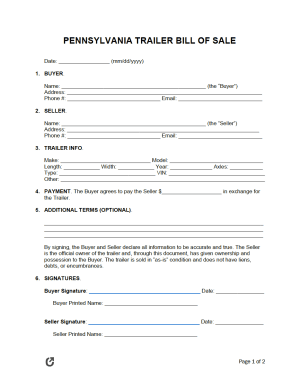 Trailer Bill of Sale – Evidence that a buyer cooperated with a seller to obtain ownership of a cargo trailer.
---
Signing Requirements
| | | | |
| --- | --- | --- | --- |
| Bill of Sale Type | Buyer Signature | Seller Signature | Notarization |
| Boat | Required | Required | Not required |
| Firearm | Required | Required | Not required |
| General (others) | Required             | Required | Not required |
| Motor Vehicle | Required | Required | Not required |
| Trailer | Required             | Required | Not required |
---
What is a Pennsylvania Bill of Sale?
A Pennsylvania bill of sale form legally transfers possession of property from the seller to the buyer, confirming the transaction. It includes all pertinent details to verify the acquisition.
For instance, when transferring a car to a relative, a bill of sale simplifies the process. The seller must enter crucial vehicle data, such as year, make, model, vehicle identification number (VIN), and the title number, followed by contact information for both parties. Once signed and dated, the original owner relinquishes all rights and interests in the vehicle, and the buyer assumes ownership.
Obtaining notarization for the bill of sale adds a layer of legitimacy and authentication to the transaction. This additional measure safeguards the buyer and seller if future disputes arise concerning the item's legal ownership.
---
Registration Forms:
Boats
Use the Pennsylvania Fishing and Boating Commission (PFBC) directory to file for vessel registration and title or contact an issuing agent.
Bill of Sale – To officially transfer ownership of a vessel.
Application (Form REV-336) – For the owner to fill out when applying for watercraft registration.
Payment – Also listed in the boat registration application. Must be paid to receive tags.
Title – The owner must submit the transferred title. If the vessel is from a non-title state, a registration statement can be used instead.
Manufacturer's Certificate of Origin (MCO) – Only for boats purchased from a dealership.
---
Registration Forms:
Firearms
In Pennsylvania, it is illegal to keep a record of registered guns, and therefore, residents do not need to undergo firearm registration. Nonetheless, they can get a concealed carry license, which allows them to hide their gun on their body in most public places. This process directs the person to present forms and payments to a local county sheriff's office.
Application (Form SP 4-127) – Necessary for acquiring a Pennsylvania gun permit. To obtain an official copy of the form, mail the address listed below (Pennsylvania State Police).
Pennsylvania Instant Check System (PICS) – A formal background review to ensure the applicant is mentally sound and does not have a criminal history. Rejected applicants can contest the decision by submitting a PICS Challenge Form SP4-197.
Fingerprints + Photos – Taken by an approved individual.
Identification (ID) – A state-ID, driver's license, or any other document that identifies the applicant by name, photo, address, and date of birth.
---
Registration Forms:
Vehicles
Submit registration documents and fees to a Pennsylvania Department of Transportation (PennDOT) office or agent. 
Bill of Sale – Utilized in the sale of a car, truck, or van.
Application (Form MV-1) – This form is only available through an authorized agent or PennDOT office.
Odometer Disclosure Statement – A federal form that states the mileage of the car.
Insurance (Minimum Requirements)  – The owner must present valid proof of insurance.

Bodily Injury or Death (per accident): $15,000 per person / $30,000 for 2+ people
Property Damage: $5,000

Payment (Form MV-70S) – A standard fee of $39 for first-time registration. Does not include specialty plates, title fees, taxes, or any other additional costs.
Certificate of Title – The owner must present the previous or out-of-state title. For duplicate titles, complete Form MV-380.
Identification (ID) – Pennsylvania driver's license, ID card, or a military card.
Additional (Optional) Documents
Application for Dealers for Duplicate Title (Form MV-38D) – Used by dealers to request a duplicate title.
Application for Duplicate Title or Lien Release (Form MV-38L) – To request a duplicate title or handle lien-related matters. If the owner wants to record, renew, or remove a lien or correct information, they should use this form.
Application for Lessee Information – For leasing companies to complete when an applicant registers and titles a leased car.
Pennsylvania Motor Vehicle Power of Attorney – Allows an individual to represent a vehicle owner when handling assigned tasks.
California Air Resources Board (CARB) – Per the CARB, cars 2008 or newer weighing 8,500 or less with fewer than 7,500 miles require an inspection.
Inspection – Required for new and used vehicles requesting a Pennsylvania registration. Includes emissions inspection.
VIN Verification (Form MV-1) – For out-of-state vehicles, trucks, truck tractors, and motorhomes. Owners must use tracing paper and a lead pencil to trace over the VIN number. Use Form MV-41 if a professional mechanic or dealership has inspected and approved the VIN.
---
Registration Forms:
Trailers
Pennsylvania trailer registration and titling happen at PennDOT offices. 
Bill of Sale – A template downloaded by a seller to officially transfer possession of a utility or boat trailer.
Application (Form MV-1) – An owner completes this document to apply for a trailer registration and title. It is not available online, meaning that the individual must obtain it through a local office.
Payment – The gross weight of the trailer, its primary purpose, and the registration length dictates the amount owed by the applicant.