South Dakota Bill of Sale Forms (5)
A South Dakota bill of sale form is crucial for asserting ownership of an item or verifying that a financial transaction, trade, or gift occurred. Sellers often use it for large, high-priced personal property such as watercraft, firearms, or automobiles and smaller valuable items like jewelry, clothing, or appliances. However, this list is not exhaustive, as both parties can complete it for various objects.
Summary
Residents can only use the state-created forms for boat and car sales.
The state suggests notarization but does not mandate it by law.
Authorized individuals can purchase and own a gun without a permit.
---
---
Types (5)
Boat Bill of Sale – A legal document that substantiates the obtainment of a boat from a private seller.
Download: PDF
---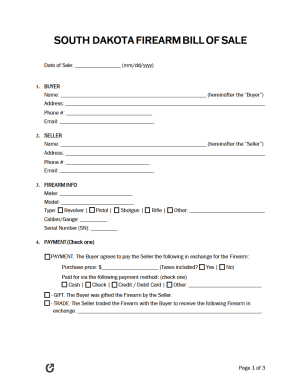 Firearm Bill of Sale – Records a firearm's change in custody from one person to another.
---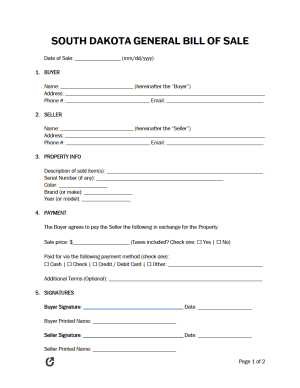 General Bill of Sale – Used when selling, donating, or gifting a valuable article or thing to someone else.
---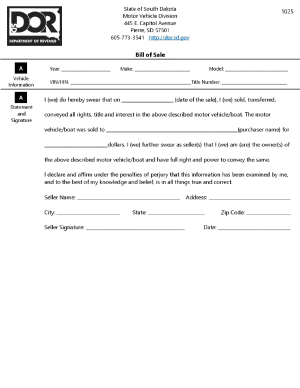 Motor Vehicle Bill of Sale – A form noting the primary points of a transaction that proceeded between two alliances.
Download: PDF
---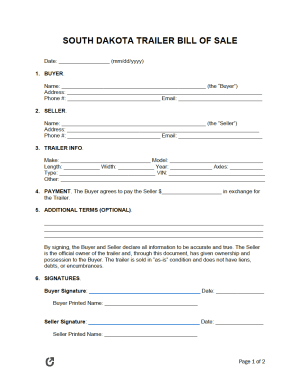 Trailer Bill of Sale – Ascertains the change of possession between a buyer and seller regarding a utility trailer.
---
Signing Requirements
| | | | |
| --- | --- | --- | --- |
| Bill of Sale Type | Buyer Signature | Seller Signature | Notarization |
| Boat | Not required | Required | Not required |
| Firearm | Required | Required | Not required |
| General (others) | Required | Required | Not required |
| Motor Vehicle | Not required | Required | Not required |
| Trailer | Required             | Required | Not required |
---
What is a South Dakota Bill of Sale?
A South Dakota bill of sale form relieves the seller of responsibility for an item and transfers it to the buyer who paid for or exchanged it for a similarly valued asset. Although the Department of Revenue (DOR) does not mandate notarization, they recommend it as it endorses the document and ensures the legitimacy of the ownership change.
The seller (owner) and the buyer (new owner) indicate their consent by signing. Subsequently, they agree on the accuracy of their personal information, the item's description, and other details provided.
The DOR requires a bill of sale to accompany the necessary paperwork to titling and registering a car or boat. The document must contain the vehicle or vessel's year, make, model, identification number, and the title number. The relevant parties must sign to indicate their agreement.
When an item is gifted or donated, a bill of sale is a receipt and proof of ownership, even when no payment is involved. This factor makes the document a valuable addition to such transactions.
---
Registration Forms:
Boats
Get in touch with a county treasurer to submit the required registration paperwork and fees.
Bill of Sale – A state-created document used to transfer a vessel from one party to another.
Boat Title & Registration Application (Form #1001) – Enables the owner to list particulars about the vessel, so the DOR has enough information to accept or deny the registration.
Payment – Costs based on vessel length and additional fees.
Title – Must be signed by the previous owner and include information about the new owner and boat.
---
Registration Forms:
Firearms
Firearm registration is not a requirement in South Dakota, although gun holders can decide to obtain a license to carry in additional areas. There are three (3) types of permits: regular, gold, and enhanced. Each kind has its own set of restrictions and guidelines, and therefore, the firearm owner must decide which one is best for their current situation. They must contact a nearby county sheriff's office to drop off the necessary forms.
Pistol Permit Application – Forms vary by county (e.g., Hughes County and Minnehaha County).
Handgun Course – The applicant must prove they have taken and passed an authorized firearm safety course.
Payment – Depends on the license type ($10 for regular, $70 for gold, $100 for enhanced).
Fingerprints – Law enforcement runs the applicant's fingerprints to confirm their identity, criminal background, and mental health history.
---
Registration Forms:
Vehicles
Residents must present the forms to their county treasurer's office to receive a registration and/or title. 
Bill of Sale – Serves as an indication of a possession change for a car.
Application for Motor Vehicle Title & Registration (Form #1001) – Used to list details about the car and owner for registration needs.
Odometer Disclosure Statement (Form DMV-611) – If the odometer reading is not on the title, application, or another official document, the owner must complete this form.
Insurance Policy – The driver must have insurance for the bodily injury of one person and two (or more) persons per accident. They must also have a plan for damages to a car or property and uninsured or underinsured motorist coverage.
Payment – Fees paid to the state for car registration.
Identification (ID) – The registrar must have a photo ID with their picture, full name, and address.
Title – Original needed. If lost, stolen, or destroyed, apply for a new one using a duplicate title application (Form 1002).
Additional (Optional) Documents
---
Registration Forms:
Trailers
Trailers in South Dakota require registration and title, which occurs through a county treasurer's office. 
Additional (Optional) Documents
Power of Attorney (Form 1023) – A trailer owner fills out this document to empower someone as their representative.
Trailer License Plates – If the owner uses the trailer with a vehicle that weighs less than 6,000 pounds, they must apply for a trailer license plate using the application form.