Utah Bill of Sale Forms (5)
A Utah bill of sale form serves as a directory, providing contact information for both the buyer and seller and details about the transferred item in a single document. Anyone can quickly reference the form to identify the personal property sold or to reach the involved parties. It offers proof of purchase, establishes ownership, and helps protect the interests of both parties.
Summary
Utah has a multi-use form for the sale of boats and cars, which residents must use.
Notarization is not needed, however, taking this action further validates the form.
Private gun sellers must ensure the buyer is not a felon or mentally unhealthy.
---
---
Types (5)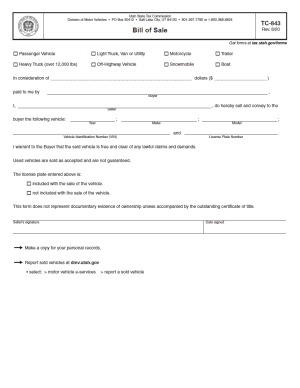 Boat Bill of Sale – Offers proof of a boat or water vessel transaction from the previous owner (the seller) to the current owner (the buyer).
Download: PDF
---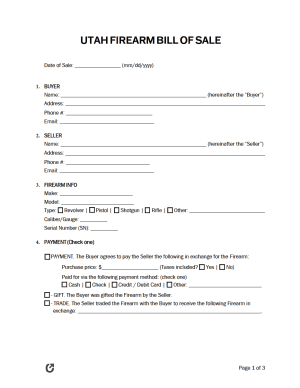 Firearm Bill of Sale – Used to write down the details of a firearm sale, usually involving a handgun, rifle, or shotgun.
---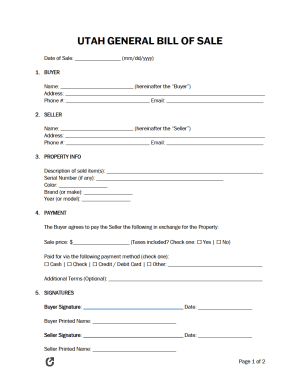 General Bill of Sale – Records the undertaking of a non-specific item by a purchaser from a seller.
---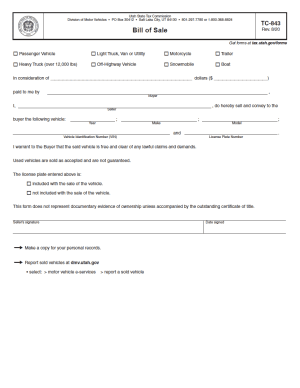 Motor Vehicle Bill of Sale – Signed after the sale of a motor vehicle, describing the car — car, van, SUV, truck, etc. — and the purchase details.
Download: PDF
---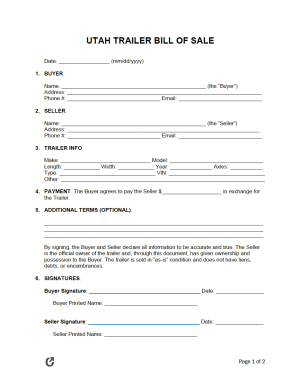 Trailer Bill of Sale – Reinforces the legal transfer of a utility trailer to a buyer from a seller.
---
Signing Requirements
| | | | |
| --- | --- | --- | --- |
| Bill of Sale Type | Buyer Signature | Seller Signature | Notarization |
| Boat | Not required | Required | Not required |
| Firearm | Required | Required | Not required |
| General (others) | Required | Required | Not required |
| Motor Vehicle | Not required | Required | Not required |
| Trailer | Required             | Required | Not required |
---
What is a Utah Bill of Sale?
A Utah bill of sale form has three main objectives: 1) outlining the transaction details, 2) releasing the seller's ownership of an item, and 3) documenting the buyer's acquisition of personal property. The form includes the following information:
Transaction date;
Personal details (e.g., full name, address, phone number, email) of the buyer and seller;
Item's sale price;
Payment method;
Signatures; and
A notary public seal, stamp, or signature.
Residents can utilize a bill of sale for transactions involving boats, firearms, motor vehicles, and general items. The seller determines the item's value based on its condition. Buyers can negotiate the terms of the sale if they disagree with the valuation until both parties agree on a price.
For gifted items, accurate valuation is essential, and both parties must record the transaction to ensure a proper transfer of ownership. Additionally, the form can serve as legal evidence in court if either party disputes the sale.
---
Registration Forms:
Boats
Register a vessel at a Division of Motor Vehicles (DMV) location.
---
Registration Forms:
Firearms
Residents can possess, purchase, or sell a gun in Utah without registering the firearms or obtaining a permit. Still, individuals can choose to obtain a concealed carry license (CCL), which allows them to bear arms in a non-visible manner. The Department of Public Safety (DPS) issues CCLs, which is where the interested party must submit their application and payment either online or in person.
Application for Concealed Firearm Permit – Provides the DPS with the information needed to approve or deny a person's application.
Weapons Familiarity Certification – A document signed by a certified instructor that indicates an individual has taken and passed an official handgun safety course. The applicant must take the class within one (1) year of applying for a CCL.
Fingerprint Card – A blue and white card from an approved servicer that has the applicant's fingerprints.
Identification (ID) – A copy of a driver's license or state ID.
Photograph – A 2×2 color photograph taken recently with a name on the back of the card. Face and head coverings are not allowed.
Payment – The individual must pay a non-refundable fee for application processing.
---
Registration Forms:
Vehicles
Car owners must make an appointment with a DMV office to apply for registration.
Additional (Optional) Documents
---
Registration Forms:
Trailers
Trailers in Utah over 750 pounds (gross weight) require registration and titling. The DMV handles these types of transactions. 
Bill of Sale – A document that officializes a utility or boat trailer sale.
Utah Title Application (Form TC-656) – If the trailer does not have a title, the owner must complete this form. If it has a title, they must present it to the DMV upon registration.
Uniform Fee – The state charges fees based on the age of the trailer (model year).
Registration Fee – The amount an owner must pay depends on their county of residence, the trailer's weight, and sales taxes.
Additional (Optional) Documents