Colorado Rental Lease Agreement Templates
The Colorado Rental Lease Agreements are legal contracts used for the renting of property. The forms are created between two (2) parties known as the "landlord" and "tenant(s)". The agreements are used to clearly outline the rights and responsibilities of the parties, ensuring topics such as rent, utilities, guests, default, eviction, pets, and more are clearly understood. Prior to sitting down and signing, both parties (especially landlords) should educate themselves regarding Colorado's Tenant and Landlord Laws, which have been overviewed below.
---
---
Types (6)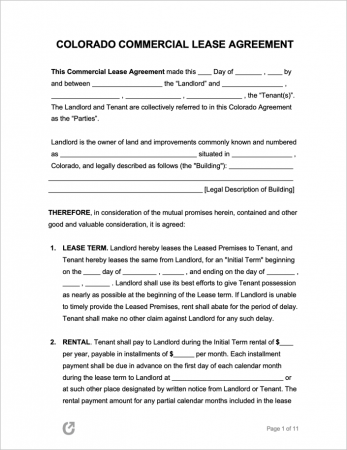 Commercial Lease Agreement – A legally-binding agreement used for leasing property to a business that will use the property to run their restaurant, office, warehouse, manufacturing plant, or other commercial operation.
Download – Adobe PDF (.pdf) | Word (.docx) | Rich Text (.rtf)
---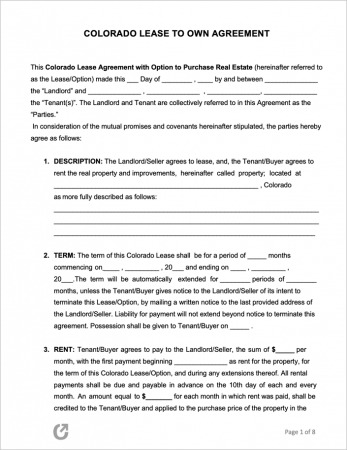 Lease to Own Agreement – Similar to a typical lease agreement, with the addition of an option that allows the tenant(s) to purchase the property upon the lease's scheduled termination.
Download – Adobe PDF (.pdf) | Word (.docx) | Rich Text (.rtf)
---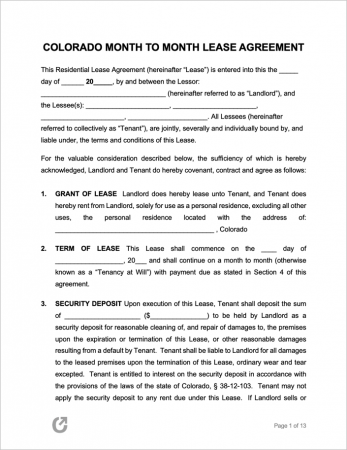 Month-to-Month Lease Agreement – A standard lease without a set end date. So long either the landlord or tenant(s) give thirty (30) days notice, the agreement can be ended legally.
Download – Adobe PDF (.pdf) | Word (.docx)
---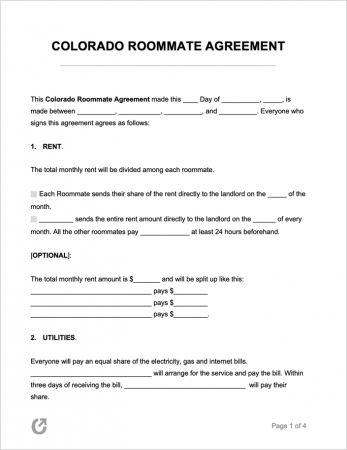 Roommate Agreement – Specifies precisely how roommates in a shared abode should behave, as well as their responsibilities to one another.
Download – Adobe PDF (.pdf) | Word (.docx)
---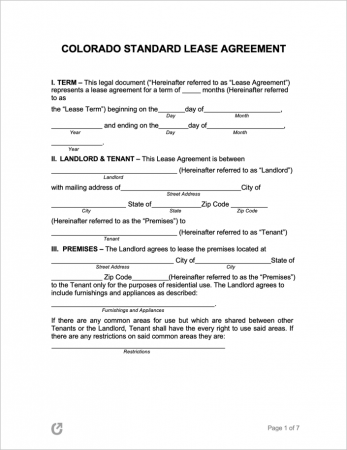 Standard Residential Lease Agreement – A typical lease agreement that offers tenants the opportunity to rent out a property for a specified length of time in exchange for periodic rental payments.
Download – Adobe PDF (.pdf) | Word (.docx)
---
Sublease Agreement – Used as a secondary agreement that allows an original tenant to rent out a leased unit to a new tenant.
Download – Adobe PDF (.pdf) | Word (.docx)
---
What is a Colorado Lease Agreement?
A Colorado Lease Agreement is a form that binds individuals into an obligation to make payments for a rental property (in exchange for having the right to live or work in it). The document makes it clear what legal responsibilities each must abide by as well as their respective rights. In the interests of vetting tenants and finding the most suitable one, landlords should make use of a rental application.
---
State Laws & Guides
Laws: CO Title 38 "Property – Real and Personal" (Scroll down page)
Landlord-Tenant Guides / Handbooks
---
When is Rent Due?
According to § 13-40-104(1)(d), rent is due in accordance to the rental agreement. There is no grace period stipulated in state law.
---
Landlord's Access
Emergency: There is nothing stipulated about the matter of landlord access during an emergency in a state statute, however in line with federal landlord-tenant law, landlords can always enter during an emergency.
Non-Emergency: Likewise, there is nothing stipulated in a state statute about landlord access in a non-emergency. It is recommended landlords only enter in reasonable circumstances and at reasonable times, after giving fair notice to tenants.
---
Landlord's Duties
Landlords are required to uphold the following obligations in compliance with § 38-12-505, as stated below:
Appliances that: 1) conform to state law, and 2) are in good working order;
Rental units are sufficiently protected from the elements and have working doors and windows;
All plumbing and gas facilities are in operable condition and (at the time of installation) were installed to applicable CO code;
Landlord provides both running water and "reasonable" amounts of hot water at all times. Sewage disposal must be in accordance with Colorado law;
All heating elements are in good working order;
Electrical systems are safe and installed in accordance with state code;
All common areas are kept clean, free of garbage, and not infested with pests;
In the event pests infest rental premises and/or common areas, landlords need to conduct extermination to sufficiently remedy the pests;
Tenants need to have access to a sufficient number of outside garbage containers;
Common area walkways, stairs, and floors must be kept in good condition;
All exterior doors and windows (that are designed to be opened) must have locks in good working order, and
Landlords need to remain compliant with all relevant building, housing, and health codes, that if violated, would directly affect the life, health, and/or safety of the tenant.
---
Tenant's Duties
As stated by § 38-12-504, tenants in Colorado have the following obligations (in addition to those mandated by the lease):
Conduct themselves in a way that does not disturb neighboring tenants' right to peace and quiet in their rental units;
Keep the rental as free of clutter/garbage as reasonable to ensure it's sanitary condition;
Dispose of trash as required by the lease and applicable state/county/town law;
Oblige with all building codes relating to their health and safety;
Use amenities, facilities, appliances, and electrical units in a safe manner, and
Inform the landlord of anything that makes the rental unit uninhabitable/unsafe.
---
Required Disclosures
Lead Paint Disclosure: In compliance with federal law, landlords of properties built before 1978 must disclose any lead paint hazards to tenants. They must also provide them with this lead paint information pamphlet.
---
Security Deposits
Maximum Amount: There is no set limit on the maximum amount a landlord can charge tenants.
Returning to Tenant (§ 38-12-103): Unless a longer period of time is specified in the agreement, a landlord must return the full security deposit within one (1) month. In cases where a longer period is specified, the period shall not exceed sixty (60) days. If a tenant breaks a lease due to the rental being in hazardous condition due to the poor condition of a gas appliance, piping, or other gas equipment, the landlord has to pay the deposit back within seventy-two (72) hours.
Deposit Interest: No relevant CO statute.
Uses of the Deposit (§ 38-12-103(1)): Landlords can retain portions of (or all of) a security deposit for the following three (3) reasons:
The nonpayment of rent,
The tenant's abandonment of the premises, or
The nonpayment of utility charges, repair work, and/or cleaning work performed for the tenant.