Illinois Rental Lease Agreement Templates
The Illinois Rental Lease Agreements are property management contracts used for establishing formal landlord-tenant relationships. Each agreement reflects applicable federal and state rental laws, ensuring the agreements protect landlords and property owners from undue liability. Once signed by both the landlord and tenant(s), the contract goes into effect until the scheduled termination of the lease (except for month-to-month leases and roommate agreements).
---
---
Types (6)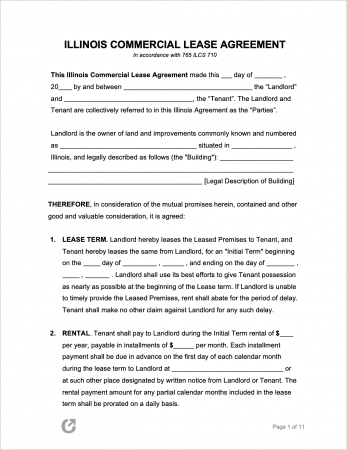 Commercial Lease Agreement – A comprehensive form used for leasing property to business-owning tenants for a period of one (1) to five (5) years.
Download – Adobe PDF, Word (.docx), Rich Text (.rtf)
---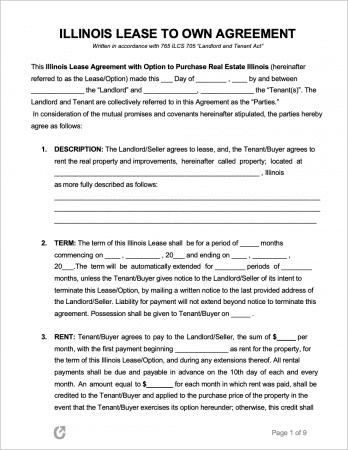 Lease to Own Agreement – Commonly used by those in the process of selling their home to make rental income before selling the property. Gives tenants the option (not the requirement) to purchase the leased home.
Download – Adobe PDF, Word (.docx)
---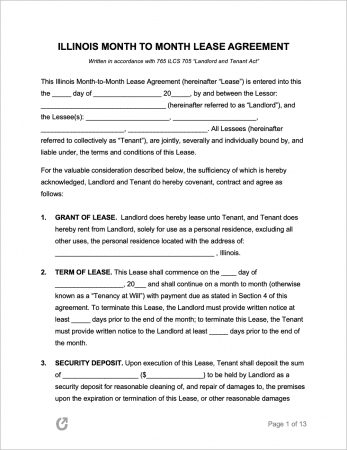 Month-to-Month Lease Agreement – Contains similar conditions and sections to a standard lease, with the exception that it contains no end-date (either party can terminate the contract with one (1) month of notice).
Download – Adobe PDF, Word (.docx)
---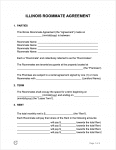 Roommate Agreement – Created between roommates, allows for clarification over cleaning duties, guests, noise, possessions, utility sharing, rent, and more.
Download – Adobe PDF, Word (.docx), Rich Text (.rtf)
---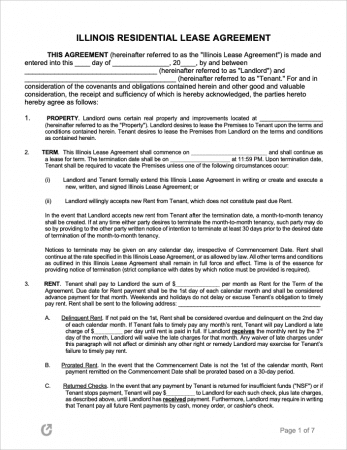 Standard Residential Lease Agreement – Used for leasing homes and apartments to tenants for a duration of one (1) year.
Download – Adobe PDF, Word (.docx), Rich Text (.rtf)
---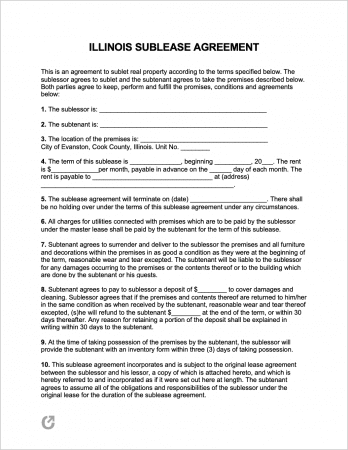 Sublease Agreement – Allows a tenant to introduce one (1) or more new tenant(s) to live in a rental property in the original tenant's place. Permission should be received from the landlord prior to executing the form.
Download – Adobe PDF (.pdf), Word (.docx)
---
What is an Illinois Lease Agreement?
An Illinois Lease Agreement covers key matters pertaining to the rental of a residential or commercial property. The agreement covers the legal obligations and rights of both the lessees and lessors. Prior to accepting a tenant, a rental application should be used to ensure the tenant(s) are trustworthy and have had positive prior rental experiences.
---
State Laws & Guides
Laws: Illinois Landlord and Tenant Act (765 ILCS 705)
Landlord-Tenant Guides / Handbooks
---
When is Rent Due?
There is no state law specifying when rent is due. Rent is due on the date specified in the lease agreement. There is no grace period offered by state law.
---
Landlord's Access
Emergency / Non-emergency: There is no statute specifying conditions relating to landlord access to the property. It can be assumed that Illinois landlords can indeed enter at any time during an emergency. To ensure there is no confusion with tenants, this should be clearly outlined in the lease.
NOTE: Landlords of properties located in the city of Chicago are subject to the Chicago Residential Landlord Tenant Ordinance, § 5-12-050. This ordinance dictates that landlords may enter a leased property for a number of reasons including to make repairs and supply services that are necessary or have been previously agreed upon. Entry should be made at a reasonable time and notice should be given to tenants a minimum of two (2) days prior.
---
Landlord's Duties
Per the AG Pamphlet on landlord and tenant rights, landlords are obligated to the following:
Ensure the property complies with state and local code;
Must ensure the rental is fit for tenants to live in; and
Must make any and all necessary repairs to ensure the two (2) points above.
---
Tenant's Duties
In accordance with the Attorney General Pamphlet on the rights of both landlord and tenants, the duties of tenants are as follows (not including those specified in the lease):
Rent must be paid on time (and in full);
The rental unit must be kept clean and free of damage;
If the lease requires the tenant(s) to pay for utilities, all utility fees must be paid for;
The rental unit cannot be altered without clear permission from the landlord; and
A notice must be given prior to moving out (to avoid losing the security deposit).
---
Required Disclosures / Notices
Concession Granted (765 ILCS 730): The lease must make mention of any rent concessions given. The landlord should ensure that the lease bears, "a legend across the face and text thereof plainly legible and in letters not less than one-half inch in height consisting of the words "Concession Granted," and to bear a memorandum on the margin or across the face of such lease stating the amount or extent and nature of each such concession."
Lead Paint Disclosure: It is the legal responsibility of the landlord to disclose any lead paint hazards in leased properties constructed prior to 1978. Landlords are also required to provide tenants with a pamphlet concerning this matter.
Locks (765 ILCS 705/15): Landlords must change locks with every new tenant, and sign a disclosure that they have fulfilled this obligation.
Notice of Foreclosure (735 ILCS 5/9-207.5): Landlords are required to provide tenants with at least ninety (90) days written notice when the property is facing foreclosure.
Radon (420 ILCS 46): If a landlord of a dwelling unit located below the third story (above ground level) discovers through testing that the unit contains radon, they must disclose in writing to the tenant the existence of the radon hazard.
Shared Meter (765 ILCS 740/5): Landlords of properties that require tenants to pay for a portion of a master utility must provide tenants with the formula used to calculate the public utility payments among the tenants.
---
Security Deposits
Maximum: No limit.
Returning to Tenant (765 ILCS 710/1(a)): Landlords must return the security deposit within forty-five (45) days of the date that the tenant vacated the property. They are required to deliver the deposit either in person or by postmarked mail. If the landlord intends to withhold a portion (or all) of the deposit, they must provide an itemized list of damages to tenants within thirty (30) days of the lease end date.
Deposit Interest (765 ILCS 715): For landlords that own twenty-five (25) units or more (can be in a single building or multiple buildings), they must pay interest to tenants on received security deposits. Interest has to be paid within thirty (30) days after the end of each twelve (12) month rental period. The rate paid for interest must be equal to the largest commercial bank. For 2020, landlords are required to pay 0.005% (.01% APY).