Louisiana Rental Lease Agreement Templates
The Louisiana Rental Lease Agreements are forms that outline a mutual arrangement where a tenant (lessee) leases a dwelling from a landlord (lessor). So long the lessee(s) make consistent, timely payments to the lessor, they gain the right to live in the property for a set length of time. Leases typically have a duration of one (1) to three (3) years, although any length of time can be negotiated. Both parties are required to uphold the responsibilities found in the form as well as those that are mandated by Louisiana's Landlord-Tenant statutes.
---
---
Types (6)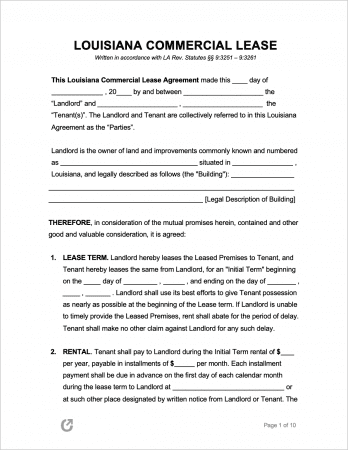 Commercial Lease Agreement – For leasing property (office space, buildings, garages, floors, etc.)  to business-owning tenants.
Download – Adobe PDF, Word (.docx)
---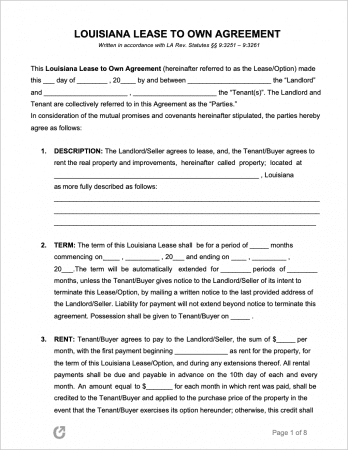 Lease to Own Agreement – Combination of a purchase agreement and normal lease. Gives tenants the ability to purchase the leased home/unit at the end of the lease if they so choose.
Download – Adobe PDF, Word (.docx)
---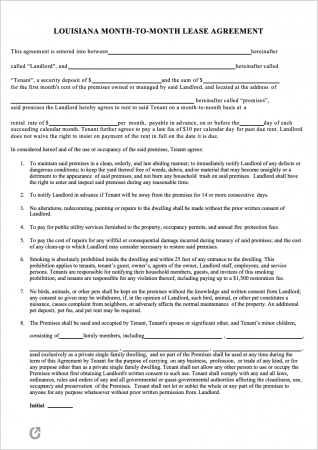 Month-to-Month Lease Agreement – Specific to Louisiana, the contract outlines obligations that a landlord and tenant(s) agree to uphold until either one terminates the agreement with thirty (30) days of notice.
Download – Adobe PDF, Word (.docx)
---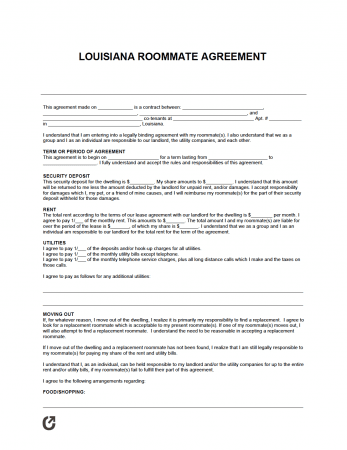 Roommate Agreement – An agreement created between roommates for setting simple rules on guests, dishes, noise, possessions, and more.
Download – Adobe PDF, Word (.docx)
---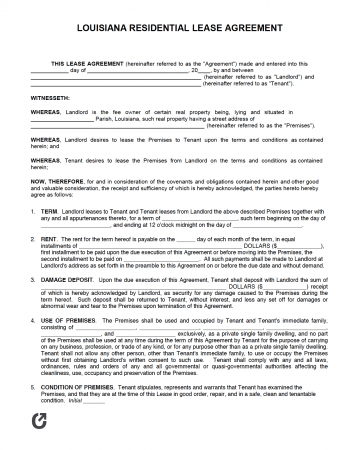 Standard Residential Lease Agreement – In line with Louisiana state law, this document establishes conditions for a property to be leased in the state for one (1) year.
Download – Adobe PDF, Word (.docx)
---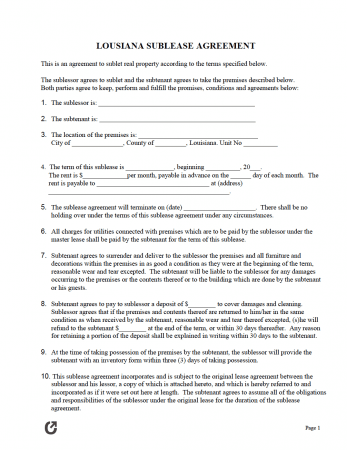 Sublease Agreement – Created by the current tenant to a leased property, the form sets conditions that a new tenant is required to follow.
Download – Adobe PDF, Word (.docx)
---
What is a Louisiana Lease Agreement?
A Louisiana Lease Agreement sets forth the rights and responsibilities of landlords and tenants regarding a leased dwelling. A lease is commonly used in conjunction with a rental application form, which allows landlords to get a clearer idea of the rental history of their tenants.
---
State Laws & Guides
Laws: Landlord-Tenant Statutes (§§ 3251 – 3261)
Landlord-Tenant Guides / Handbooks
---
When is Rent Due?
In line with Art. 2703, rent is due at the beginning of the term (unless a different timeframe is established by the lease). Louisiana does not have any specific state laws related to grace periods.
---
Landlord's Access
Emergency: Because Louisiana state law state does not cover regulations pertaining to entry in emergencies, it can safely be assumed landlords can indeed enter an occupied rental in a dire situation.
Non-Emergency: State law is also silent on the matter of non-emergency landlord access. Although there are no restrictions, it is advisable landlords provide at least twenty-four (24) hours notice prior to entry.
---
Landlord's Duties
In accordance with Art. 2682, landlords are required to uphold the following obligations (in addition to those found in the lease):
To deliver the dwelling to the tenant(s),
To maintain the dwelling as livable (or workable if to be used for commercial purposes), and
Ensure the tenant(s) can enjoy the premises in peace.
---
Tenant's Duties
In compliance with Art. 2683, tenants are required to abide by the following requirements:
Pay the agreed-upon rent timely and in-full,
To only use the rented dwelling in the purpose in which it was leased, and
Return the leased dwelling in the same condition as it was initially provided (excluding standard wear and tear).
---
Required Disclosures
Foreclosure Disclosure (§ 3260.1.): Landlords must disclose in writing (within seven (7) days) any pending foreclosure action to which the rental property is subject.
Lead Paint Disclosure: Landlords who wish to rent a dwelling that was constructed before 1978 must disclose any known lead paint hazards to tenants. They additionally are required to provide a government-issued pamphlet about these hazards.
---
Security Deposits
Maximum: There is no maximum security deposit set by LA law.
Returning to Tenant (§ 3251): Landlords must return security deposits to tenants one (1) month after the termination of the lease. In the case that part or all of the deposit is retained, the landlord must forward to the tenant, within one (1) month after the termination of the lease, an itemized statement of the amounts being retained and the reasons for doing so.
Uses of the Deposit (§ 3251): Landlords can make deductions from the deposit for two (2) reasons:
Remedy a default (most likely caused by the nonpayment of rent), OR
To repair damage to the dwelling that didn't result from normal wear and tear.