Michigan Standard Residential Lease Agreement
The Michigan Standard Residential Lease is an official contract used between a landlord and tenant(s) for the purpose of leasing a property or unit for the duration specified in the form (typically one (1) year). Once signed by both a landlord and tenant, both parties are bound to the contract's conditions until the lease's scheduled end. Renters and landlords alike should be aware of Michigan's Truth in Renting Act, which states both required clauses within leases as well as those that cannot be included in the document.
Tenant Screening: Michigan Rental Application
---
---
Versions (5)
Download: Adobe PDF, MS Word (.docx), Rich Text (.rtf)
---
Download: Adobe PDF
---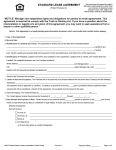 Version 3 – Fixed-Tenancy Lease
Download: Adobe PDF, MS Word (.docx)
---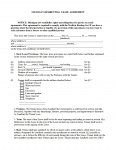 Version 4 – Lease w/ Move-in Checklist
Download: Adobe PDF
---
Download: Adobe PDF
---
Michigan Rental Laws
Statutes: Act 348 "Landlord and Tenant Relationships"
Maximum Security Deposit (§ 554.602): One and a half (1.5) months' rent.
Returning Security Deposits (§ 554.610): Upon a lease's termination, landlords have thirty (30) days to return the security deposit to the tenant(s). If the landlord does not return the deposit within the timeframe mentioned, the landlord will be required to return the full value of the deposit without any deductions for damages (regardless if they occurred or not).
Notice for Increasing Rent: No statute included in MI law.
Required Notice for Entry: No required notice mentioned. Although there is required notice, landlords should be respectful of their tenants and not show up unannounced (with an exception for emergencies).