Minnesota Rental Lease Agreement Templates
The Minnesota Rental Lease Agreements are official documents used for leasing residential and commercial space to rent-paying tenants. Each form complies with MN state law, which is known for being restrictive on landlords when compared to other states. With a lease, landlords can set rules and obligations that all tenants are required to uphold once their signatures have been recorded on the form. Topics that are found in almost every lease found below include those relating to rent amount, security deposits, repairs, utilities, and pets. So long the rules don't infringe upon a tenant's rights, the landlord can include it in the lease contract.
---
---
Types (6)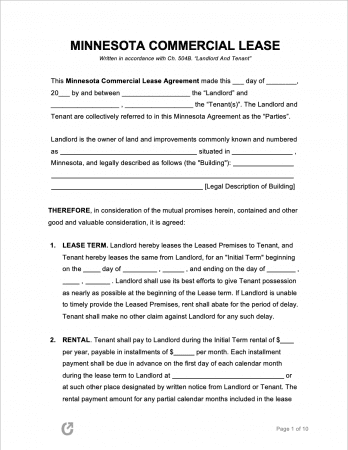 Commercial Lease Agreement – Used for leasing to tenants that own (or are intending to open) a business and run it on the property or land.
Download – Adobe PDF, Word (.docx)
---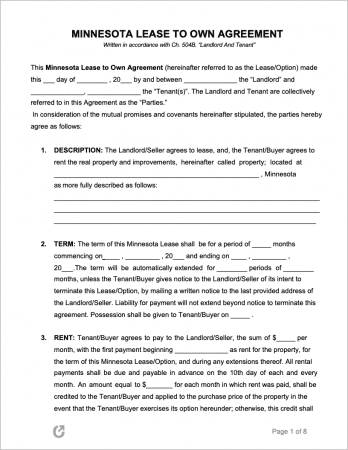 Lease to Own Agreement – A form used by homeowners to offer tenants looking to purchase a home the option to purchase their property after an initial rental period of one (1) to three (3) years.
Download – Adobe PDF, Word (.docx)
---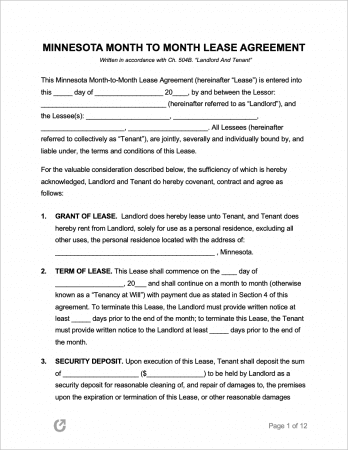 Month-to-Month Rental (Lease) Agreement – Sets conditions for renting residential property on a monthly basis.
Download – Adobe PDF, Word (.docx)
---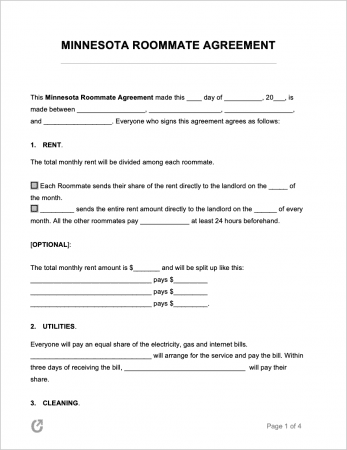 Roommate Agreement – Created exclusively among roommates; contains both legally-binding and non-binding conditions relating to the roommates' responsibilities in a shared rental.
Download – Adobe PDF, Word (.docx)
---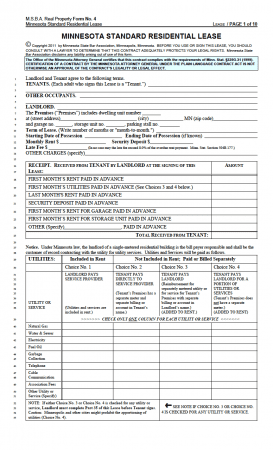 Standard Residential Lease Agreement – Used for leasing any type of residential property for terms of one (1) year (or other terms as negotiated among the parties).
Download – Adobe PDF
---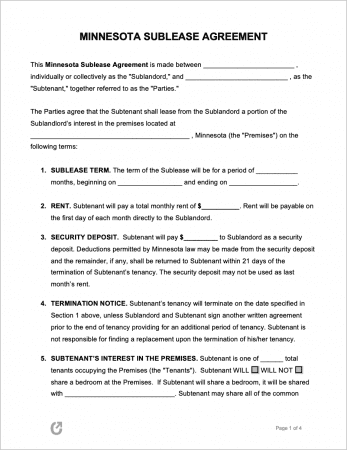 Sublease Agreement – By drafting and signing this agreement (and with permission of the landlord, if required), a third party has the means of taking over the lease from the original tenant.
Download – Adobe PDF, Word (.docx)
---
What is a Minnesota Lease Agreement?
A Minnesota Lease Agreement is a form used for protecting landlords from liability during the leasing of a vacant property. Signing a lease is one of the last steps in the leasing process, typically coming after a tenant has been approved to rent after being screened with a rental application.
---
State Laws & Guides
Laws: Chapter 504B "Landlord and Tenant"
Landlord-Tenant Guides / Handbooks
---
When is Rent Due?
Minnesota state law does not state when rent is due. For this reason, it is important that the date rent must be paid is specified in the rental agreement. There is no grace period offered by MN law as well.
---
Landlord's Access
Emergency (§ 504B.211.4): Landlords can legally enter a rented dwelling (without prior notice) so long it is to 1) prevent injury to persons or property due to the building's security, maintenance, or law enforcement, 2) to ensure their tenant's safety, or 3) to ensure local ordinances pertaining to unlawful activity occurring within the dwelling is complied with.
Non-Emergency (§ 504B.211.2): Landlords have the right to enter the rental dwelling so long they have a reasonable reason for doing so and they have made a strong effort of informing the tenant of their entry.
---
Required Disclosures
---
Security Deposits
Maximum: None (no statute).
Returning to Tenant (§ 504B.178.3): Security deposits must be returned within three (3) weeks after termination of the tenancy. If the tenant leaves the rental due to its legal condemnation, the landlord must return the deposit within five (5) days of their vacancy.
Deposit Interest (§ 504B.178): Interest needs to be collected on deposits at a rate of one percent (1%) per year and paid back to the tenant(s) at the end of the lease term.