New Mexico Standard Residential Lease Agreement
The New Mexico Standard Residential Lease Agreement ("rental contract") is a legal document used for establishing protections and rules surrounding the renting of a home, apartment, condo, or room. The form has a typical expiration of one (1) year, after which the tenant(s) can decide to sign another lease or move out of the rental. Topics covered in the form include those relating to rent, security deposits, default, parking, pets, utilities, access, repairs, and required conditions established by state law. Being a form drafted by the NM Association of Realtors, the document contains all necessary disclosures and terms to comply with the state's rental laws.
Tenant Screening: New Mexico Rental Application
---
---
State Laws
Laws: §§ 47-8-1 to 47-8-52 "New Mexico Uniform Owner Resident Relations Act"
Maximum Security Deposit (§ 47-8-18): One (1) month's rent for leases under one (1) year. For leases over one (1) year – no limit.
Returning Security Deposits (§ 47-8-18(D)): Starting from the date a lease terminates, landlords have a total of thirty (30) days to return the deposit (minus any deductions, if any) to the tenant(s).
Rent Increase Notice (§ 47-8-15(F)): Landlords have to provide tenants with a minimum of thirty (30) days of notice prior to the lease's scheduled end date.
---
Association of Realtors Lease Agreement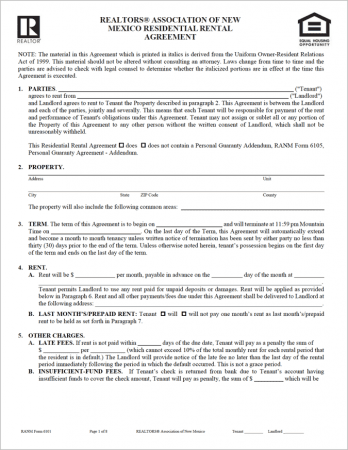 New Mexico Association of Realtors Residential Lease Agreement.pdf – For use by realtors and landlords who are looking for a lease contract that does not need to be edited before being used. Being designed by the state's realtor's association, the form complies with all NM laws and contains all necessary landlord-tenant disclosures.