New Mexico Rental Lease Agreement Templates
The New Mexico Rental Lease Agreements are contracts used to structure a situation where tenant(s) are legally required to make consistent payments of rent in exchange for having a right to live or work in a property. While each contract solves its own unique purposes, they all relate (except for roommate agreements) in that they cover security deposits, rent, lease duration, default, and many other conditions. While NM law requires written contracts for leases over one (1) year in length, it is recommended that landlords complete a lease regardless to protect themselves from liability and to ensure the tenant understands their responsibilities and rights.
---
---
Types (6)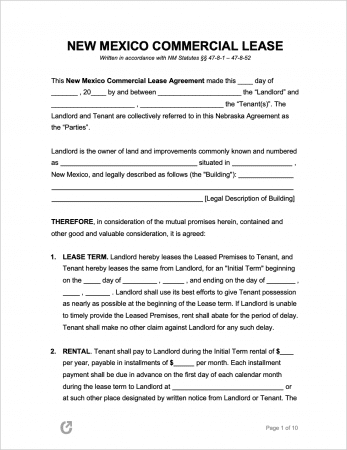 Commercial Lease Agreement – Structures a deal over the rental of property that will be used solely for business purposes.
Download – Adobe PDF, Word (.docx)
---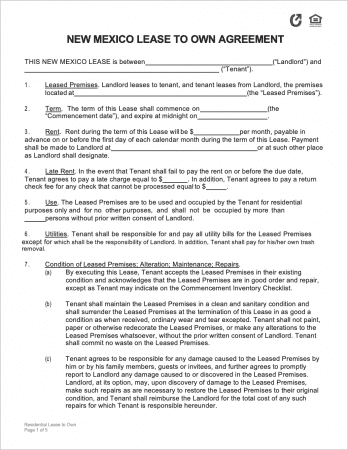 Lease to Own Agreement "Lease Option" – A variation of a standard lease that permits a rental property to be purchased by the tenant(s) upon the lease's scheduled end date.
Download – Adobe PDF, Word (.docx)
---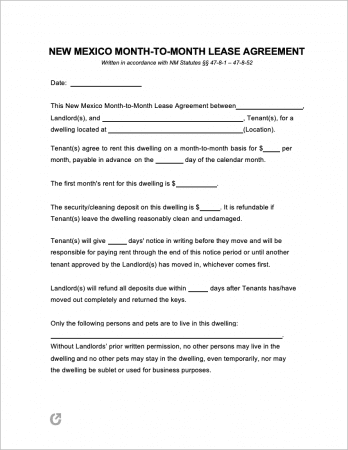 Month-to-Month Lease Agreement – Outlines legal guidelines for a tenancy that lasts for thirty (30) days at a time. Can be terminated by either party so long thirty (30) days' of notice is given.
Download – Adobe PDF, Word (.docx)
---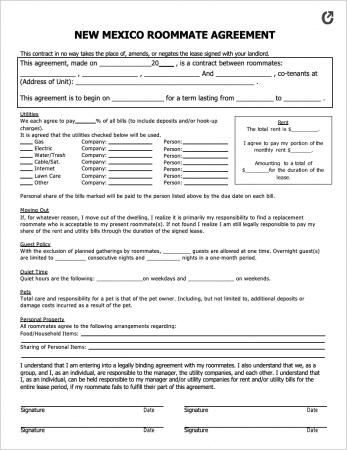 Roommate Agreement – One form is completed by all roommates sharing the same rental property, putting everyone on the same page regarding topics that commonly lead to arguments (cleaning, guests, personal belongings, utility payments, rent, etc.).
Download – Adobe PDF, Word (.docx)
---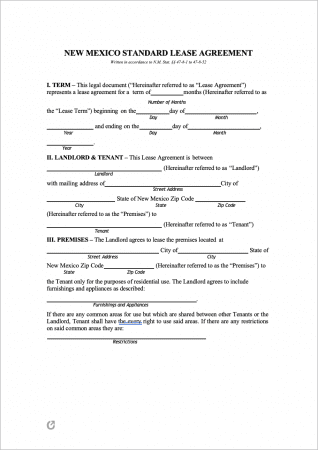 Standard Residential Lease Agreement – Used by the owners of residential property to lease it to tenants for an average length of one (1) year.
Download – Adobe PDF, Word (.docx)
---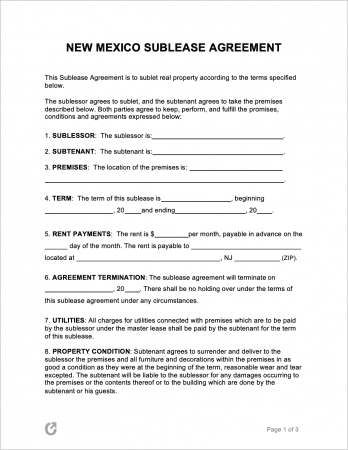 Sublease Agreement – A contract that establishes a legal relationship between a subtenant and a sublandlord (original tenant) over the subletting of a dwelling such as an apartment.
Download – Adobe PDF, Word (.docx)
---
What is a New Mexico Lease Agreement?
A New Mexico Lease Agreement is a legal document concerning the rental of a residential dwelling in the state of New Mexico. It is entered into by a landlord and tenant who each hold respective responsibilities and rights governed by landlord-tenant laws. So that a landlord may select the most suitable tenant for their rental property, they should make it necessary for prospective tenants to complete a rental application.
---
State Laws & Guides
Laws: Ch. 47, Article 8 "Owner-Resident Relations"
Landlord-Tenant Guides / Handbooks
---
When is Rent Due?
In line with § 47-8-15(B), rent is due in accordance with the rental agreement. In New Mexico, there are no grace period laws. By implication, should the landlord wish to charge a late fee when rent is paid late, they are within their rights to do so.
---
Landlord's Access
Emergency (§ 47-8-24(B)): In emergency cases, landlords may enter the rental dwelling without consent from the tenant.
Non-Emergency (§ 47-8-24(A)): In order to enter the rental property in non-emergency cases, a landlord must provide the tenant with twenty-four (24) hours written notification. The written notification should detail their intent to enter, the purpose of entry, the date, and a reasonable estimate of the time frame of their entry.
---
Landlord's Duties
Per § 47-8-20, landlords have to uphold the following state requirements:
Comply with health and safety housing codes;
Keep the rental (and common areas) safe by keeping things picked up and making repairs where necessary;
Ensure all electrical, HVAC, plumbing, and other systems (as guaranteed by the lease) are in good working order;
Allow tenants a convenient, safe, and sanitary means of throwing away trash;
Ensure tenants have 24/7 access to hot and cold running water, and building heat (if not an obligation of the tenant as required by the lease).
---
Tenant's Duties
Section 47-8-22 lists the obligations of tenants (not including the signed lease) as the following:
Maintain compliance with health and safety building codes (as relevant);
Ensure the rental unit is kept as clean as possible, and at the end of the lease ensure the rental is as clean as it was when first moved into. Standard wear and tear not included;
Throw away trash in a safe manner as directed by the lease;
Keep all included appliances and fixtures in good condition (as reasonable), and use them responsibly;
Do not destroy or damage (whether intentional or negligently) any part of the rental or surrounding premises;
Do not disturb neighboring tenants;
Follow all rules and laws as required by associations/regimes (neighborhood watch, for example), and do not commit any substantial violations (or knowingly allow another person to do so).
---
Required Disclosures
Lead Paint Disclosure: Landlords who are aware of any lead-based hazards in a rental property constructed before 1978 must inform the tenant of the hazards, if any. In addition, they must supply tenants with the pamphlet, Protect Your Family From Lead in Your Home.
Names and Addresses (§ 47-8-19): The names, addresses, and phone numbers of the landlord and anyone authorized to act on their behalf must be disclosed in writing at or before the commencement of the lease.
---
Security Deposits
Maximum (§ 47-8-18): For leases longer than one (1) year, landlords may ask tenants for a "reasonable" deposit – there is no set cap. For leases less than one (1) year in duration, the maximum deposit is capped at one (1) month's rent.
Returning to Tenant (§ 47-8-18(C)): The security must be returned within thirty (30) days after the lease ends, or the tenant(s) leave (whichever date is later).
Deposit Interest: If the deposit the landlord demands is greater than one (1) month's rent, the landlord must pay the tenant interest that accumulates on the deposit, equivalent to the passbook and statement savings rate that is permitted for use in the state.
Uses of the Deposit (§ 47-8-18(C)): Security deposits can only be deducted-from if they are to cover 1) the non-payment of rent, or 2) to cover the cost of fixing damages that resulted from the tenant(s) non-compliance with the lease.