Tennessee Rental Lease Agreement Templates
The Tennessee Rental Lease Agreements are property-management contracts used for setting legal parameters pertaining to the rental of a dwelling to one (1) or more tenants. Leases ensure the landlord and tenant(s) understand their duties, responsibilities, and rights, and make it easier for landlords to enforce certain provisions of the agreement. Although both parties have numerous responsibilities, the largest responsibility of tenants is that they make consistent payments of rent; for landlords, they need to uphold their legal requirement to provide a safe, livable rental for tenants.
---
---
Types (6)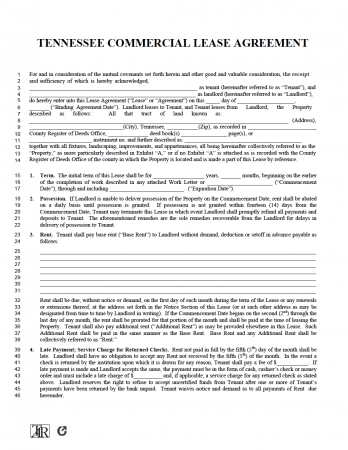 Commercial Lease Agreement (Form F69) – Provided by the Tennessee Association of Realtors; solely for use in renting out real estate to businesses.
Download – Adobe PDF
---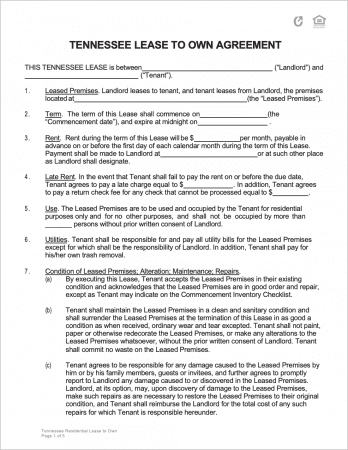 Lease to Own Agreement – A six (6) page contract that allows a homeowner to set a purchase price for their property (in addition to leasing it). At the end of the lease, the tenant(s) have the option to purchase the rented dwelling – but not the requirement.
Download – Adobe PDF, Word (.docx)
---
Month-to-Month Lease Agreement – A lease that exists thirty (30) days at a time, after which it renews automatically. Unlike a standard lease, either the lessor or lessee(s) can end the contract with one (1) month of notice.
Download – Adobe PDF, Word (.docx)
---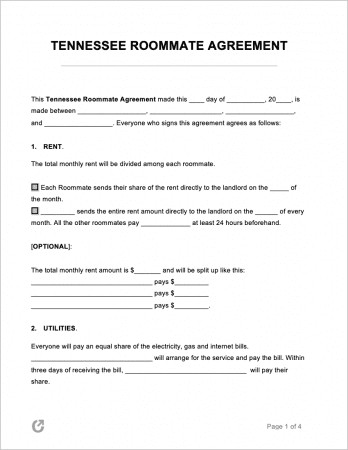 Roommate Agreement – Created collaboratively by all roommates in a shared rental dwelling so that they can come to terms on important terms such as utility payments, rules on guests, cleaning, and more.
Download – Adobe PDF, Word (.docx)
---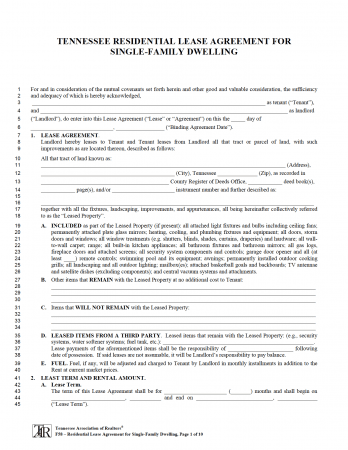 Standard Residential Lease Agreement – The most comprehensive lease offered for renting out residential property. Created by the Tennessee Association of Realtors to comply with all state lease laws.
Download – Adobe PDF
---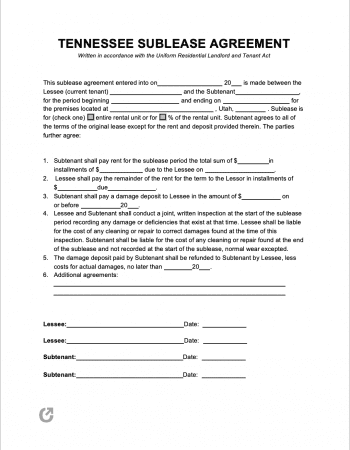 Sublease Agreement – Created with the purpose of leasing an already-rented property to another tenant, allowing the original tenant to vacate the rental.
Download – Adobe PDF, Word (.docx)
---
What is a Tennessee Lease Agreement?
A Tennessee Lease Agreement is a legal document that serves to establish relevant rights and obligations that the parties to the lease must respect. Should a landlord still be in the process of selecting a tenant, a rental application should be used to vet prospective tenants.
---
State Laws & Guides
Laws: Title 66, Ch. 28 – "Uniform Residential Landlord and Tenant Act"
Landlord-Tenant Guides / Handbooks
---
When is Rent Due?
According to § 66-28-201(c), rent is due at the time and place agreed upon by both parties to the lease. Unless there is an agreement to the contrary, rent must be paid at the beginning of each month in equal installments. Additionally, state law mandates that tenants are granted a five (5) day grace period for missed rent before a late fee can be charged.
---
Landlord's Access
Emergency (§ 66-28-403(b)): Landlords can enter without notice in emergency situations.
Non-Emergency (§ 66-28-403(a)): The landlord can access the rental property to make repairs, alterations, let-in workers, and show the property to potential tenants. For showings, at least twenty-four (24) hours notice must be given.
---
Landlord's Duties
Per § 66-28-304, the duties of landlords are as follows:
Conduct any repairs/do whatever necessary in order to ensure the property is in a livable state manner;
Keep common areas clean and safe;
Comply with applicable housing/building codes (that relate to health and safety); and
For multi-units that contain four (4) or more rentals only, landlords need to provide tenants with a means of disposing of their trash (appropriate receptacles and providing for it to be picked up).
---
Tenant's Duties
As required by Tennessee law § 66-28-401, tenants are responsible for upholding the following:
Take good care of the property: refrain from deliberately or negligently damaging it, throw away all garbage appropriately, and keep it reasonably clean;
Do not disturb neighboring tenants; and
Maintain compliance with applicable building/housing codes.
---
Required Disclosures
Lead Paint Disclosure: It is mandatory for landlords to disclose any known lead paint hazards in rental dwellings built before 1978. Landlords must also provide tenants with the government-issued pamphlet, Protect Your Family From Lead in Your Home.
Showings (§ 66-28-403(5)): Landlords looking to show the rental within the final thirty (30) days of the lease must provide at least twenty-four (24) hours of notice prior to entry, so long the landlord's right is clearly outlined in the lease agreement.
---
Security Deposits
Maximum: There is no maximum deposit amount stipulated by state law.
Returning to Tenant (§ 66-28-301(g)(1)): The landlord must return any security deposit they demanded from the tenant within thirty (30) days of the tenant vacating the rental or seven (7) days after a new tenant takes moves-in to the rental unit.
Deposit Interest: No statute.