Texas Standard Residential Lease Agreement
A Texas standard residential lease agreement binds a lessor (owner/manager) and lessee (tenant) into an arrangement whereby a tenant pays rent in exchange for habitation rights to a rental. The form establishes all major aspects of the deal, including payments, rules, guests, and termination. Texas statutes lean heavily towards landlords, which is demonstrated (in one instance) by their eviction laws, which give landlords the right to evict a tenant for breaching the contract in almost any manner.
Tenant Screening: Texas Residential Lease Application
---
---
Versions (4)
Download: PDF
---
Download: PDF
---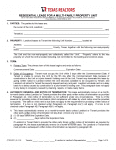 Version 3 – Multifamily Lease (TXR-2011)
Download: PDF
---
Download: PDF, Word (.docx)
---
Laws
Laws: Texas Property Code Ch. 92
Maximum Security Deposit – Texas state law is silent on the matter of the maximum amount a landlord can demand as a security deposit. In the interest of fairness, they should make this amount reasonable e.g. the equivalent of one (1) month's rent.
Eviction Notice for Non-payment of Rent (§ 24.005): Upon receiving notice, tenants have three (3) days to either pay the outstanding rent or move out of the property.