Texas Standard Residential Lease Agreement
The Texas Standard Residential Lease Agreement is a contract formed between a lessor (owner or manager of a property) and lessee (living in the property), that provides both parties with a legally-binding guide regarding rental payments, the security deposit, guests, utilities, required conditions, and several more important topics. Being an official state-specific form, it can be used as-is, although changes can be made by landlords so long the form still complies with state landlord-tenant laws. For both parties, it is important to know that Texas leans heavily towards landlords in their rental laws, which is demonstrated (in one instance) by their eviction laws, which give landlords the right to evict a tenant for breaching the contract in almost any manner.
Tenant Screening: Texas Residential Lease Application
---
---
Versions (4)
Download: Adobe PDF
---
Download: Adobe PDF
---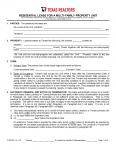 Version 3 – Multifamily Lease (TXR-2011)
Download: Adobe PDF
---
Download: Adobe PDF, MS Word (.docx)
---
State Laws
Laws: Texas Property Code Ch. 92
Maximum Security Deposit – Texas state law is silent on the matter of the maximum amount a landlord can demand as a security deposit. In the interest of fairness, they should make this amount reasonable e.g. the equivalent of one (1) month's rent.
Eviction Notice for Non-payment of Rent (§ 24.005): Upon receiving notice, tenants have three (3) days to either pay the outstanding rent or move out of the property.