Texas Rental Lease Agreement Templates
Download a Texas Rental Lease Agreement to rent out a Texas-based rental property to a tenant. Use the forms to lay the ground rules for what a tenant can and cannot due, as well as establish the consequences they'll face for leaving rent unpaid, damaging the unit, and much more. The contract is completed once the tenant(s) have had their rental, criminal, and employment history researched (using a lease application). If the landlord feels they will make a quality tenant, they'll draft the lease and require all tenants to sign it. Changing the agreement isn't easy to do after signing, so it's recommended the landlord take their time and include all sections the first time.
---
---
Types (6)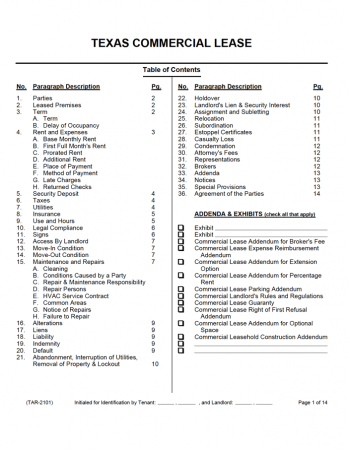 Commercial Lease Agreement – A TAR (Texas Association of Realtors) form developed for renting out property that is zoned for business use. Complies with all TX laws and regulations.
Download – Adobe PDF
---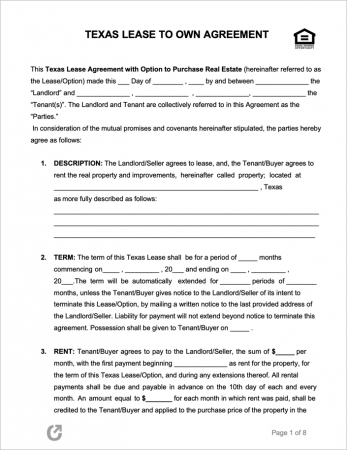 Lease to Own Agreement – Includes an additional section not commonly found in standard leases, giving homeowners the option of listing a purchase price for the rental. At the end of the lease, the tenants are given the option to purchase the property at a previously agreed-upon price.
Download – Adobe PDF, Word (.docx), Rich Text (.rtf)
---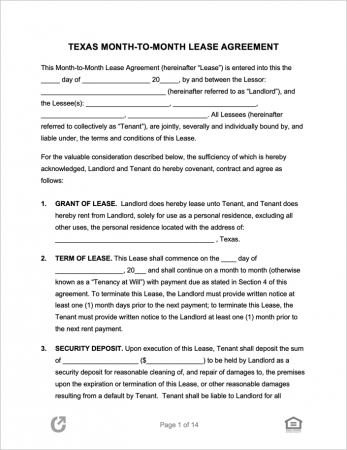 Month-to-Month Lease Agreement – Used leasing a property a month at a time. The lease is automatically extended for a month after the tenant makes a payment. In order to end the contract, either party must give a notice of at least thirty (30) days.
Download – Adobe PDF, Word (.docx), Rich Text (.rtf)
---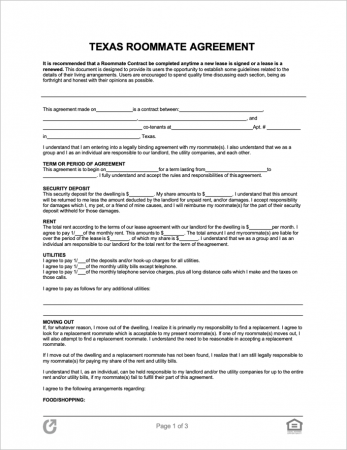 Roommate Agreement – Significantly improves roommate relations by having a set list of rental-wide rules pertaining to cleaning, guests, personal belongings, noise, studying (if applicable), and cost-sharing, to name a few.
Download – Adobe PDF, Word (.docx)
---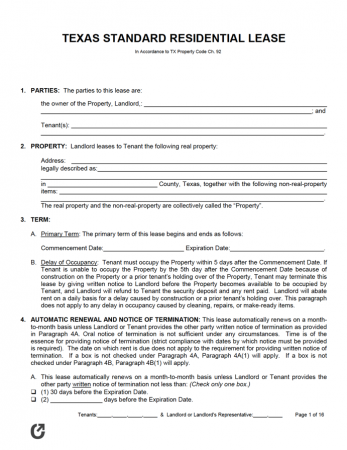 Standard Residential Lease Agreement  – A sixteen (16) page contract that covers every aspect of leasing property in Texas. Complies with all landlord-tenant laws and includes the necessary disclosures. Can be used for leasing apartments, homes, single rooms, floors, and more.
Download – Adobe PDF
---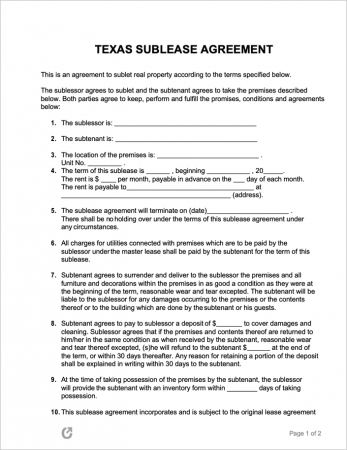 Sublease Agreement – A form used for introducing a secondary tenant into an already-rented dwelling – allowing the original tenant to vacate legally. The original tenant remains liable for collecting rent from the new tenant, as well as ensuring the property remains free of damage.
Download – Adobe PDF, Word (.docx)
---
Addendums (5)
Addendum 1 – TAR-2008 (Lead Paint)
Download: Adobe PDF
---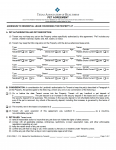 Addendum 2 – TAR-2004 (Pet Agreement)
Download: Adobe PDF
---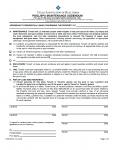 Addendum 3 – TAR 2010 (Pool/Spa Maintenance)
Download: Adobe PDF
---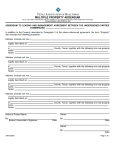 Addendum 4 – 2204 (Multiple Properties)
Download: Adobe PDF
---
Download: Adobe PDF
---
Amendments (2)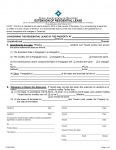 Amendment 1 – TAR-2005 (Lease Extension)
Download: Adobe PDF
---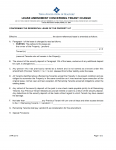 Amendment 2 – TAR-2211 (Tenant Change)
Download: Adobe PDF
---
What is a Texas Lease Agreement?
A Texas Lease Agreement is a form used for renting out commercial or residential real estate to tenants, in exchange for routine payments of rent. They are used by landlords and property owners for the purpose of setting binding rules regarding the rental of a unit that all parties are required to follow. Leases longer than one (1) year in length should always be in written form.
---
State Laws & Guides
Laws
Landlord-Tenant Guides / Handbooks
---
When is Rent Due?
The precise due date of rent is not stated by TX law. As such, the due date of rent should be clearly outlined in the written lease agreement. According to § 92.019, a landlord must provide a tenant with a grace period of one (1) day. Meaning a landlord can only charge a late fee after the rent has gone unpaid for a minimum of one (1) day.
---
Landlord's Access
Emergency: No statute. However, federal law provides landlords with the right of entry to an occupied rental property (without notice) in the event of an emergency.
Non-Emergency: No statute. State law does not specify a mandatory notice period for a landlord to access the rental property in non-emergency situations. However, to be courteous, landlords are recommended to provide tenants with at least twenty-four (24) hours notice prior to making entry.
---
Required Disclosures
---
Security Deposits
Maximum: No statute; landlords can request tenants pay whatever security deposit they deem as fair. The recommended deposit is one (1) months' rent for unfurnished units and two (2) months' rent for fully furnished units. Requiring an additional deposit from tenants with pets is also recommended.
Returning to Tenant (§ 92.103): The landlord must return a security deposit to the tenant on or before the thirtieth (30th) day after the date the tenant moves-out of the dwelling.
Deposit Interest: No statute.